Canadian election and Trudeau's victory speech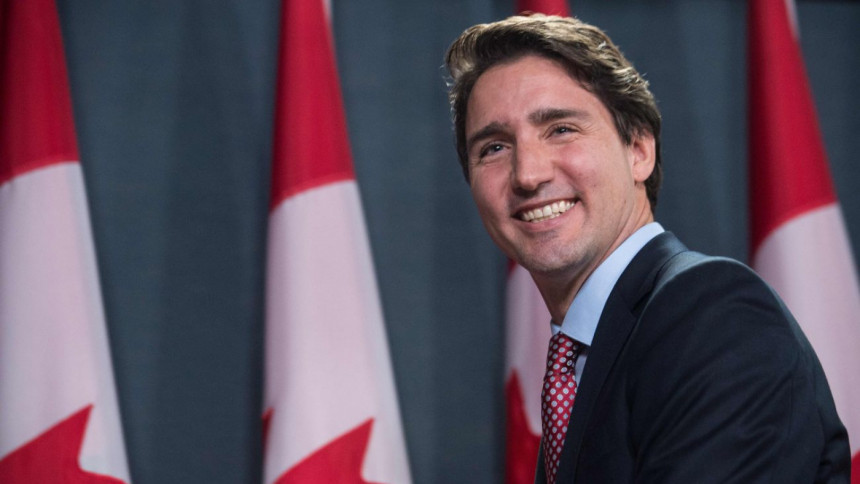 THE general election that took place on October 19 ushers in a new era for Canada, as Justin Trudeau, the son a former Prime Minister and Canadian legend Pierre Elliot Trudeau (a recipient of Bangladesh's Friends of Liberation War honour), was swept to power on the vow to change how Canadians were governed and a commitment to end what he branded as the Conservatives' divisive style of politics.
Final results had the centre-left Liberals at 184 seats, comfortably more than the 170 seats needed for a majority government in the 338-seat House of Commons. It's a stunning rebound for a party that had been knocked down to 34 seats in the 2011 elections and left for dead. The centre-right and governing Conservatives won 99 seats (190 in 2011), and the left leaning New Democratic Party (NDP) won 44 seats (109 in 2011). 
The day was a humiliating loss for Conservative Leader Stephen Harper, who has served as prime minister since 2006, and a crushing night for NDP leader Thomas Mulcair, the incumbent official leader of the opposition in the House of Commons. Harper, who had led Conservatives to three successive victories, immediately signalled that he would be stepping down as leader and instructed the Conservative party to appoint an interim leader and launch a process to select a new leader, according to a party statement.
Speaking to supporters in his election headquarters in Calgary, Alberta, Harper said he had the "incredible honour" of serving as prime minister. "We put everything on the table. We gave everything we had to give and we have no regrets," he said. While the outcome was not the one he wanted, Harper said, "The people are never wrong," adding that he accepted the results "without hesitation."
The results mean that 43-year-old Trudeau, will become Canada's next prime minister, following in the footsteps of his illustrious father Pierre Trudeau, who served as prime minister for 16 years before retiring in 1984. He died in 2000 at the age of 80. The Canada Act, which included the Constitution Act, 1982, and the Charter of Rights and Freedoms, was proclaimed by Queen Elizabeth II, as Queen of Canada, on April 17, 1982, an accomplishment by the Liberals under the helm of Pierre Trudeau. In fact, it is the Charter of Rights and Freedoms, the mantra for civil liberties has made Canada one of the best countries on our planet to live and it made Pierre Trudeau one of the most admired statesmen of his times. 
The election results mark a huge win personally for Justin Trudeau, who had been derided by his critics and underestimated by his rivals, and for the Liberal party, which had only known failure in the previous three elections.
When the wave engulfed Harper (Conservative leader and former PM) - a Justin Trudeau wave, the most galling way for Harper to end a long political career - he stood more solitary than ever before,", wrote the Toronto Star columnist Tim Harper. 
"Harper's practice of wedge politics, such as his attempt to demonise Muslims by outlawing "barbaric cultural practices," or his hard line on Syrian refugees, left too many with too much of a bad taste in their mouths," wrote another Toronto Star columnist, Thomas Walkom. The Bill C-51 is forcefully touted as protecting Canadians against terrorism. It exploits amorphous fear in the same way that occurred in the United States after 9/11 where the Bush government introduced sweeping laws restricting civil liberties under the guise of protecting the United States from attacks. As part of their fear tactics to support Bill C-51, the Harper government has been using words to subtly denigrate and vilify Muslims. As if that was not enough, a controversial provision of a newly enacted Bill C-24 came into effect last May, allowing the government to revoke Canadian citizenship from dual citizens who are convicted of terrorism, high treason and several other serious offences. This draconian law is applicable even if one was born in Canada. 
During his impassioned 23-minute speech following the victory, Trudeau applauded the nation for making "history". "I didn't make history tonight; you did. And don't let anyone tell you any differently. I know that I am on stage tonight for one reason and one reason only: because you put me here," he said. 
Toward the end of his passionate speech, he shared a story that tugged at everyone's heartstrings. "There are a thousand stories I could share with you from this remarkable campaign," Trudeau told the hushed crowd. "But I want you to think about one in particular. Last week, I met a young mom in St. Catharines, Ontario. She practices the Muslim faith and was wearing a hijab. She made her way through the crowd and handed me her infant daughter. And as she leaned forward, she whispered something to me that I will never forget. She said she's voting for us because she wants to make sure that her little girl has the right to make her own choices in life and that the government would protect those rights." 
By sharing this anecdote, Trudeau was referring to the niqab issue, which plagued the campaign. Conservative Prime Minister Stephen Harper had attempted to ban women from wearing the niqab during citizenship ceremonies, which the Supreme Court overturned.
Trudeau continued his speech: "To her I say this: you and your fellow citizens have chosen a new government. A government that believes deeply in the diversity of our country. We know in our bones that Canada was built by people from all corners of the world who worship every faith, who belong to every culture, who speak every language. We believe in our hearts that this country's unique diversity is a blessing bestowed upon us by previous generations of Canadians, Canadians who stared down prejudice and fought discrimination in all its forms".
Many voters cast their ballot in the hopes of restoring Canada to its previous status as an inclusive, respectful moral leader. What Canadians seem to want most is for Canada to again be their kind of Canada. This is the multicultural, do-goodish, respectful-of-differences, ready-to-hear-others'-opinions Canada that once caused so many outsiders to admire its "idealistic global face". The key accomplishment of this election has been to enable Justin Trudeau to convince Canadians that he can bring back that Canada and that he, indeed, is Canada's man for tomorrow.
The writer is the Convenor of the Canadian Committee for Human Rights and Democracy in Bangladesh.