One swallow can make a summer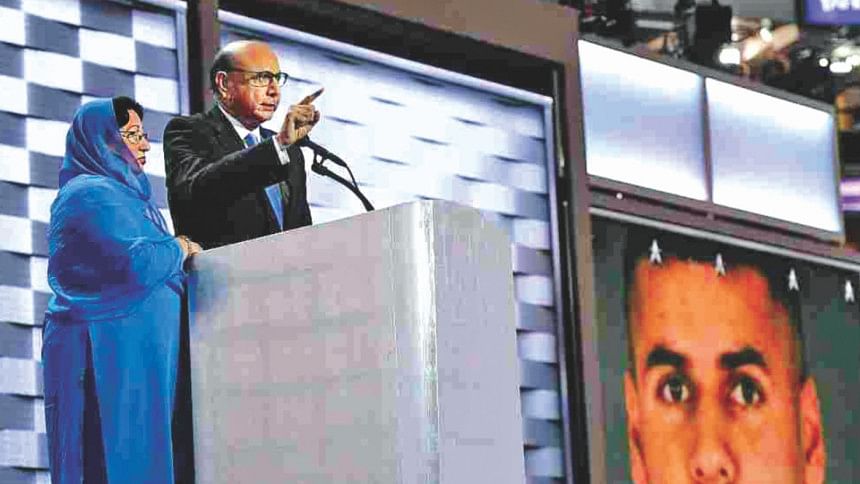 While speaking at the Democratic National Convention last month, President Obama observed: "People outside of the United States do not understand what's going on in this election." The truth is that many Americans are also baffled and shocked at the hatred and pessimism propagated by Republican presidential nominee Donald Trump. But, it took just seven defining minutes to clear the mist and virtually turn the tide of the entire narrative of the 2016 elections. These crucial seven minutes belong to a hitherto unknown Khizr Khan, father of Captain Humayun Khan who fell fighting in Iraq. "Mr. Khan", as he is now known nationally, delivered a heart-rending speech at the Democratic Convention. He walked onto the stage with his wife Ghazala Khan and recounted an emotionally charged story of his son who was killed by a car bomb in Iraq while trying to save his comrades. While drawing sharp attention to Trump's consistent attempts at smearing the character of Muslims and calling for a ban on Muslim immigration in the country, he asked Donald Trump: "Have you read the US Constitution", which provides equal rights and protection for each citizen? In a masterstroke of public communication, Khizr Khan turned the tables by drawing attention to his son's supreme sacrifice and proclaiming that Donald Trump had sacrificed "nothing and no one" for the country.
The short but poignant speech reverberated in the US and around the world. It succeeded in shifting the media narrative about Islam and Jihad to one about the disempowerment of honest, hard working, patriotic Muslim citizens like the Khans. In the current environment where most Muslims bear the stigma of the terrorist acts of a handful, Khan's words were a powerful rebuttal. He made it clear that the majority of Muslims desire the same thing as other communities – a just and peaceful world where everyone's rights will be protected.
Many of us may be wondering why a simple speech by an unknown person created a more positive impact on the perception of Muslims than all the intellectual discourse defending Islam as a religion of peace. Mr. Khan's words resonated in the hearts and minds of most people because they were sincere and honest and not motivated by a personal agenda. In today's world of 'political correctness', most people are afraid of speaking their minds lest they are denounced, even victimised. But Khizr Khan spoke with courage and conviction. He did not sugar coat his message about the pain and frustration felt by a Muslim American family that has made a supreme sacrifice for the country and yet their patriotism is questioned by the leader of the Republican Party and his followers.
Donald Trump responded in his characteristic aggressive manner by attacking Ghazala Khan's dignified silence on stage: "If you look at his wife . . . she had nothing to say - maybe she wasn't allowed to have anything to say. . ." Rather than offer his sympathy to a bereaved mother, he derided her by hinting that she did not have the freedom to express herself, thus stereotyping all Muslim women. The Republican candidate's comments, however, have provoked a barrage of protests both from military and civilian families who are appalled at his lack of empathy for a grief-stricken mom.
While heated discussions on the issue continue, I would like to offer a perspective on why I believe Khan's speech has touched the hearts and minds of so many. It was neither his eloquence nor his political stance but the fact that he spoke from his heart and underscored some universal human values. Values that we should all uphold and teach our children – that it matters little who you are – Muslim or Christian or Jewish or Hindu – all human lives are precious and sacred. Khan did not talk about persecution, hatred or anger but about "hard work, goodness" and respect for "women and minorities". He highlighted the fact that Muslims are as concerned about making this a safer world for their children as people of other religions. They are as affected by the horrors of terrorism as everyone else – in fact they are worse-off since they are often subjected to suspicion and discrimination. Khan's core message was that terrorism cannot be countered by building walls but by uniting people of all faiths and ethnicities.
Like Mr. Khan, we too need to voice our protests against terrorism as well as the social injustices and marginalisation that Muslims are subjected to. Just as we don't want the terrorists to win, we must not allow the hate rhetoric about Muslims or any other religion to prevail. True, not all of us are heroes like Captain Humayun Khan but each one of us has the capacity to be bold and stand up against injustice and unfairness. And that can make a difference!
The writer is a renowned Rabindra Sangeet exponent and a former employee of the World Bank.
E-mail:[email protected]