It's not only about Teesta, it's more than that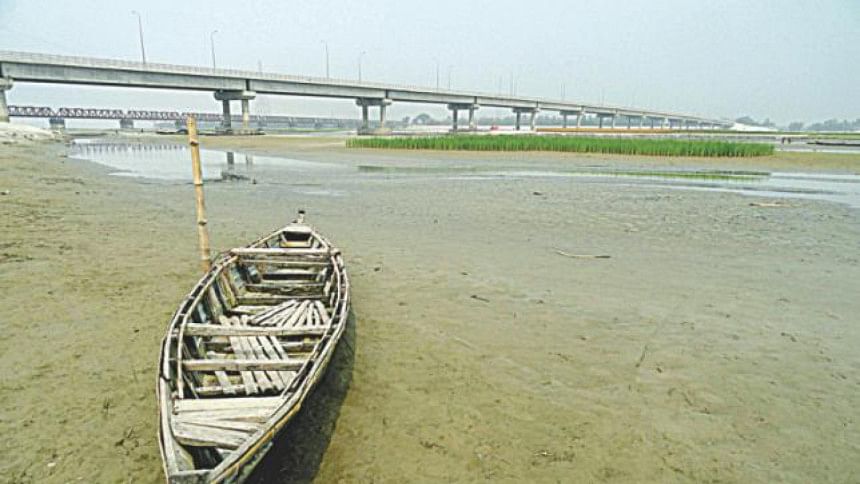 It has been seven long years since water resources ministers of Bangladesh and India last met to talk about Teesta at the platform of Joint Rivers Commission (JRC). Since then Bangladesh has been more than ready about holding a meeting of the JRC, an official instrument devised jointly by Bangladesh and India back in 1972, to resolve water disputes and harness common water resources for mutual and regional benefits. A long overdue JRC meeting in Dhaka in June 2013 was postponed due to India's last moment pullout. Nearly four more years passed by and Dhaka wrote to Delhi dozens of times seeking a date to hold the JRC meeting but to no avail.
As far as water sharing issue of river Teesta is concerned things actually had moved fast after the 37th JRC meeting (the last one) held in Delhi back in early 2010. Prime Minister Sheikh Hasina's visit to India in January that year helped put JRC back into motion so much so that a water treaty on the sharing of Teesta was about to be struck the very following year as then Indian Prime Minister Manmohan Singh came to Dhaka on a return visit. The Teesta deal had faced obstacles since September 2011 when West Bengal Chief Minister Mamata Banerjee, scheduled to visit Dhaka with Singh, opted out of the trip, opposing the agreement.
Originating in India's Sikkim, Teesta enters into Bangladesh through West Bengal. Mamata has been opposing the water deal based on the argument that if India commits to certain cusecs of guaranteed water share from Teesta to Bangladesh, her state might be deprived of water during the dry season.
In a subsequent development, Mamata commissioned an expert, Kalyan Rudra, to give a report on Teesta water sharing prospects. The Rudra report, submitted in 2012, has never been made public but Indian media reported on several instances that the report had stated that there was a shortage of water in Teesta since the Indian government had been building hydro-power projects upstream.
In fact it's not only in Sikkim, rather the Teesta water diversion was made also in West Bengal through building of a dam and hydro-power project in Gajaldoba near Shiliguri. India completed the Gajaldoba project at a time when Bangladesh had to abandon its planned 2nd phase of Teesta Barrage irrigation project as the very command area of the 1st phase dried up due to very poor flow of water through the Teesta.     
Since the 2011 momentum evaporated there has been a long lull over the prospect of a Teesta water sharing agreement between the lower-riparian Bangladesh and its upper-riparian neighbour, India. Bangladesh and India, which share between them waters of 54 common rivers, inherit and cherish a long tradition of using and harnessing of this natural resource amicably and judiciously. The signing of the Ganges water sharing agreement by Prime Minister Sheikh Hasina and her then Indian counterpart Deve Gowda in December, 1996 is one example of a mutually agreed solution to water sharing between neighbours. The 30-year water-sharing arrangement recognised Bangladesh's rights on Ganges water as a lower riparian country. 
According to the JRC website, there are as many as 405 big and small rivers in Bangladesh, of which 57 are transboundary. Of these 57, Bangladesh and Myanmar are co-riparian for only three rivers. Given the fact that Bangladesh and India are co-riparian countries having a common stake on as many as 54 transboundary rivers, it was prudent and visionary on the part of the leadership of a new nation (Bangladesh) back in March 1972 to embark upon a crucial instrument called Joint Rivers Commission (JRC). The Indo-Bangla JRC was established on a permanent basis through a joint declaration on March 19, 1972 inter alia to carry out a comprehensive survey of the river systems shared by the two countries; formulate and implement projects concerning flood control in both countries; formulate detailed proposals on advance flood warnings, flood forecasting, study on flood control and irrigation projects on the major river systems; and examine the feasibility of linking the power grids of Bangladesh with the adjoining areas of India, so that the water resources of the regions can be utilised on an equitable basis for mutual benefit of the people of the two countries. 
Since its inception the JRC had 37 meetings till 2010, which discussed, among other things, sharing waters of common rivers, transmission of flood related data from India to Bangladesh,  construction and repair of embankment and bank protection works along common/border rivers,  Indian River Inter Linking project, Tipaimukh Dam project of India and Mahananda Barrage constructed by India. 
Though there has been no meeting of JRC (at the Water Ministerial level) in the last seven years, there were several other meetings that took place either in India or in Bangladesh on and off at technical levels. But ever since the talks were stalled in 2011, there has been no significant call for materialising the Teesta river treaty by New Delhi.
Expectations run high every time there is a summit and during high official-level visits between Bangladesh and India. But experts in the water discourse always emphasise on activating JRC as a forum where both political and technical discussions can take place simultaneously. It's not crucial just because Bangladesh wants its due share of water from the river Teesta. Rather, it's necessary for the best interests of both Bangladesh and India. It's not only about Teesta, it's more than that.
Teesta apart, progress on discussions on sharing of the waters of Feni, Monu, Muhuri, Khowai, Gumti, Dharala and Dudhkumar rivers has also been stalled for long. Bangladesh's concern over India's river interlinking project is far from over as the project works continue to gain momentum. India is also curious to know, in further details, whether or not the Ganges Barrage that Bangladesh contemplates to build in Rajbari would have any negative bearings in its ecology. So there is a whole range of issues here that demand attention.
The writer is Assignment Editor at The Daily Star.