It is a real shame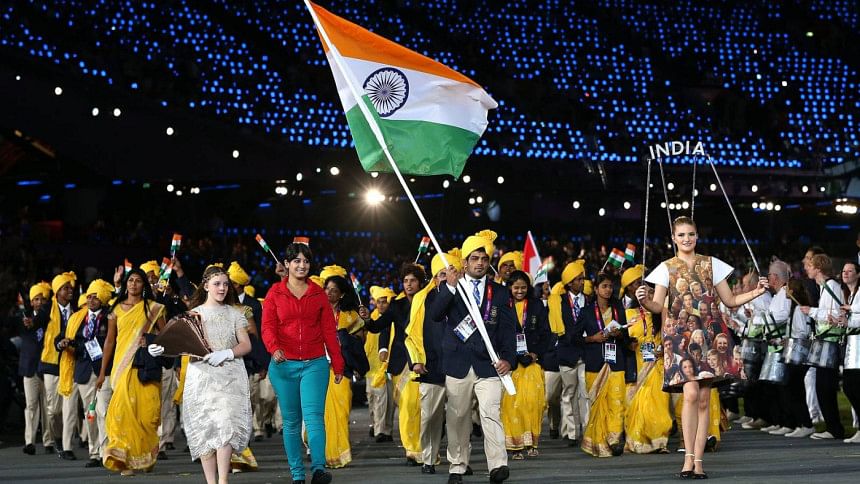 Here were great hopes from the largest ever Indian contingent at the Rio Olympics, but when it came to performance, it fell well short of expectations. India has won only a bronze medal in women's wrestling and a silver in women's badminton. Hockey, which we taught to the West, is nowhere in the subcontinent. With change of rules, in the name of making the sport more attractive, the West has come to monopolise hockey. But it would be unfair to blame it on the rule changes alone. The bane of the problem with our players is lack of stamina and scientific approach.

Women seem to do better than men but that is in spite of the hard work demanded. In the next few years, our dismal performance will be in sharp contrast to even smaller nations that are mere dots on the world map. Counting by population, India ranks the last in Olympic medal number. There are more reasons for this. 

We, in India, have a budget of roughly Rs. 250 crore per state apart from the central budget of Rs. 1,500-odd crore. There is sports infrastructure in a few states but they lack maintenance and regular use. The states and the centre have no holistic approach to sports. The result is that sports are just an item in the budget but nothing from the point of view of excellence in any particular discipline.

Cricket has come up because the public is crazy about it, just as it was about hockey some years ago. This only underlines the fact that there is no proper planning or scientific approach to sports. Hockey was the iconic sport for India until the Moscow Games in 1980 when the country won their last gold medal, for the eighth time. Subsequent to that there was a great decline in the sport as India never reached even the semifinals in any Olympics to this date. 

In contrast, India won the first World Cup in 1983 in cricket and since then, the sport has started looking up. Today, cricket has thrown up several opportunities and icons which make the game even more lucrative. That explains why cricket is only next to religion in India in terms of frenzy. With the Board of Control for Cricket in India (BCCI) making a lot of money, there was never any need for government support. 

But at the same, too much politics has seeped into sport, including cricket. Leaders of different political parties are holding one post or another in every national federation and cricket is no exception. This has had an adverse effect on sports as such, because of politicians using them for their name and fame. 

Unfortunately, the situation prevailing is that some ministers or top bureaucrats' associations are sought by every sport federation in the country for bringing in money to them. In return, these politicians also attain stature and importance by clinging to the posts offered by federations. In other words, it is a win-win situation for both. 

The recent Supreme Court ruling in the aftermath of the Justice Lodha panel report on BCCI and its functioning is an eye-opener. The recommendations of the panel, to be implemented, put restrictions on politicians and bureaucrats occupying any top positions in BCCI or, for that matter, in federations. It is an open secret that people like Sharad Pawar, Arun Jaitley, Farooq Abdullah, Rajiv Shukla and many others have been an integral part of whatever the setup has been. They are primarily there because they have been able to get funds from official and other sources.

Once they vacate, what machinery will federations have to generate funds in the face of very little financial assistance provided by the state? Corporate funding is too little and too meagre, cricket being the only exception. But the biggest drawback is the absence of sports development in rural India. This is the place where there is raw talent galore but there is no proper way to tap it. 

Unfortunately again, India does not have any sports culture. The government has only added to the woes of federations as it has withdrawn whatever little funding they provided for hosting international events in junior sections. How does the government expect excellence without proper support to nurture young talent? Just by allocating Rs. 300 odd crore for the Olympians that qualified for the Games under TOPS will not help and that too three months prior to Rio.

Only a sustained effort and consistent funding, spread over years, will help get us medals. Take the case of China. It picks up talent at a very young age and nurtures them to the point of seeing the boys and girls winning medals at Olympics. The moment they are inducted in national centres, they become the state subject and they have to worry about nothing, not even education. But in India, we stress on academics at the expense of sports.

In a country starved of medals —we won six medals at London— there are some silver lining performances like that of silver medallist badminton player P.V. Sindhu, bronze medallist wrestler Sakshi Malik, and Dipa Karmakar, the first ever Indian gymnast to make it to the Olympics and also the finals of the vault event. Her fourth position is no less than winning a medal because she had been training with little facilities back home in Tripura. 

Looking at the future, India should think of ways and means to achieving glory in the Olympic arena by choosing young talent in fewer disciplines and concentrating fully, rather than frittering away precious little funds, on all 28 Olympic disciplines. Additionally, the government can make a sport policy — not the one they are insisting on now — that will guarantee a career option to sportspersons. Just giving away piecemeal incentives will not fetch medals. And we should not wait until six months prior to the next Olympics to realise that the preparation we started is again late, like it has been the case so far. Let's forget Rio, think about Tokyo and start preparing from today.

 

The writer is an eminent Indian columnist.