Gone too soon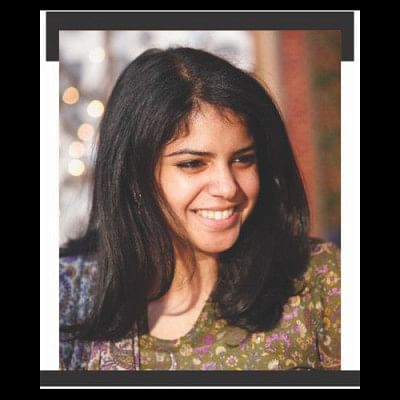 Shayera Moula, who had been with The Daily Star since the age of 15, passed away on May 29. 
Her coworkers pay their final tribute to this vibrant and intelligent young woman who died at the age of 29. Rest in peace, Shayera.   
GOODBYE, PRETTY FACE
The first time I saw Shayera I couldn't help but think how pretty she was and how much she looked like Emma Watson as Hermione Granger in Harry Potter. I told her and she laughed: "Yes, yes, I get that a lot".  Although I cannot claim to be very close to her, I often interacted with her at the office. She wrote occasionally for the Star magazine and I was a little taken aback by the serious issues she liked to write about: domestic violence, security of women, parenting, art…It surprised me because she appeared to me to be this cheerful, happy-go-lucky young woman, with a tongue-in-cheek remark ready to burst forth at any time. Initially, our interactions were mostly regarding articles she wrote or wanted to pass on from Editorial, where she worked. Over the years we developed a friendly rapport. When I congratulated her on her marriage she smiled shyly – I could tell how in love she was and how happy. When she got her scholarship to go to the Netherlands soon after, she admitted that it would be hard for her to be away from her husband Hasan but that they were trying to work out regular visits. We were in touch on Facebook and her posts were often about how much she missed Bangladesh. And then all of a sudden she was back – same smile, same pretty face, only an added sparkle that I attributed to her finally being able to start her life with Hasan. Here I share my last email from her:
Dear Aasha apa, 
How are you? It is such a strange feeling to realise that only about 6 -7 months ago, I was still very much a part of DS and a little unclear about the future in life. Of course, I am still unclear but the best part of being in academia is that you don't think until you have completed it. :D
How is Daily Star and everyone there? New members? In all honesty, I wish a little more was done in tweeting or facebooking all the articles/ reports published in DS. Is it possible to have someone in the magazine section tweet out what to expect in upcoming issues, or ask fans about the kind of stories they want to read, you know - have a more citizen interactive approach? It is amazing how the internet has taken over the next generation - how they socialise, how they strategise their thoughts, opinions, selfies! Time to bring them on board, no?
Anyway, just giving me two cents since I am not really there and I simply miss the place! Hope all is going well at your end and I hope to see you in summer :)
hugs, 
Shayera
- Aasha Mehreen Amin, Deputy Editor of Editorial and Op-ed, The Daily Star. 
FOR SHAYERA: HIGH-FIVE FOREVER
Shayera wrote an article on 'bottoms'. She played it without offending the astute sensibilities of people not accustomed to potty humour. It was a writing challenge thrown at her about 15 years ago, something we regularly did then to push the limits of our team's creativity. The piece was a riot of youthful wit and silliness.  
She began in The Daily Star as a freelance writer for the youth publication Rising Stars where I was the in-charge. We were both students trying to combat the complexities of impending grown up life using humour.  
Later, we went off to work in other places and we met again coincidentally in The Daily Star. I had come back to join the editorial department and she was still the loud voiced, bubbly personality I worked with earlier. We reconnected over the bottom article much to her disdain, an article her husband and I would often poke fun at her for. That and her intense dislike for high-fives. We would high five above her head as if the 80's were back in fashion. 
She was always the bubbly, happy personality. And despite working in the often lamented seriousness of the editorial department, she could still take as well as dish out a joke. I am still going to continue sharing that article of hers. I can imagine she will still fake her disapproval. But the high fives unfortunately will have to wait. 
- E R Ronny, Editor of Shift/Bytes/Next Step, The Daily Star. 
FOREVER AND FOR ALWAYS 
Shayera Moula, in the simplest words, was an extraordinary human being. She was intelligent, courageous and kind, all at once. I met Shayera at The Daily Star office and within a short span of time, we had gotten very close. We had became even closer when she was getting married and built most of our memories during that time. Since then, even when she was out of the country, she kept in touch and made me feel just as important and cared for. She had the power to make anyone she spoke to feel special. The last time I met her, she came to the office to visit us after she came back from pursuing her Master's degree. And she said, "I can't believe how much you've grown already and how you've made such a wonderful path for yourself in your life. I can't wait to see you grow up to be an even more amazing person!" I will never forget these words, or any word she had said to me because they have always left a lasting impact. She was always there to motivate me and push me further in my endeavours. I promised her I would become something big and I intend to keep that promise. I just cannot believe that she won't be there to see the future she helped me imagine. My love will always be with Shayera, and I know hers will always be with me. I will miss her forever. We all will. May her soul rest in eternal peace.
 
- Naziba Basher, Star Weekend, The Daily Star. 
IN LOVE WITH LIFE 
My last correspondence with Shayera almost two years ago, a few weeks after my baby was born and Shayera got married, I wished her "a long and happy married life"... She wrote back (and I'm only posting this because of the... life... that just sprung out at me as I was just reading it):
Hey Kajalie apu, 
First of all, CONGRATS on the beautiful baby!! Masha'Allah! I am so happy for you! 
As for my end, hahaha it is all just happening so fast....but it feels great!!! Hasan is a great guy, he is very sweet and loving and so so supportive of me! 
Please pray for us as we start this new journey together! Lots of love and warm hugs to you and your family! adorrrr!
Shayera
- Kajalie Shehreen Islam, former Editor of Forum, The Daily Star.