No Strings Attached
Dhaka - A woman-unfriendly city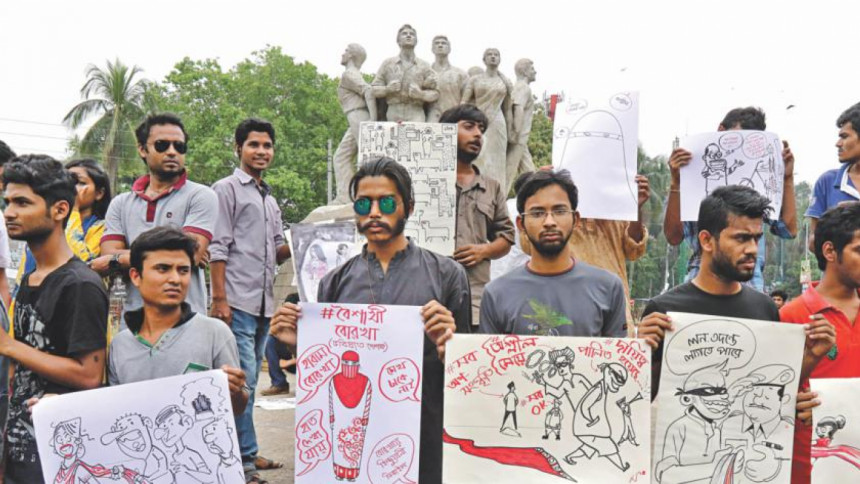 DAY before yesterday while pass-ing through the back alleys of Karwan Bazar, a short cut my ingenious driver likes to take, I saw a lone young woman in a shalwar kameez, her hair covered with her orna, walking determinedly through the potholed road. She seemed oblivious to the leering stares of men – young, middle-aged, old – while they sipped on cha or had a smoke or were sitting at their shops, taking a break, by ogling at this 'pretty sight'. I am always disgusted when I see this from the comfort and safety of the car. It's because I know how it feels when you are a woman walking on the streets – it could be the footbridge, the main road or the alley in front of your house. You know they are there – those hundreds of eyes, staring without any restraint, looking all over you. You pretend not to see them or hear their lewd comments or even ignore the subtle brush of a hand on your body before it disappears into the crowd. It doesn't matter if you are a child, a teenager, a young woman or middle-aged. You are a female and bait for any male on the street to ogle and touch – because he knows he can get away with it.
The day before yesterday I was feeling particularly angry, humiliated and helpless. It was only a few days after the grotesque sexual assault on women and a child at the Pahela Baishakh celebrations. I glared at the men on the streets who were too busy looking at that young woman to notice my contemptuous gaze. To me they all looked like potential sexual offenders. I know it was a prejudiced point of view but that's how I felt. That's how many of us feel at the moment.
This is not a woman-friendly city, dear mayoral aspirants. That is perhaps the most glaring parameter of failure of our consecutive governments. When you find a city where it is safe for women to go out at night, alone, unchaperoned or into crowds without getting molested or harassed, regardless of their attire, that's a pretty good indication of a country's progress. It means that despite whatever ugly thoughts perverts may have in their heads, they will not go and act on them in the streets in full view of the public. Because they have a fear, the fear of getting caught. The fear of being incarcerated.
Of course there is sexual harassment in every part of the world – even in the most advanced of countries. But in most of these countries the laws against sexual harassment, sexual assault and rape are enforced. Sexual offenders are not let off by the police or protected by political parties. Most of all the society does not look the other way when a sexual assault has taken place and blame the victim, the girl or woman, 'for asking for it'. 
According to a survey by Action Aid last year, 47.5 percent women in urban areas in Bangladesh felt unsafe in public places like markets, streets and public transport while 88 percent have reported harassment by pedestrians, passengers of public transport and buyers in market places. What was worse, about 81 percent women, preferred not to seek help from law enforcement agencies fearing further harassment.
The research reasserted the reasons for sexual harassment on the streets – poor enforcement of existing laws, inadequate laws, not prosecuting the offender, the lengthy legal process that deal with such cases and the lack of gender sensitivity of police and hospital staff.
When the research study was officially launched, the Information Minister mentioned 'special training' was necessary for the police to learn how to behave with a woman. He said he would tell the DMP commissioner to include women police along their male colleagues while patrolling the cities and urged women and girls to strongly protest if they were harassed or attacked.
We don't know whether the Information Minister followed up on his promise. What we do know is that during the hour long assault on Pahela Baishakh, the police refused to come to the aid of a few brave young men who were trying to save the victims. Later the police let go of some of the attackers who had been caught and handed over to them. The denial of the police and home minister that sexual assaults did take place is bizarre. Footage of the incident and pictures clearly showing the attacks have gone viral on social media and been published in papers. This only reinforces our suspicion that these sex offenders somehow have immunity and therefore impunity.
We expected our Prime Minister, the leader of this country and a woman, to condemn this horrible, shameful, ugly crime. We had hoped she would reassure us that this incident would be investigated promptly and that the culprits would be caught and punished no matter who they were. We were disappointed. 
It had to take an attack as blatant, horrific and as public for us to acknowledge just how unsafe this city is for women. We do not know how many of those attackers were university students, outsiders or religious fanatics (as suggested by the Information Minister). What we do know is that these men worked in unison as mobs do and they felt the need to teach these women and girls a lesson. For daring to come out to celebrate the most joyful day of the year. They did this because this is what boosts their machismo – crushing a woman's spirit through sexual violence. They did this because they knew they would get away with it.
The writer is Deputy Editor, Op-Ed and Editorial, The Daily Star.