Cities of Hope, Cities of Despair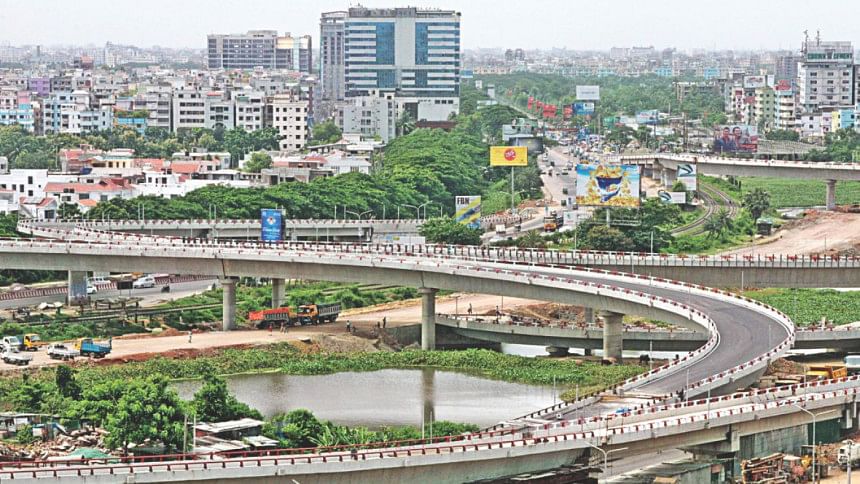 The pace of urbanisation has gained a new momentum in the past few decades with many developing countries, led by their cities, growing rapidly. The existing pace of urban growth is likely to persist in the next few decades.
The economic and political implications of cities are enormous. Cities occupy less space but account for larger share of the GDP. Higher productivity of cities is reflected by the fact that only 600 urban centres generate about 60 percent of the global GDP. There are geo-political implications of cities as well. It is argued that the 21st century will not be ruled by superpower America or emerging power like China, but by the city. The trend is already visible in Asia where small city states such as Singapore and Hong Kong have emerged as influential financial, technological and innovation powerhouses.
Bangladesh has also undergone marked urbanisation with about 30 percent of its population currently living in cities. While Dhaka, being the country's prime city, accounts for about 28 percent of Bangladesh's urban population, Chittagong's urbanisation is relatively more balanced. Almost all the districts of Chittagong have either relatively higher urbanisation rate or are densely populated.
Apart from Dhaka, Chittagong, Narayanganj, Gazipur and Rajshahi (the Big 5), there are a number of large, mid-tier and smaller cities that show urban promise. A PPRC (Power and Participation Research Centre) study indicates that between 2001 and 2011, led by Bogra, Sylhet, Noakhali, Mymensingh, Cox's Bazar, Barisal and Comilla, inter alia, there has been sharp rise in urban population in a number of cities. The urban population of about 20 promising cities and district headquarters, other than the Big 5, is around one crore.
However, the performance of Bangladeshi cities is far from their potential. A World Bank study observed that while the population density in Bangladeshi cities is very high, the economic density is relatively low from an international perspective. This underlies that urban concentration has resulted in sub-optimal outcome for the country. Poor infrastructure and inadequate service delivery, among others, are blamed for this.
It is the economic density that drives city growth. Density is the economic mass or output generated on a unit of land. The theoretical explanation is that density brings people and firms closer together which makes it easier to share and exchange information, invent new technologies and launch new firms. Residents, workers, and firms are typically concentrated—or agglomerated—in urban areas.  According to the Growth Commission, "cities thrive because of what economists call 'agglomeration economies' – when activities are clustered closely together, they can reap economies of scale and scope."
Nevertheless, there is a cost of higher density. Rapid migration of people from rural to urban areas, owing to push and pull factors, produces a host of problems such as congestion, pollution and crime in cities. The BRAC institute of Governance and Development's (BIGD) flagship reports on the state of cities suggest that Bangladeshi cities, notably Dhaka, Chittagong and Narayanganj have largely failed to address the problems generated by density. 
The service delivery model of Bangladeshi cities is characterised, among others, by inadequacy of various services such as water, sanitation, gas and electricity. There is a dualism in service delivery given the existence of a large number of slums that are virtually excluded from the governance apparatus. A large portion of waste in cities is uncollected and an insignificant amount is recycled. Public transport is meagre compared to its need. There are no or little attempts to address the housing needs of the low income people. Violation of land use plan is rampant. Air, water and sound pollution have reached, in many instances, intolerable levels and the rivers that are the lifeline of most cities, are dangerously polluted.
The BIGD reports blamed poor urban governance for the country's chaotic urban transition. In essence, governance is one of the important pillars of a city's urban operating model, in addition to planning, funding, sectoral policies and shape of cities.
The BIGD's latest report titled 'State of Cities: Governance for a Liveable Chittagong' has captured at least two critical issues. First, Chittagong city's development is not need-based. Some projects that have been prioritised as early as the 1960s remain unimplemented. However, a number of less important projects are being implemented, bypassing the city's Master Plan. Chittagong does not have a sewerage system. But the Chittagong Development Authority (CDA) has been implementing a number of flyovers, spending millions of taka that have been proven to be of little use. The CDA which is not directly accountable to the city dwellers and maintains a vertical accountability with the line Ministry has been given more priority over the City Corporation in terms of fund allocation.
Experts believe that as the then mayor was backed by BNP, the priority of his office was largely ignored by the centre. The political discrimination of the ruling party and limited autonomy of local government is not limited to Chittagong. Many mayors and councillors, particularly those elected by the opposition supporters, are either in prison or on the run.
Second, urban primacy of Dhaka is costing the development of Chittagong and other promising cities. Over-concentration of political power, bureaucratic and business headquarters in the capital means the periphery depends heavily on the centre for policy decision and fund allocation. The size of annual development budgets of Dhaka (North) and Dhaka (South) City Corporations, for instance, are Tk. 812 crore and Tk. 420 crore, respectively, whereas Chittagong City Corporation spends only Tk. 99 crore. Consequently, Chittagong and other cities are falling behind in terms of capital expenditure.
Moreover, cities have limited financial autonomy to raise their own funds through tax and levies. Cities need to work with banks and capital markets to develop financial products to finance infrastructure projects lessening their reliance on the centre. Tamil Nadu and other Southern Indian cities offer some lessons in this regard. Land monetisation is another popular way to finance cities. Chinese cities use this avenue.
Urban centres in developing countries are thriving by adopting new ideas and technology. China and India are now focussing on smart city development where technology and sustainable development are the forefront of city growth. By adopting technology, Indian cities are overcoming bureaucratic bottlenecks and providing better services.
To sum-up, in line with China and India, cities could change the economic geography of Bangladesh. To make it happen, the centre has to show its commitment to empower elected mayors and councillors irrespective of their party affiliation, allowing them more administrative and financial autonomy. A mayor-led urban governance system ensuring horizontal accountability of various service delivery agencies could help Bangladesh reap greater benefits from its cities.
The writer is an economist, currently based in China.
Email: [email protected]