"The streets and institutions are male-dominated and aggressive."
Professor Dr. Saskia Wieringa of University of Amsterdam speaks to Nahela Nowshin of The Daily Star at the International Conference on Gender, Diversity and Development hosted by Dhaka University from March 27-29. Dr. Wieringa is the co-founder and secretary for the Kartini Network for Women's/Gender Studies in Asia, and is working on a book on heteronormativity in Asia.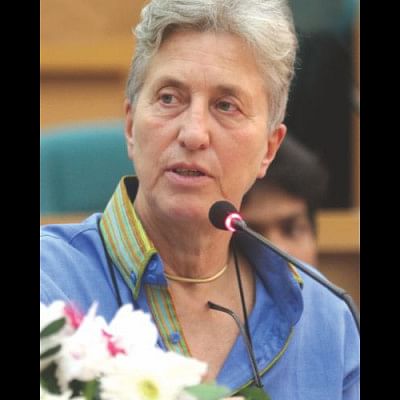 THE Daily Star (TDS): Dr. Najma Chowdhury, Founding Chair of the Women and Gender Studies Department of Dhaka University, and you go way back…
Dr. Saskia Wieringa (SW): This was around twenty years ago. I was approached by the Dutch embassy about an interesting project and they wanted us to collaborate with Dhaka University. So I came to Bangladesh and met Professor Dr. Najma Chowdhury. She told me about her dream to set up a women's studies department and I said, "Ok, let's go ahead." The embassy also gave us their full support. The two of us together had a vision of what we thought would turn out to be a wonderful department. We would spend lots of time together planning and talking about the books, courses, research projects and programs that we wanted the department to have. Maybe it took a bit longer to realise this dream than originally envisaged but Professor Chowdhury's dream has come true and very few people in the world can say that.
TDS: You have published widely on sexual politics in Indonesia. Could you please tell us a bit about that?
SW: I have written several books on Indonesia. To give you a short background, I started out with research on batik labourers and the weak women's movements in Indonesia. The women's movement was weak in part because of the military push in 1965 that stigmatised the Communist party through myths, lies and sexual slander of its women. They associated women's political agency with prostitution, rape and castration of the generals who were murdered. This was a total lie. From that moment onwards, women's political agency was sexualised and perverted. All throughout Suharto's dictatorship women's movement was extremely weak. The grassroots women's movement was dead. I also did more general research on tradition, gender and sexuality. 
I am back to my first big research project which is on the 1965-68 massacre (anti-communist purge) in Indonesia which resulted in the death of more than 500,000 people. A people's tribunal has been set up and I am the current chair of the committee.
TDS: Please tell us about some observations that you've made after coming here.
SW: What strikes me the most here is the aggression I see on the streets. A study has shown that 80-90% of female domestic workers here face physical and sexual abuse in the households they work in. There's an extremely high level of sexual violence in this society. One of my PhD students, Imtiaz Shaykh, did a brilliant study about men and masculinity. He sheds light on the ways in which women are viewed as objects and men tolerate their own objectifying pornographic gaze on women; this plays into the question of masculinity. Women (although, very few) are becoming aware of their rights but men have to change as well. The streets and institutions are male-dominated and aggressive.
I am so happy to be in the field of education because there's so much stupidity and prejudice around. A lot needs to be done in the field of education. We have to move away from aggression and greed in our society and towards one of peace and harmony. And I don't mean harmony based on inequality but one based on respect for everybody.
TDS: It's always the women who are questioned and put under the microscope (even when they themselves are victims of sexual violence perpetrated by men).
SW: The short story Sultana's Dream (by Begum Rokeya) addresses such issues. The gender roles are reversed and here she imagines a feminist utopian society in which women are at the wheel and men are the ones being controlled because most of the mischief and acts of violence are carried out by men. Why don't we give women the control for once? Begum Rokeya saw the dilemma… everything is controlled by men. 
TDS: Women's sufferings around the world are not that different. But what would you say are some of the differences between the western world and the Indian subcontinent in terms of women's issues?
SW: You have to look at the socio-economic indicators. To have full equality, things like political power, education and access to health should be equal. In the Netherlands, the figure is around 0.9 (1 being full equality) and for Bangladesh the figure is 0.6. So an improvement has to be made there. But apart from that, the pervasive mentality that views women as subordinate and dependent don't appear on these indicators. In the Netherlands, we have these kinds of ideologies (maybe even as strong) too but they don't manifest themselves in as aggressive ways as they do in Bangladesh. It's terribly violent, open and public here. A lot of people here live on the streets so they have no recourse but to be out in the open. We should not have to live in fear but in a neoliberal world driven by greed, people's livelihoods are at risk and that is more apparent here than in the West because people there at least have social security (however insufficient). Because of higher insecurity in this part of the world, we see more violence because insecure people are easier to fight.