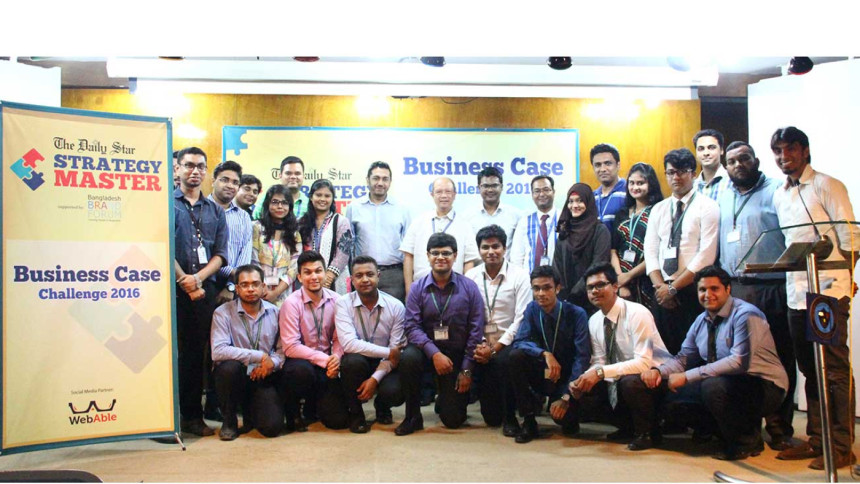 The Daily Star Strategy Master- 2016 AIUB round has taken place on April 12 at the auditorium of American International University- Bangladesh. 5 teams consist of 15 business school students, participated in the competition. A strategic business case was given 48 hours prior to the session, and each team presented the business case to the jury board.
The adjudication panel evaluates the teams based on their presentation. Mr. OvickAlam (CEO- Webable), Mr. Solaiman Shukhon (Head of Marketing, Brand and Product development- AAMRA Networks Ltd.), Mr. Shiblee Shakik Ahmed (Head of Marketing MMDS, South East Asia New Markets- Microsoft Corporation) and Dr. Anisur Rahman Faroque (Head, Department of Marketing, Faculty of Business Administration-AIUB) were the honorable judges at the session. They asked different questions to the participants regarding proposed strategies.  The result of AIUB round will be announced on April 20.
'Strategy Master 2016' supported by Bangladesh Brand Forum is an initiative of The Daily Star to connect the university students with corporate leaders and potential employers.  It will take place at Jahangirnagar University, North South University, University of Dhaka and BRAC University in next 2 weeks where the winning team from each university will be awarded the participation tickets of BBF Leadership Summit on April 23 at Radisson Blu Water Garden Hotel Dhaka.