Registration for female overseas jobseekers begins Thursday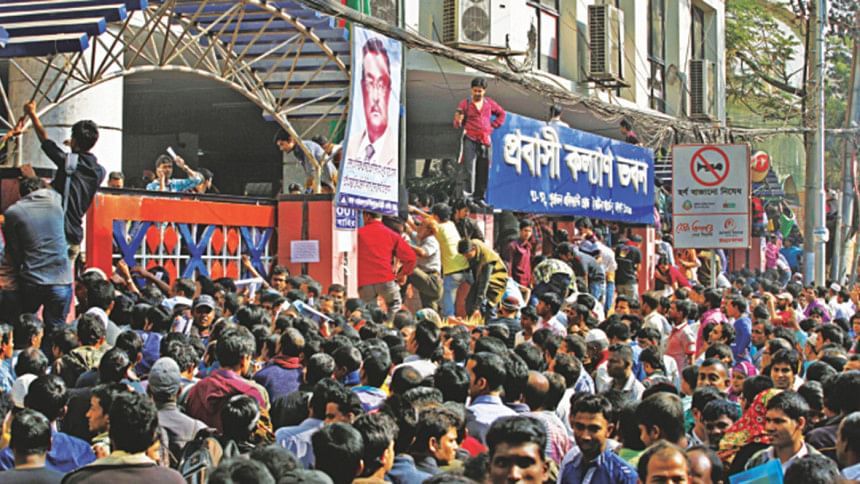 Online registration for women seeking overseas jobs, particularly in Saudi Arabia, will begin Thursday.
The process will start with Dhaka division, Begum Shamsun Nahar, director general of the Bureau of Manpower Employment and Training (BMET), announced at a press briefing at Probashi Kalyan Bhaban this afternoon.
The registrations can be completed at union and ward level digital centres and district manpower offices.
The job seekers will be able to register their names online after paying Tk 200 as government registration fee and Tk 100 as service charge through mobile phone operator Teletalk at the respective offices. The registration booths will remain open from 9:00am to 5:00pm every day.
The registration deadline for Dhaka division is March 11, the BMET director general said.
The online registration in Rajshahi and Rangpur divisions will be on March 12-16, Chittagong and Sylhet on March 17-23, and Khulna and Barisal on March 24-28.
Meanwhile, a Saudi Gazette in a report published today says housemaids from Bangladesh are expected to arrive in Saudi Arabia within the next three months.
The gazette quoted sources close to the recruitment offices in the Eastern Province as saying the Saudi Arabian labour ministry has opened its Musanid electronic portal to receive applications for housemaids from Bangladesh.
Earlier on February 10, Saudi Arabian National Recruitment Committee and Bangladesh Association of International Recruiting Agencies signed a Memorandum of Understanding (MoU) that says the KSA will recruit manpower from Bangladesh in 12 categories including housemaids.