What we know about Abhinandan, the Indian pilot?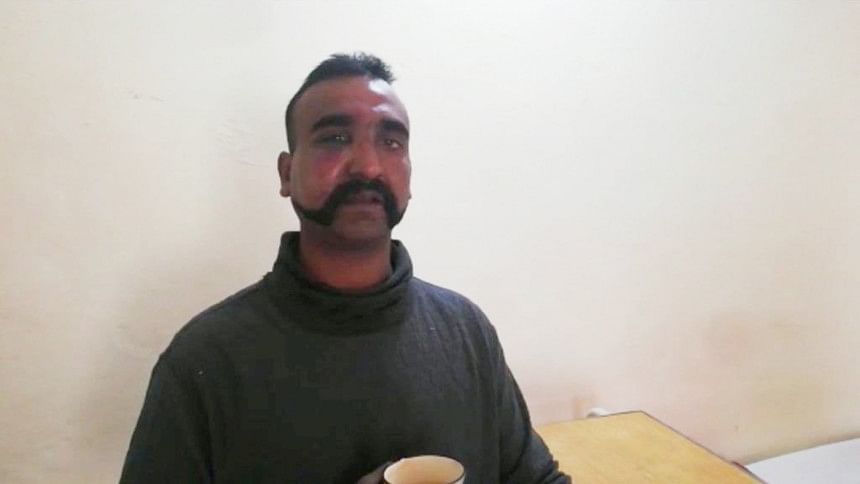 Indian Air Force pilot Abhinandan Varthaman has become the human face of the latest flare-up following the release of videos showing him being captured and later held in custody.
Indian government is demanding the Pakistan authorities to ensure his safe return immediately.
Wing Commander Abhinandan, 35, was captured by Pakistan army after an aerial combat between Indian and Pakistani fighter planes yesterday.
The pilot ejected safely from his MiG 21 Bison aircraft but landed across the Line of Control (LoC) after a fierce engagement in the air between the air forces of the two sides. He was subsequently taken into custody by the Pakistan army, according to the Statesman.
Early yesterday, Pakistan circulated videos of the pilot, where he was seen being interrogated -- wounded, tied up and blindfolded. The clips were, however, taken off once New Delhi accused Pakistan of violating the Geneva Convention for prisoners. A video circulated later showed the pilot sipping tea, saying he was being "well looked after" by officers of the Pakistani army, NDTV added.
According to WikiBio, Abhinandan is from Tambaram, a residential area in the southern part of Chennai while his ancestral background is from Kancheempuram of Tamil Nadu. He is a MiG 21 Bison aircraft pilot. He was born on June 21, 1983.  Reportedly, he was commissioned into the Indian air force on June 19, 2004.
How the pilot was captured by Pakistan Army
Quoting a villager of Horra'n village located barely seven kilometres from the Line of Control (LoC), daily Dawn reports that the "smoke and sound" made him realise that a dogfight was going on up above in the sky about 8:45am yesterday.
A pilot emerged out of the parachute safe and sound.
The pilot, who was equipped with a pistol, asked the youngsters whether it was India or Pakistan. On this, one of them intelligently responded that it was India. The pilot, later identified as Wing Commander Abhinandan, shouted some slogans and asked which place exactly it was in India.
To this, the same boy responded that it was Qilla'n.
The pilot told them that his "back was broken" and he needed water to drink.
Some emotional youth, who could not digest the slogans, shouted Pakistan army zindabad. On this, Abhinandan shot a fire in the air while the boys picked up stones in their hands.
The Indian pilot ran a distance of half a kilometre in backward direction while pointing his pistol towards the boys who were chasing him.
During this brisk movement, he fired some more gunshots in the air to frighten them but to no avail, he said. Then he jumped into a small pond where he took out some documents and maps from his pockets, some of which he tried to swallow and soaked others in water.
The boys kept on asking him to drop his weapon and in the meanwhile one boy shot at his leg.
Finally, he came out and said he should not be killed. The boys got hold of him from both arms. Some of them roughed him up, in a fit of rage, while others kept on stopping them.
In the meanwhile, Pakistan army personnel arrived there and took him into their custody and saved him from the wrath of the youths.
The detained pilot was then taken to an army installation in Bhimber in a convoy of military vehicles, the Pakistan-based newspaper added.