Bay of Bengal prospects
Growing importance of the Bay of Bengal for Bangladesh in the post-Covid world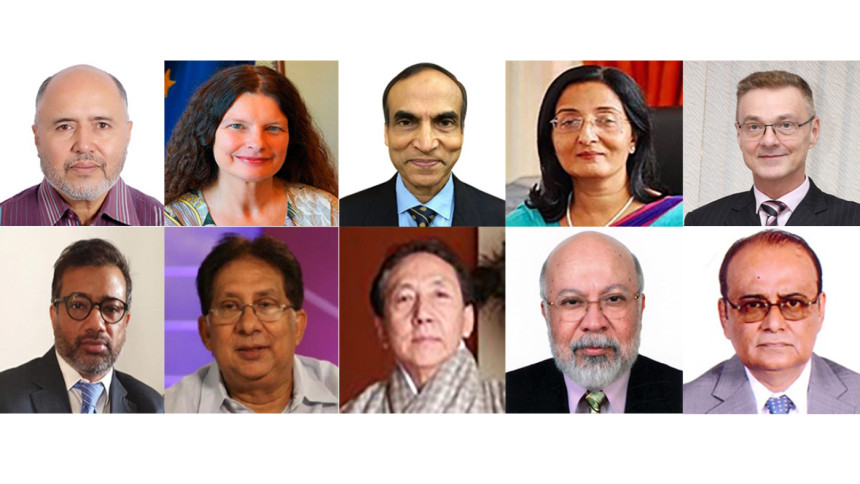 With 66 percent of vital oil shipments for India, Japan, and China, and 33 percent of the world's bulk cargo passing through these waters, the Bay of Bengal is practically on the economic highway of the world. This has provided the impetus for growth of maritime enterprises of densely populated littoral countries including Bangladesh. Regional connectivity through the Bay of Bengal can change the fate of the South Asian people.
The observations came at a webinar titled "Regional Importance of the Bay of Bengal for Bangladesh and its landlocked and littoral neighbours". This was the final webinar of the four-part series jointly organised by Independent University, Bangladesh (IUB), International Centre for Climate Change and Development (ICCCAD) and Bangladesh Institute of Maritime Research and Development (BIMRAD). The programme was held on October 6, 2020.
IUB Vice-Chancellor (Acting) Prof Milan Pagon started off the discussion by highlighting the importance of data-driven decision-making in the context of the 'new normal'. It helps us to see the big picture which is essential for creating awareness about the increasing importance of the Bay of Bengal, he added.
Referring to the smart harvesting of marine resources he said, "We need to make sure that we don't destroy the marine resources while harvesting." He also emphasised upon regional cooperation in terms of protecting the ecology of Bay of Bengal.
Dr Zaidi Sattar, Chairman of the Policy Research Institute and moderator of the session, pointed out, "Bangladesh has a symbiotic relationship with the Bay of Bengal. The Bay of Bengal has been the conduit for global integration of Bangladesh in the past 25 years which has led to tremendous economic progress for the country."
In her keynote speech, Ambassador Mashfee Binte Shams, Additional Foreign Secretary (East), Ministry of Foreign Affairs, Bangladesh, discussed how maritime collaboration could be an answer to the sub-continent's perennial problems. "One fifth of humanity lives in South Asia and many of these people are forced to live in man-made poverty. The region's prosperity depends largely on maritime and inland waterway connectivity, which in turn requires steady cooperation from all co-riparian countries," she said.
The connectivity she talked about is not merely related to transport routes; it has a wider connotation that encompasses infrastructure, institutions and people-to-people exchange. 
Ambassador Mashfee further explained, "Nepal, Bhutan, India and Bangladesh share so many complementarities and commonalities that none can afford to prosper alone. Our destinies, along with our past, are entangled. The solution is therefore to deepen ties and build alliances that bind these countries with common interests, shared geography, history and culture. The Bay of Bengal is our common strategic interlocutor for building such alliance. If Nepal, Bhutan and Northeast India are able to properly harness the Bay, they may have the opportunity to fully shift from their current status of 'landlocked' to 'land-linked'."
Sonam Tobden Rabgye, former Ambassador of Bhutan to Bangladesh, highlighted the importance of seaborne trade for landlocked countries like Bhutan and said, "This pandemic provides an opportunity for landlocked countries to link with the global economies."
Shamsher Mobin Chowdhury, former Foreign Secretary of the Bangladesh Government, emphasised on revitalising regional initiatives like BBIN (Bangladesh, Bhutan, India, Nepal) and BCIM (Bangladesh, China, India and Myanmar Economic Corridor) to strengthen regional connectivity. 
Rensje Teerink, Head of the European Union Delegation to Bangladesh, focused on the infrastructural investment required for regional connectivity projects and said, "Asia will need 1.3 trillion euros a year of infrastructure investments to keep its current GDP growth."
Rameshore Khanal, former Economic Advisor to the Prime Minister of Nepal and Former Finance Secretary of Nepal, stated that peaceful maritime space is a necessity for trade and commerce to continue without fear or disruption. He urged all to be vigilant so that the Bay of Bengal remains free from military action.
Sabyasachi Dutta, Founder Director, Asian Confluence-India, talked about the blue economy of the Bay of Bengal, which can connect to the hill economies of the middle level states of India and to the mountain economies of places such as Bhutan and Nepal.
He further stated, "The northeast of India, along with our northern neighbours, Bhutan and Nepal, and southern neighbours, Bangladesh and Myanmar, together create a unique ecosystem. This binds us in a unique bond of ecology, culture, and economy."
Rear Admiral (retd.) Kazi Sarwar Hossain, ndp, ndc, Adviser of the Bangladesh Institute of Maritime Research and Development, emphasised on the strategic advantage enjoyed by Bangladesh being at the crossroads of the economically rising South Asia and South-East Asia. "We need to leverage this connectivity to reap the maximum benefits," he reiterated.
Ambassador (retd.) Tariq A Karim, Senior Fellow, Bay of Bengal Institute Project, IUB, concluded the session by stating that in the post-COVID world, everyone needs to readjust their thinking economically, ecologically and geo-politically.