Giving is contagion's call to the affluent
Implies founder of private foundation SAAF in exclusive interview with The Daily Star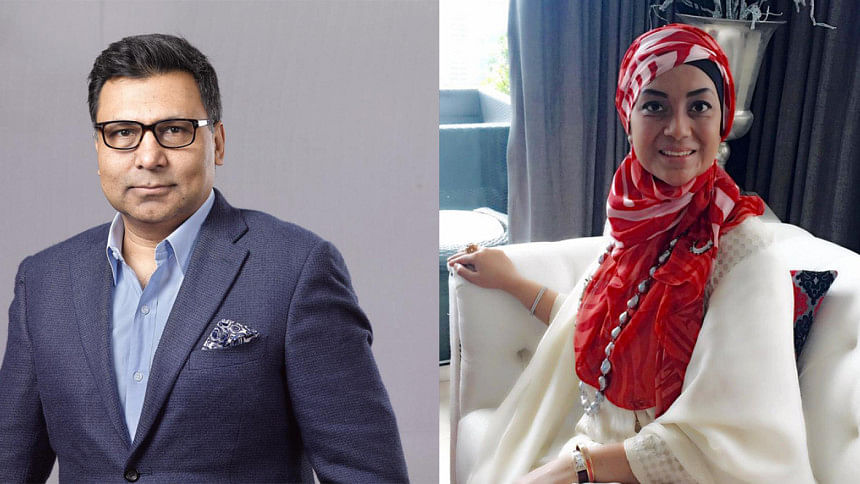 Sharing is caring.
A private foundation of Suhana and Anis Ahmed sends out this message to society's all-haves while taking some burdens off the shoulders of no-haves during an unprecedented humanitarian crisis that Bangladesh has ever faced due to coronavirus pandemic. 
Though not new to charity, the Suhana & Anis Ahmed Foundation (SAAF) only recently hogged the headlines when it teamed up with Bidyanondo Foundation, pumping in Tk 1.05 crore fund to provide coronavirus pandemic support to 22,000 poor families in the rural areas. The foundation also took nearly 3,000 drivers of CNG three-wheelers under its wings, disbursing Tk 1.84 crore to them as support for survival, 57 days into the shutdown to contain the spread of Covid-19. 
Read more: Friend in need is a friend indeed
Suhana Lutfa Ahmed and her husband Anis Ahmed have a very ambitious dream to fulfil: someday their foundation too would be as respectable as Bill & Melinda Gates Foundation. 
The Daily Star (TDS) reached out to Anis Ahmed (AA), the owner of conglomerate MGH Group, who talked at length from Singapore about nothing but charity.  
The pandemic is set to last long, and people in the low-income bracket are going to take the biggest hit from this crisis. Anis hopes, initiatives of their foundation would inspire the businesses and wealthiest people in our society to do something for the poor in a more fulfilling way. Sharing of wealth and zakat in a structured way can make a huge difference at this time of grave crisis.
TDS: Which year did you set up the foundation?
AA: The foundation was formally established on July 12, 2017.
We, however, started such charity work back in 2009 when I was in Karachi on a business trip, and met an old friend, then Bangladesh's deputy high commissioner to Pakistan, over coffee. I was trying to know if my organisation (MGH Group has branches in Karachi and Lahore) could assist the Bangladeshi community there. A good number of workers, labourers and cooks are famously employed in Pakistan.
I was asked if I could help pay for the repatriation of seven Bangladeshis, who were released from Karachi jail after eight years, and had no means of returning home. For lack of money and finding no alternatives, these freed Bangladeshis stayed back in the jail, just for three meals a day and a place to stay in. And, it all started since then.
In 2012, we brought back home 20 migrants from Tanzanian prison, 18 from Egypt, and one female worker from Lebanon. Sadly, this project was stopped for lack of support from NGOs.
Read more: Debts, dreams and middle men haunt Bangladeshi migrants jailed abroad (From The Guardian)
TDS: What inspired you to set up a foundation?
AA: To have a structured and sustainable approach for reaching out to more people who need help. After serving our very own community up to satisfaction, our foundation hopes to help and empower international communities someday, to which we also belong.
TDS: What motivated you to do charity in this way?
AA: I'm an avid follower of Bill Gates and very much influenced by the initiative of Bill & Melinda Gates Foundation. I always feel, it's how you do your business, retire and then devote your life to the mankind, with your better half right beside you!
I'm 55. It's my time to focus more on community work. We're planning and preparing for it, more intensely than before.
TDS: Any major initiative for communities before the foundation was set up?  
AA: We helped build a sophisticated operation theatre at the Dhaka Medical College Hospital Burn Unit, and it gives us a tremendous satisfaction still. In 2013, I was approached by Dr Samanta Lal Sen, the famous plastic surgeon who founded the burn unit at DMCH, to help modernise the ramshackle operation theatre. The burn unit does have a state-of-the-art operation theatre now. Back then, we assisted Dr Sen on condition of anonymity.    
Having been exposed to the grim public healthcare system from up-close, we started funding in many hospital facilities: we distributed infant incubators, radiant warmers (at DMCH, Shariatpur Sadar Hospital and Dhaka Shishu Hospital) to help prevent deaths of new-born babies, smart cane for blind students etc.
TDS: Recall the first charity through the foundation. How exciting and satisfying was it?
AA: It's a long-term project with children's leukaemia ward at BSMMU (Bangabandhu Sheikh Mujib Medical University). Since 2018, the foundation has been working with the Department of Paediatric Haematology & Oncology of BSMMU to provide an overall, 24/7 support for all child patients in the 31-bed capacity ward.
The foundation is supplying two crucial medicines to patients and providing paid attendant, sanitisation, snacks and beds with fresh cover, pillow, linen etc. We've planned to provide a lot more support for this special ward: TVs at every bed, hygiene kits for visitors, care staff, lodging support for families and so on.     
TDS: How rewarding is this voluntary giving of help?
AA: I don't know how to describe those feelings when a child recovers from leukaemia to head home or go back to school, child patients gain greater visibility after cataract-removal at the eye camps we support, blind students carry on with their lives with the sonar-sticks we provided, or the way smile breaks at the corner of mouths after help reaches the helpless. It's a life worth living, I feel then.
TDS: What roles the co-founders play? Your thoughts and dreams about the foundation? How do you compare SAAF with Bill & Melinda Gates Foundation?
AA: Suhana and I share our dreams, plans and decide on what we want to achieve by a specific time period. Picking a project through long research is extremely important, and here Suhana plays a big role in the foundation. I, on the other hand, focus more on mobilising support for the project we choose.
We aim to work with the young generation more. SAAF would be helping and assisting young Bangladeshis more and more to get education and skills that would be required for them to succeed globally.
Our young generation is intelligent, meritorious, resilient and determined. We want to support some of those who are qualified but short on finances. We have recently funded a scholarship programme at Brac University for six students annually, of them three are majoring in computer science and engineering. We are in discussion with other private universities to introduce such scholarship programmes on software, cloud network management etc.
Bill & Melinda Gates Foundation is an iconic philanthropic organisation, which is involved with major global causes -- from public health to waste water recycling, to prevention of epidemic. Our humble initiative could in no way be compared with that of the world's richest couple. But, when we think of giving, we think of Gates Foundation to get us motivated. 
TDS: Does the foundation have any religious-bias while selecting people or causes for charity?
AA: No, there is no religious-bias at all.
TDS: How has your foundation responded to social causes during this pandemic?
AA: We participated in the dry-food programme of Bidyanondo Foundation, which I found to be very effective as Kishore, the founder of Bidyanondo, is extremely organised. We supported about 2,500 CNG-run three-wheeler drivers for two months during the shutdown. We're researching and planning what more we could do if the shutdown is extended or what kind of project we could undertake to support vulnerable communities amid contagion fallouts.
TDS: What lesson the affluent in the society can take from your initiative?   
AA: When you reach out to the most disadvantaged communities, you get to realise how privileged you are in life. A little giving can be so very fulfilling! In the past, we believed charity should not to be publicised. But, this pandemic has changed our views completely. Now, we want the well-to-do to know about our initiatives so that more hands come forward in the welfare of the poor.