Digital Security Act: Didarul, Minhaz denied bail, sent to jail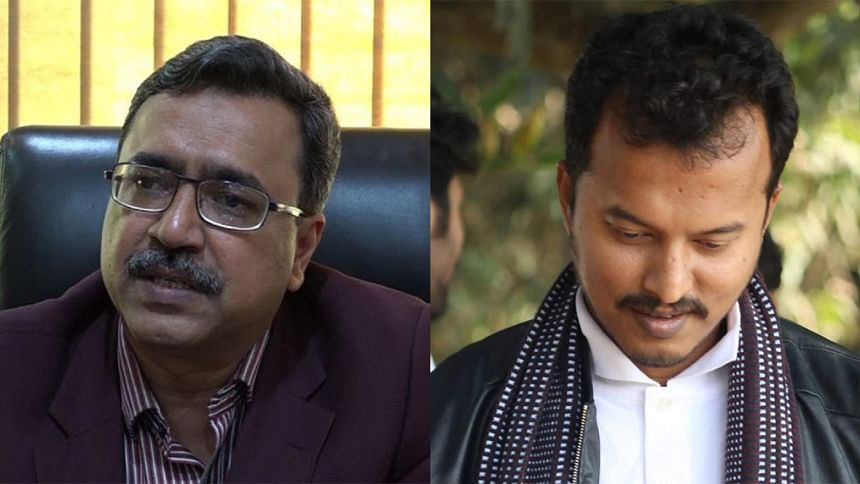 A Dhaka court rejected the bail petition of Rashtrachinta activist Didarul Bhuiyan and Dhaka Stock Exchange director Minhaz Mannan Emon and sent them to jail in a case filed under the Digital Security Act.
Metropolitan Magistrate Rajesh Chowdhury passed the order after Sub-Inspector of Ramna Police Station Jamshedul Alam -- also the investigation officer of the case -- produced them before the court today with a seven-day remand prayer for each.
"We prayed for a seven-day remand for each," Sub-Inspector Jamshedul told The Daily Star.
The court, however, will hear the remand prayer after reopening of the court proceedings, General Recording Officer Sub-inspector Nizamuddin Fakir confirmed the Daily Star.
Didarul was picked up from his house in the capital's North Badda on May 5 evening.
Another accused, businessman Minhaz, had been missing for over a day before he was shown arrested in the case yesterday.
Rab-3 personnel handed both of them over to police yesterday evening.
Eleven people, including a cartoonist, two journalists and a writer, were charged with "spreading rumours and carrying out anti-government activities" under the Digital Security Act yesterday.
Of the other accused, cartoonist Ahmed Kabir Kishore and writer Mushtaq Ahmed landed in jail yesterday after they were produced before a Dhaka court.
Swedish-Bangladeshi journalist Tasneem Khalil, who runs Netra News, US-based journalist Shahed Alam and blogger Asif Mohiuddin are among those named in the case filed by Rab-3 Assistant Director Abu Bakar Siddique with the Ramna Police Station.