Fire burns 4 of a family in Savar
Man claims stepbrothers were behind the blaze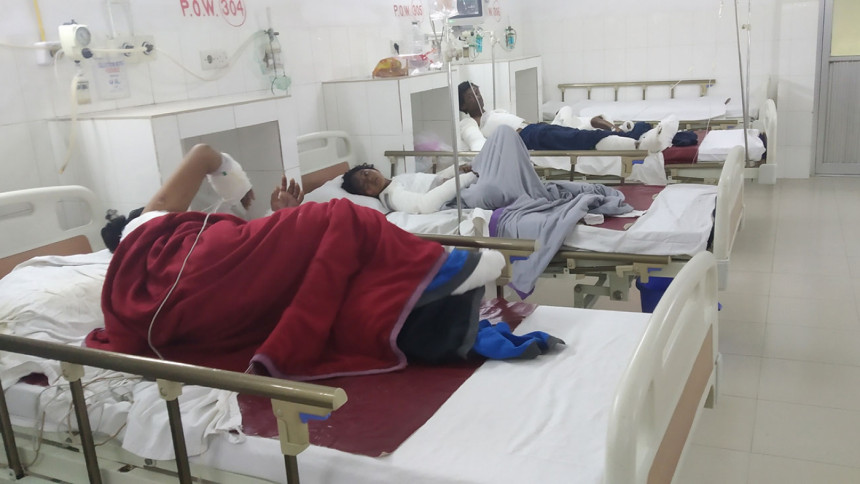 Four members of a family suffered burn injuries as a fire broke out at a two-storey building in Savar early yesterday.
The family members are Majaharul Islam, 35; his wife Shumi Begum, 30; and their daughters Sumaiya, 10; and Suraiya, 6. They are undergoing treatment at Enam Medical College Hospital, after being rescued by locals.
Though reason behind the fire is yet to be ascertained, Majaharul, a trader, told this correspondent at the hospital that his stepbrothers set fire to their building at Kanchanpur in Savar municipality area.
"I had longstanding disputes with my stepbrothers over property," he said. "We were sleeping at our house [on the ground floor] when the incident took place around 4:00am," he added.
Refuting Majaharul's claim, two of his stepbrothers -- Shohidul and Shafiq -- said they have no such dispute with Majaharul. "Why would they set his house on fire? Majaharul's claim is false," they added.
Officer-in-Charge of Savar Model Police Station Abdul Awal said they are yet to find out the reason behind the fire. Regarding the allegation, he said they are looking into the matter.
Among the injured, Shumi sustained 32 percent burns, Majaharul 25 percent, Suraiya 20 percent and Sumaiya 15 percent, said Dr Atikur Rahman, assistant register of the hospital's surgery department. Shumi and Suraiya's conditions are critical, he added.