Tiny spider takes on deadly brown snake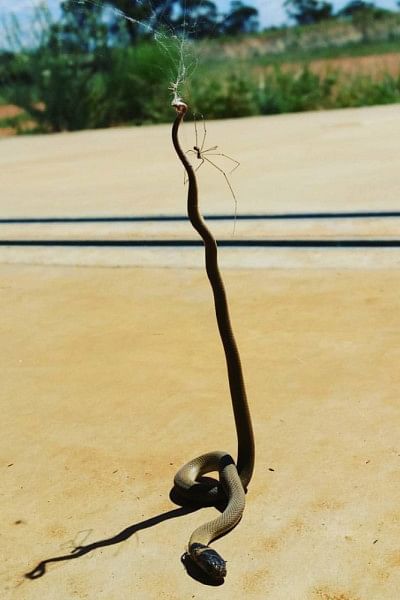 Only in Australia does a snake stand no chance against a spider.
Farmer Patrick Lees captured this image of a deadly brown snake caught up in the web of a daddy long legs. A surprising feat, considering the spider isn't considered to have particularly strong venom, according to the Australian Museum, reports Mashable.
"When I walked out to the shed on Sunday, I saw this brown snake strung up by a daddy long legs in its web," Lees told Mashable Australia via email. Lees came across the scene on his 10,000 acre (4,047 hectare) farm in Weethalle, in central west New South Wales, where he also runs a Facebook page called The Aussie Farmer.
"I'd never seen anything like it before. People have this idea that everything in the bush is trying to kill you, but this took it to the next level. I just thought it was a classic Australia moment and had to share it," he said.
The snake was dead when Lees found it, measuring 30 centimetres in length (11 inches).
It's probably the first time we've seen a spider defeat a much larger opponent. Down Under, they prefer to show up in salad packets and to be indestructible in toilets.
Lees said there was no way he could tell whether the daddy long legs spider actually killed the snake with its venom, or if it outsmarted the snake with its web.
Either way, it's pretty clear who the champion is in this not-so-lopsided battle.