Sneezing monkey, 'walking' fish found in Himalayas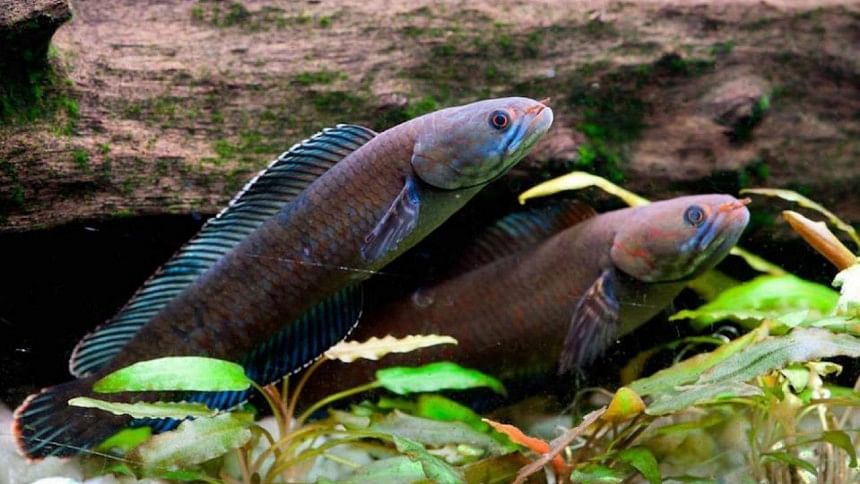 A monkey that sneezes when it rains and a "walking" fish are among more than 200 species discovered in the ecologically fragile eastern Himalayas in recent years, according to conservation group WWF.

WWF has compiled a survey of wildlife discovered by scientists across Bhutan, northeast India, Nepal, northern Myanmar and southern Tibet, in an attempt to raise awareness of the threats facing the sensitive region.

The species include what the WWF described as a blue-coloured "walking snakehead fish" which can breathe air, survive on land for four days and slither up to 400 metres (a quarter of a mile) on wet ground.

Others include an ornate red, yellow and orange pit viper that could pass for a piece of jewellery, a fresh-water "dracula" fish with fangs and three new types of bananas.

In the forests of northern Myanmar, scientists learnt in 2010 of a black and white monkey with an upturned nose that causes it to sneeze when it rains.

On rainy days they often sit with their heads tucked between their knees to avoid getting water in their snub noses.
The 211 new species discovered between 2009 and 2014 include 133 plants including orchids, 26 kinds of fish, 10 amphibians, 39 invertebrates, one reptile, one bird and a mammal.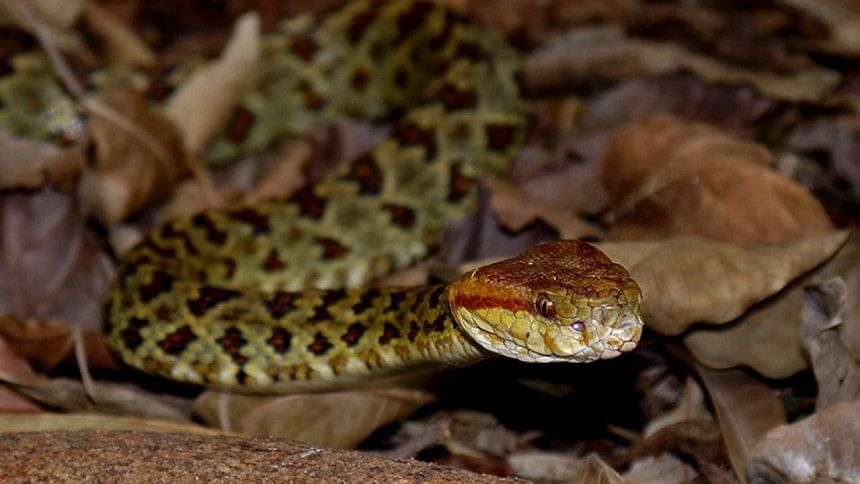 'Unique treasure house'
Dipankar Ghose, WWF director of species and landscapes in India, described the region as a "unique treasure house" that has not yet been fully explored by scientists.
In its report WWF said the region, home to Mount Everest, is rugged with vast forests, rivers and streams protected by mountain ranges, meaning species have evolved and survived unnoticed for centuries.
"Some (species) are so unique and charismatic that scientists are often at a loss as to how to classify them," said the report released this week.
But WWF warned of a series of threats to the region including population growth, deforestation, overgrazing, poaching, mining and hydropower development.
Just 25 percent of its original habitats remain intact and hundreds of species are considered to be globally threatened, the report said.
"The challenge is to preserve our threatened ecosystems before these species, and others yet unknown, are lost," said Sami Tornikoski, who heads the WWF Living Himalayas Initiative.
The report calls for more sustainable development, singling out a need for greener hydropower plants and government help for communities to adapt to climate change.
Ghose urged a whole-government approach, and stressed the need for administrations across the region to work together to strike a balance between development and conservation.
"The forestry department alone for example cannot handle this. It takes coordination across multiple areas of government," he told AFP on Tuesday.
"Countries also need to work together to protect the immense biodiversity that the region holds."
Bhutan agriculture and forests minister Yeshey Dorji warned of the impact of climate change, with temperature increases hitting hard the Himalayas, which are a "lifeline to millions of people and are critical to the economies of the countries that share the region".