Recruitment to Malaysia: Still marred by irregularities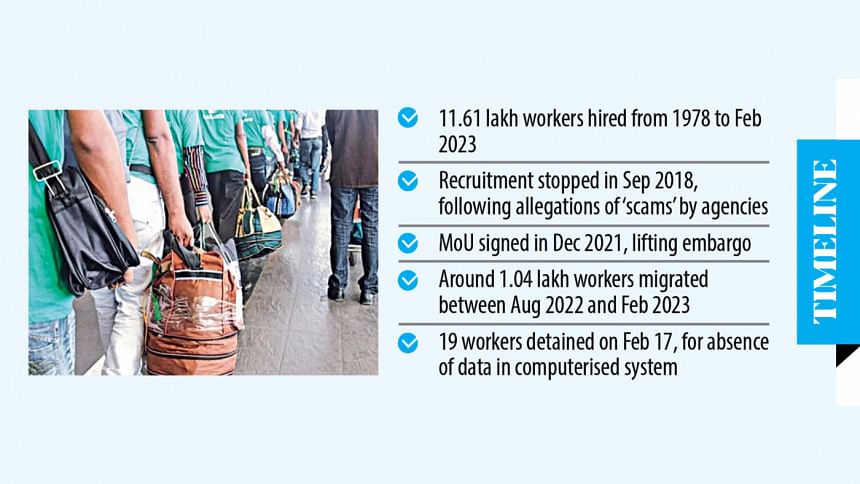 Recruitment of new Bangladeshi workers in Malaysia has been tainted by a number of irregularities, with a few dozen workers falling into trouble, which includes joblessness.
The anomalies surfaced amid allegations of high recruitment costs and "syndication", factors which plagued the recruitment process and led to a suspension in the past.
Malaysia reopened its labour market for Bangladesh last year, after nearly four years of suspension, with the first batch of new migrants reaching there in early August under a new arrangement.
Between August 2022 and February 2023, around 1.04 lakh migrant workers went to Malaysia for employment, according to the Bureau of Manpower, Employment and Training (BMET).
However, the Malaysian authorities sent 19 workers home from Kuala Lumpur International Airport on February 17, after the migrants' data were not found in the computerised system.
On March 16, news outlet Free Malaysia Today reported that 10 Bangladeshi workers were detained there after their supposed employer failed to provide them with jobs.
The migrants entered Malaysia last December and were detained for "not possessing valid documents", the report said.
They were among 95 workers who paid around RM 20,000 or Tk 4.75 lakh (RM 1 equivalent to Tk 23.76) each in recruitment fees to an agency in Bangladesh, which promised them jobs at an engineering company in Selangor, it added.
Contacted, Nazmus Sadat Salim, minister (labour) of Bangladesh High Commission in Kuala Lumpur, recently said the mission learnt about the incidents and took prompt steps to resolve the issues.
Multiple stakeholders both in Bangladesh and Malaysia are involved in the recruitment of Bangladeshi workers in Malaysia. All parties need to be committed and sincere to ensure safe and orderly migration, he said.
A large labour market for Bangladesh, Malaysia hired about 11.61 lakh workers from Bangladesh from 1978 till February this year, shows BMET data.
The Southeast Asian country stopped recruiting Bangladeshi workers in September 2018, after media reports in Malaysia revealed a financial scam involving a "syndicate" of 10 Bangladeshi agencies and a Malaysian businessman who charged up to Tk 4 lakh against each worker.
After prolonged negotiations, the two countries signed a memorandum of understanding (MoU) in December 2021, lifting the embargo and agreeing to send and receive workers under a new arrangement.
However, a section of recruiting agencies questioned the new arrangement, alleging that a "syndicate" of only 25 agencies were given permission to send workers to Malaysia.
Currently, the number of agencies has been increased to 100, according to sector insiders.
The expatriates' welfare ministry fixed the maximum migration cost at Tk 78,990 at the Bangladesh end to send a worker to Malaysia.
After a meeting with Malaysian Home Minister Saifuddin Nasution Ismail in Dhaka on February 5, Expatriates' Welfare Minister Imran Ahmad said the MoU is likely to be amended to make the recruitment process easier.
The Bangladeshi minister pointed out the political change in Malaysia, as a new government was formed following a general election in November last year. He said, "…There will be significant changes in whatever issues we had agreed upon with the previous government."
Labour migration expert Shariful Hasan said there has been information regarding the joblessness of Bangladeshi workers in Malaysia.
In addition to charging high recruitment fees, there have also been allegations of "syndication" in sending workers to Malaysia and conducting medical tests of workers in Bangladesh, Shariful said.
"Overall, irregularities... that persisted in the past could not be eliminated," he said, adding that incidents of irregularities will augment concern over ensuring jobs for workers who have been in the pipeline.
As the new Malaysian government hinted at bringing change in the recruitment process, the Bangladesh government should also strongly address irregularities by enhancing monitoring mechanisms, he mentioned.
Abul Basher, president of Bangladesh Association of International Recruiting Agencies (Baira), said there could be some "stray incidents" in the recruitment of new Bangladeshi workers in Malaysia.
Baira has taken steps within the organisation and also sought remedy from the expatriates' welfare ministry to stop such incidents, Basher said.
He urged Bangladeshi officials to properly verify documents related to Bangladeshi workers' recruitment before attesting those.