Recruitment from Bangladesh: Malaysia opens doors, finally
MoU signing tomorrow; syndication fear remains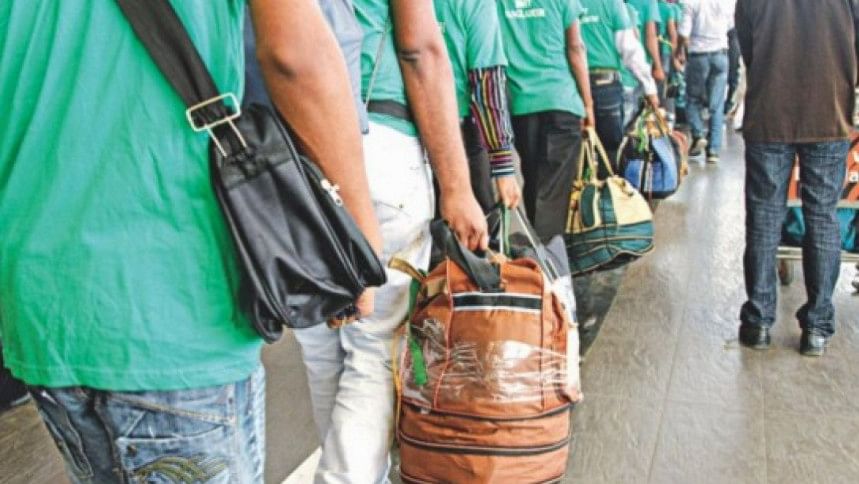 Malaysia will soon open its market for Bangladeshi workers, ending a freeze of more than three years, but concerns remain over the syndication of a few agents and the high cost of migration -- major factors behind labour exploitation in the past.
A memorandum of understanding (MoU) is likely to be signed tomorrow in Kulala Lumpur between Bangladesh and Malaysia in this regard.
Following allegations of labour exploitation and high migration costs of up to Tk 4 lakh per worker, the then Malaysian government had frozen recruitment from Bangladesh from September 2018.
Ahead of the reopening of the Malaysian market, labour migration experts say the concerns are justified as Malaysia is not keeping the market open for all agents in Bangladesh.
Moreover, the draft MoU suggests the workers will pay the migration cost instead of employers paying it in full as per the ethical recruitment model.
Expatriates' Welfare and Overseas Employment Minister Imran Ahmad, who is leading a delegation to Malaysia today and will sign the MoU tomorrow, said, "We are not allowing any system for syndication."
Addressing a press conference at the Prabashi Kalyan Bhaban yesterday, the minister said a vested group was trying to taint the whole process.
Asked about the cost of migration, he said his target is to set the migration cost for sending workers to Malaysia at a "level that will be viable for poor job seekers".
"It will be much less," he said, adding that it will depend on successful signing of the MoU with Malaysia, which is home to some 800,000 Bangladeshi workers.
As per the Malaysian human resources ministry statement, recruitment of Bangladeshi workers will be open to various sectors including plantation, agriculture, manufacturing, services, mining and quarrying, and construction.
Asked, an official of the Bangladesh High Commission in Kuala Lumpur said, "How can you reduce migration cost when job seekers themselves agree to pay it?"
According to sources in Dhaka and Kuala Lumpur, a powerful lobby in both countries is behind labour recruitment arrangements and it wants only 25 Bangladeshi agencies to be allowed for recruitment in Malaysia. There can be 250 other recruiting agents to assist them.
This is almost a similar case that happened in 2016 through the G-2-G Plus mechanism under which the Malaysian government selected only 10 Bangladeshi agents to recruit workers, although the Bangladesh government had proposed names of 745 recruiting agencies.
The members of the syndicate were: Noor Ali of Unique Eastern Pvt Ltd, Ruhul Amin of Catharsis International, Ghulam Mustafa of Prantik Travels & Tourism Ltd, Mohammed Bashir of Rabbi International, Zainal Abedin Zafar of Al Islam Overseas, Ruhul Amin of Amin Tours & Travels, ASM Khairul Amin of Career Overseas Consultants Ltd, Tuhin Siddiquue Ome of ISMT Human Resources Development Ltd, Arif Alam of Passage Associates and Shaikh Abdullah of Shanjari International.
Asked about the malpractices, Noor Ali, managing director of Unique Eastern, one of the 10 recruiting agencies, admitted that the migration cost was high but said they had no control over it.
"Jobseekers don't come to us directly. They go to brokers… there are six to seven layers of brokers. So, we cannot control the cost," he had said at a press conference at The Westin Dhaka on August 30 in 2018.
Shameem Ahmed Chowdhury Noman, secretary general of the immediate past committee of Bangladesh Association of International Recruiting Agencies (Baira), said it is a matter of concern if Malaysian government selects recruiting agencies in Bangladesh.
"It will lead to another syndication and monopoly in the sector just like what happened in 2016-2018," he said, urging the Bangladesh government to strongly prevent such attempts because such syndication did not work last time.
Noman said no other country sends workers to Malaysia under any such syndicated agents.
Andy Hall, an independent labour migration researcher on Malaysia, told The Daily Star that there were a number of Malaysian companies that incurred export bans in the US and Europe because of the companies' record of forced labour andcharging high fees from migrant workers.
"These companies have committed to paying full cost of foreign workers' recruitment. They will not be recruiting workers from Bangladesh if the workers are required to pay fees," said Hall, who is now residing in Nepal.
Globally, supply chain is coming under serious scrutiny over whether environmental and labour compliance is being maintained. There are already examples of Bangladesh sending workers to Qatar under the ethical recruitment model, he said.
"Why shouldn't the Malaysian government follow that and put in place an open and transparent system?" Hall asked.
Lots of migrant workers paying hefty sums end up being poorer and exploited, he said, adding: "Bangladesh surely does not want her people to be poorer. So, she should negotiate accordingly."