Highest number of migrants reaching Italian shores this year are Bangladeshis: Ambassador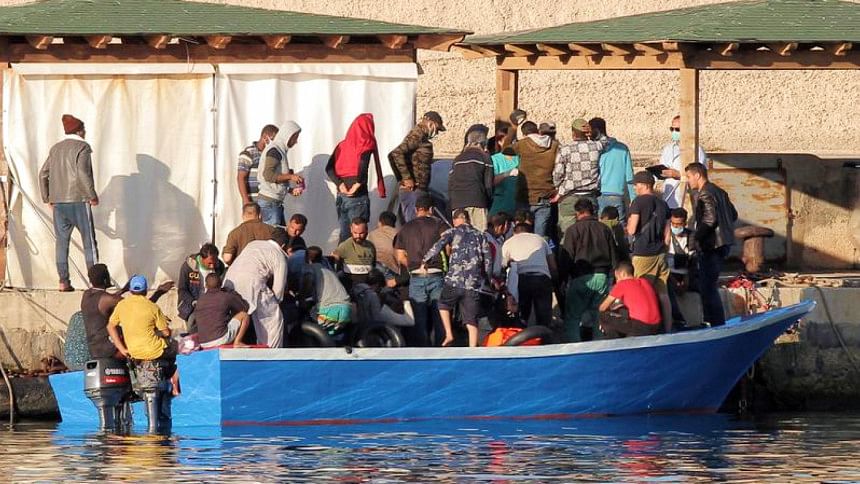 Bangladeshis were found to be the highest number of irregular migrants reaching the shores of Italy in the first six months this year.
Of the 28,405 irregular migrants, there were a total of 4,606, who were followed by Egyptians, Tunisians, and Afghans.
Italian Ambassador to Bangladesh, Enrico Nunziata, revealed this information at a view-exchange meeting organised by the Foreign Ministry on "Tackling Human Trafficking and Safe Migration" at Shariatpur municipality auditorium today.
Shariatpur is one of the most trafficking-prone areas from where a lot of Bangladeshis take risky journeys to Italy through the Mediterranean.
Nunziata said Italy is particularly affected by the irregular flows of migrants from Africa and Asia. At least 54 percent of the applications for international protection have been rejected by the Italian authorities – a fact that proves that they were basically economic migrants.
He said those seeking to migrate to Europe face enormous sufferings, violence, extortion, and many of them die on the way. Last year, 3,231 migrants died.
Another alarming phenomenon is that there is an increased number of unaccompanied minors. Over the years, more than 2360 unaccompanied migrants were found shoring up in Italy through the Mediterranean, the Italian envoy added.
Enrico Nunziata noted that such irregular migration creates humanitarian situations that must be prevented by adapting integrated approaches.
He said Italy has enlisted Bangladesh as one of the countries that can send seasonal workers to Italy in 2020. Since then, more than 1600 Bangladeshis have availed work visas and many are awaiting such visas.
Bangladesh and Italy are discussing ways of increasing skilled migration from Bangladesh to Italy, he added.
Shariatpur Deputy Commissioner Md Parvej Hasan chaired the meeting, which was also addressed by lawmaker of Shariatpur-3 constituency Nahim Razzaq, Foreign Secretary Masud Bin Momen, Senior Secretary for Public Security Division Md Akter Hossain, Inspector General of Police Benazir Ahmed, and Secretary of Ministry of Expatriates Welfare and Overseas Employment Ahmed Munirus Saleheen.