No AC, no food: Kolkata airport rejects Biman's claim of not letting onboard passengers disembark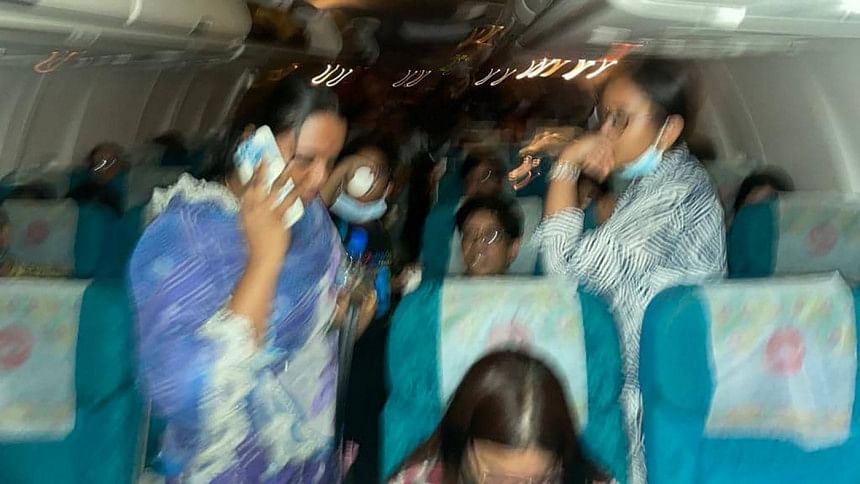 The authorities at the Kolkata airport have rejected Biman's claim that they did not permit the deplaning of passengers from a Biman flight left stranded at the airport for four hours on July 18 due to a technical glitch.
The airport authorities said there was no provision that prevents or disallows boarded passengers to deplane.
"But it has to be requested and it has costs. The request was never made by the Biman pilot or their ground duty manager posted at the airport," said the Kolkata airport authorities.
Earlier, Biman alleged that the Kolkata airport authorities were responsible for the sufferings of its passengers on the Dhaka-bound flight.
Flight BG 396 remained stuck with around 150 onboard in Kolkata from 9:00pm local time on July 18 at the Netaji Subhash Chandra Bose International Airport as the Boeing 737 aircraft suffered a technical glitch in its landing gear, said Biman sources.
Biman Managing Director and CEO Zahid Hossain earlier told this newspaper that the passengers were not allowed by the Kolkata airport authorities to disembark.
During the four hours, the passengers were left without food and air conditioning. The Biman MD said they couldn't serve food or turn the AC on as repair work was ongoing.
After the fix, the flight, however, landed in Dhaka at 1:42am on Tuesday.
"Food was stored in the aircraft as per our information. In the worst case scenario, if there is insufficient food or water, they can be delivered from local agencies like Taj Stats on short notice," said the Kolkata airport authorities.
Several passengers who went to India for medical purposes started feeling unwell as the air condition system of the aircraft was not working due to the unavailability of ground electricity.
The Kolkata airport authorities said Air India ground handling provides support to Biman at Kolkata. Ground-based power units can be connected to aircraft for the AC to be powered. Ground-based AC units are also available but the Biman pilot did not request any of them.
Asked about the claim made by the Kolkata airport authorities, the Biman MD said he is currently out of Dhaka and could not comment on this issue instantly. He also asked this correspondent to contact Biman's customer service department.
When this correspondent contacted the director of Biman's customer service department, he promised to get back on the issue soon. However, he could not be contacted afterwards.
Biman spokesperson Tahera Khandaker yesterday told this correspondent that there were restrictions on the part of the Kolkata airport authorities for which Biman could not deplane its passengers.
Asked whether Biman had made the requests mentioned by the airport authorities, Tahera said she was not aware of the matter.