A man with dubious past
Fresh details surface about suspected hijacker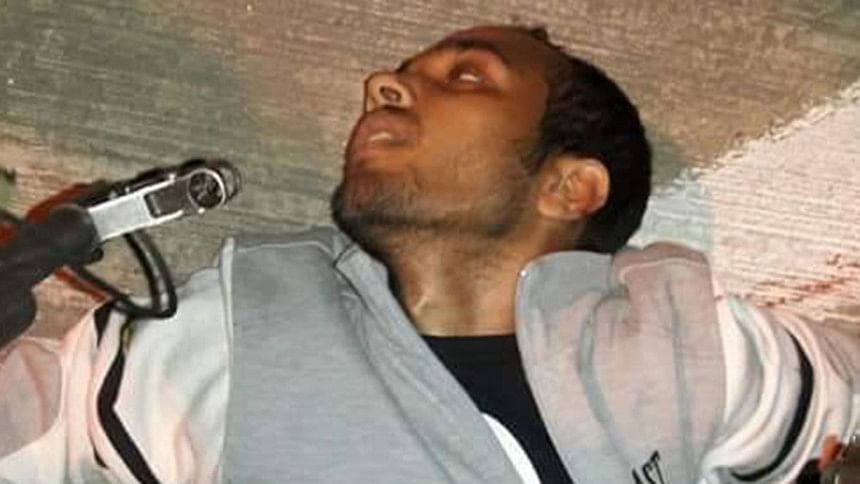 As new details emerge about the youth killed in a commando operation during an attempt to hijack a flight on Sunday, his identity and activities appear quite dubious.
The Rapid Action Battalion yesterday identified him as Polash Ahmed of Narayanganj after his fingerprints matched with that of a person in the criminal database. He was an accused in an abduction case filed on February 22, 2012.
Mufti Mahmud Khan, Rab's legal and media wing director, told reporters that Polash was arrested along with an accomplice after he abducted a woman and demanded Tk 8 lakh in ransom. The victim was also rescued.
Piyar Jahan Sardar of Dudhghata village in Sonargaon confirmed to The Daily Star that the suspect was his son Polash, born in 1994.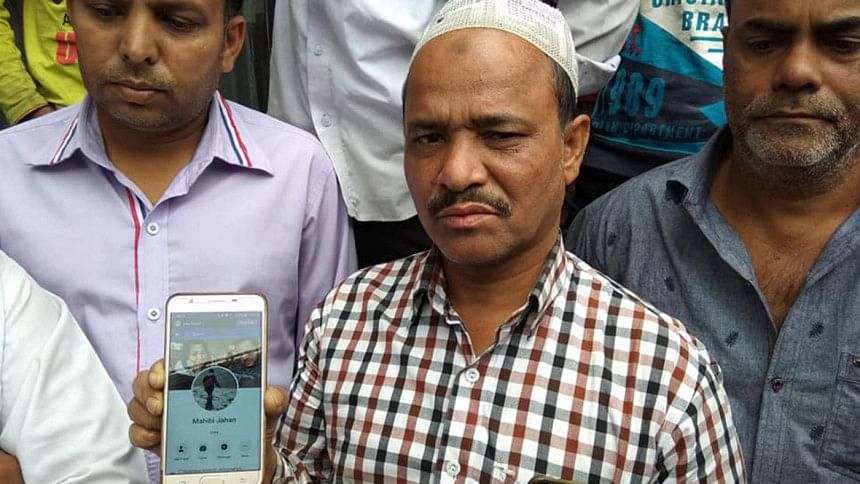 But in his Facebook account, the youth introduced himself as Mahibi Jahan, working in British Airways as an IT Business Analyst, according to his father.
The profile shows that he was living in Glasgow and visited some countries including Greece, Cyprus, India and the UAE. It mentioned that he graduated from public administration department of Dhaka University.
His family members said these are all lies.
The youth told the family that he had married film actress Shimla and posted many photos with her on social media.
Shimla, now staying in Mumbai for the shooting of a film, told The Daily Star last night that she divorced Polash after knowing his "real background" and that he was "mentally imbalanced".
They got married on March 3, 2018, she said, adding, "I divorced him on November 6 in the same year."
Asked if she found him involved in any criminal activities, she said, "Never ever."
Polash also produced and acted in a film titled "Kobor".
In the credit line, he was called Mahibi Jahan. "Everyone knew him as Mahi. He did a small role in the movie," said an actress of the film.
General Officer Commanding Maj Gen SM Matiur Rahman of 24th Infantry Division, in a briefing after the commando operation, said the suspected hijacker identified himself as Mahadi during the mediation. 
'ALL SPENT ON HIM'
Last night police took Piyar to Chattogram to identify his son's body, police said around 10:00am.
Earlier, Piyar said he became confirmed that the slain youth was Polash after law enforcers came to him with the photograph of his son.
Polash passed Dakhil exams in 2011 from Tahirpur Dakhil Madrasa and then he got admitted to Sonargaon Degree College but could not complete his education. Then he left for Dhaka.
Piyar Jahan lived abroad -- first in Kuwait and then in Saudi Arabia -- since the 1990s.  After seven years, he came back to Bangladesh and opened a grocery store in the area.
Piyar said he was not aware where his son resided in Dhaka and what was his job. From the locals, he learnt that Polash was involved in acting and singing.
Polash used to visit his home in Narayanganj rarely, only when he needed money.
"Whatever money I have earned abroad, all was spent on him. He took Tk 50 thousand to Tk 2 lakh each time he visited. If we refused, he used to vandalise furniture and even beat up his sisters…"
"He was our only son. So his mother gave him the money," the father said, adding they learnt that Polash became involved in the media.
"This time he came home around 20 days back and stayed for longer than usual; usually he never stayed that long. He then started going to mosque and even called Azan," the father said.
He told his parents that he would visit Dubai and left home on Friday.
Before that he had come home twice -- a month and a week before the last Eid-ul-Azha when film actress Shimla accompanied him.
During his visit the week before the Eid, Polash told his family that he had married Shimla and the family members reacted to this angrily.  "So Polash and Shimla went back to Dhaka the same day," Piyar added.
"He had duped Shimla into marrying him by giving a fake identity. He told Shimla that his parents lived in London and he was on a visit to Bangladesh and he will go to the UK again after two to three months. Thus he lied to Shimla."
Earlier in 2012, Polash had an affair with a girl and left home together. Later the girl's father sued him in a kidnapping case. He had been in jail for 15 to 20 days, he added.
Four years later, Polash entered into a relationship with a girl through Facebook and married her. Later, they got divorced, he added.
Polash has three sisters and their mother Renu Akhtar is a homemaker by profession.
Renu had suffered a stroke and returned home from hospital on Sunday. She was shell-shocked at such news about her son.
NO ONE CLAIMED BODY
No one has claimed the body of Polash till yesterday.
Piyar yesterday expressed his unwillingness to receive the body. "I have no intention to receive my son's body," the father told The Daily Star.
Md Omar Faroque, caretaker of the Chittagong Medical College Hospital morgue, said after postmortem, it was kept in the mortuary. None came to claim the body, he said.
The body bore a single bullet hole suggesting that he was shot from the front, police said.
There is a bullet mark on the right side of the abdomen, said Zahidul Islam, assistant commissioner (Patenga zone) of Chattogram Metropolitan Police, citing the inquest report.
There is no hole in the back, suggesting that the alleged hijacker was shot only once from the front, he said, adding that the body was handed over to them. "No evidence or anything else has been handed over to us."
[Shariful Islam, Muntakim Saad and our Narayanganj correspondent Sanad Saha prepared this report]