They're all in it together
Airport officials, rogue recruiting, travel agencies join hands to send workers abroad with fake papers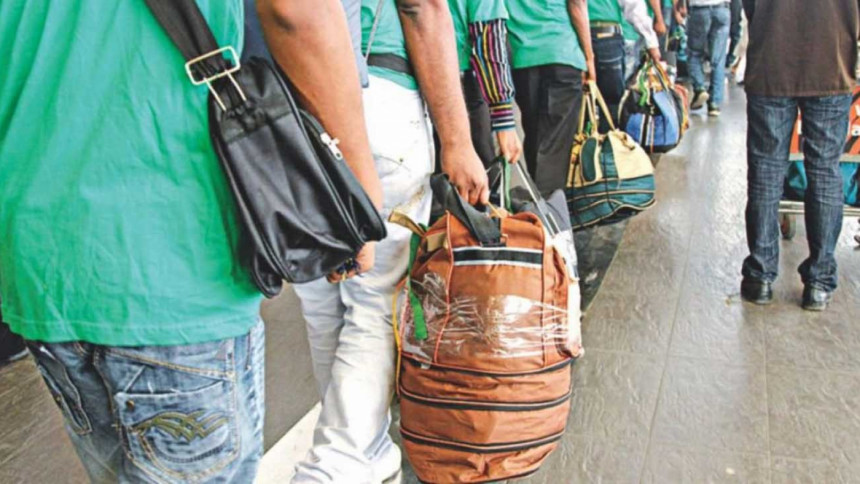 Some recruiting agencies, travel agencies, and airport employees have joined hands to send migrant workers abroad with forged papers, law enforcers have found during probe.
In this connection, the Counter Terrorism and Transnational Crime (CTTC) unit arrested five people of travel agencies, including an owner, early this month.
Arrestee Khorshed Alam is the owner of Shadhin Tours and Travels.
Investigators found that his role was to "manage" the airport. He used to pay Tk 30,000 allegedly to on-duty police officials for every passenger they allow to pass with forged documents.
They investigators said Khorshed was at the centre of a nexus of several unscrupulous recruiting agencies. He would "manage" the airport for the agencies provided they buy air tickets from his agency.
A law enforcement agency's internal report, a copy of which this paper obtained, also stated that immigration officials and recruiting agency staffers sent migrant workers abroad without proper documents for bribes.
According to the report, airport officials, including three inspectors and two sub-inspectors, were working in tandem with different recruiting agencies to send the workers to Lebanon, South Africa, Egypt, and Iran.
The nexus between recruiting agencies and airport officials was discovered after four incidents of migrants attempting to go abroad with forged papers came to light.
On August 1, the four workers, who had landed in Lebanon, were not allowed to enter the country and deported. Their visas could not be found online and it became evident that their visas were forged.
During interrogation, it was learnt that they had left Dhaka on July 29 for Doha and then on to Lebanon and had each paid Tk 3-4 lakh.
A case was filed against Khorshed and five other agents following this incident.
On July 21, eleven migrants heading for Iran were stopped by immigration officials.
When their documents were inspected closely, it was found that they had forged documents and visas. They had each paid Tk 3.5 lakh to their recruiting agencies, said CTTC officials.
All 11 have been accused in a trafficking case.
On July 17, four migrants heading to Iran with forged documents were stopped by immigration officials.
During interrogation, the workers said they were each to pay Tk 5 lakh for a safe passage to Iran. They had each already paid between Tk 50,000 to Tk 2 lakh.
A case was filed with the Airport Police Station in this connection against three agents.
A month before that, two migrants heading for South Africa were stopped as they produced an unsigned document that said, "OK to board".
A majority of these workers held BMET cards.
Tohidul Islam, additional deputy commissioner of CTTC, said they found five people from this syndicate. He said there were several circles involved.