Int'l Migrants Day: with dreams departed, they come home dead
Over 45,000 Bangladeshis die abroad in 14yrs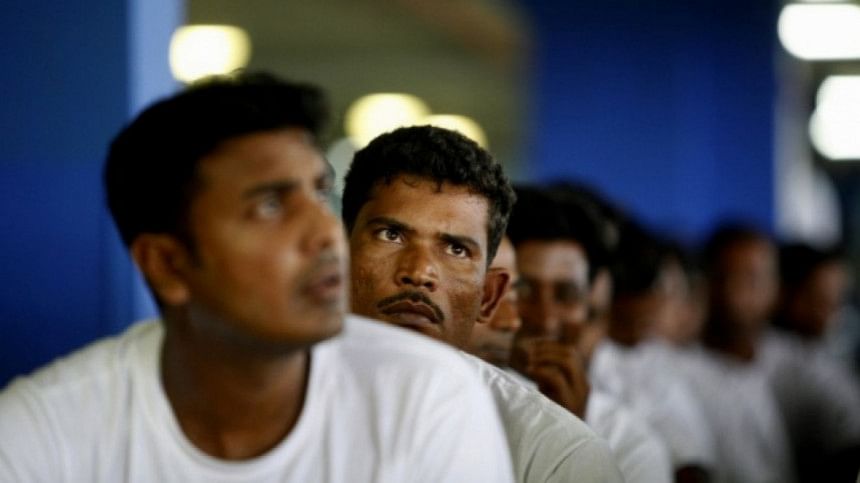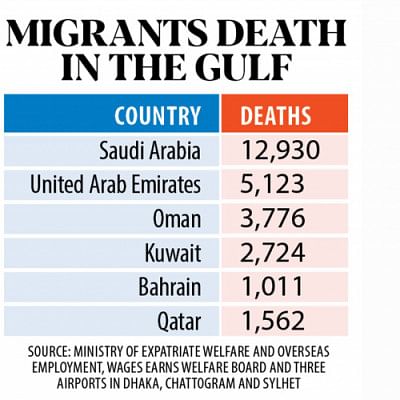 Less than two years ago, 28-year-old Nazmul Biswas left his village in Khulna for Qatar, hoping to provide for his family. With a similar dream of a better life, Golam Mustafa, 26, of Cumilla and Rabiul Awal, 31, of Narayanganj went to Saudi Arabia and the UAE.
But their families had to receive their bodies in December last year. Nazmul died in an accident while Mustafa and Raibul died of a stroke and heart attack.
The three youths were among the 45,301 migrant workers whose corpses arrived in Bangladesh between 2008 and June this year. At least 27,231 bodies arrived from the six Gulf countries. And 12,930 corpses came from Saudi Arabia alone, according to data from the Wage Earners' Welfare Board of the Ministry of Expatriate Welfare and Overseas Employment, and the airports in Dhaka, Chattogram, and Sylhet.
The death of migrant workers in Qatar, the host country of the FIFA World Cup, has triggered widespread criticism across the globe. But the deaths in other gulf countries are not often discussed.
Out of over 10 million Bangladeshi migrants, a large portion are in the gulf countries, sending remittance back home every year.
According to data from Shahjalal International Airport in Dhaka, on average eight to 10 bodies arrive in Bangladesh every day.
Documents that come along the corpses show that most migrants die of stroke and a large portion of the victims are young or middle-aged. The causes of death also include heart disease, accidents at the workplace, road crashes, suicides, and murders.
However, no investigation has been done into the cause of deaths of young or middle-aged workers.
Migrant workers, family members of the dead, and experts say the temperature in the Gulf countries is too high for Bangladeshi migrants.
Unskilled or low-skilled workers are often involved in risky, difficult, and laborious jobs in the scorching heat. Apart from the unforgiving heat, work hours reaching 12 to 18 hours, poor living conditions, separation from families, and mental stress cause strokes and heart attacks, they added.
Supreme Court lawyer Jyotirmoy Barua said, "Nothing is more important than human life. There should be investigations into the cause of deaths of young and middle-aged migrants.
"It is a legal obligation for a country to conduct autopsies of all unnatural deaths. The government can engage the ILO and World Health Organization to ensure the protection of workers in those countries."
WHY SO MANY DEATHS
Of the 307 workers whose bodies arrived in December 2019, 176 (56 percent) died of strokes and most of them were young or middle-aged. Sixty-two died because of heart diseases or natural causes while 57 died in workplace accidents, and 12 in road crashes. Three died by suicide and the remaining two were killed. The situation was similar during most of the months in the last 14 years.
Prof Masoom Siraj, was a doctor in the cardiology department at Prince Sultan Cardiac Center in Saudi Arabia for a long time, said the temperature was too hot in the Gulf countries.
"In that hostile environment, migrants work for 12-18 hours a day, which is inhumane," he said.
"Their living conditions are also very poor and they remain under constant stress. These could be the possible reasons for strokes," said Siraj, who is now the head of the department of cardiac surgery at Ibrahim Cardiac Hospital and Research Institute in Dhaka.
Echoing a similar view, Dr Arifur Rahman, who lived a long time in Saudi Arabia and is associated with the overseas recruitment business, said migrant workers in the Middle East mostly eat oily food.
Long work hours, oppression of the employers, constant pressure to send money home, and a monotonous life cause severe stress to the workers, he added.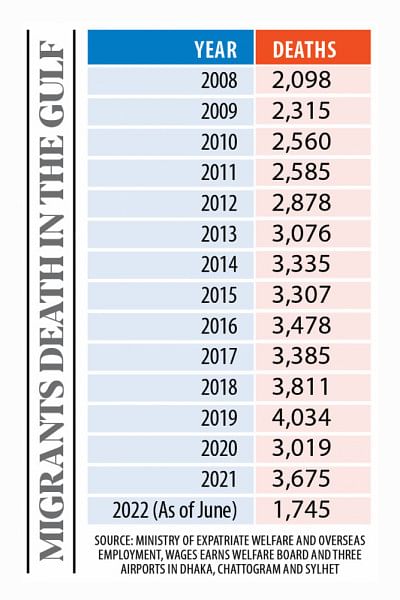 Family members said the untimely deaths of loved ones put them in utter distress. Some families slide into poverty after the death of their breadwinners.
Azhar Ali Sardar, a 22-year-old man from Pabna, died of a stroke in Saudi Arabia. His father, Nazmul Hossain, found it hard to believe that a stroke was the cause of his son's death.
"Why would a 22-year-old have a stroke?" Nazmul asked.
A heart-rending scene unfolds at Shahjalal airport whenever families come to receive the bodies of their loved ones. Family members wait under the scorching sun or amid rain to receive the bodies. There are no seating arrangements for them.
Contacted, Fakhrul Islam, assistant director of the Expatriates' Welfare Desk at the airport said the families of the deceased get Tk 35,000 for burial from the Wage Earners' Welfare Board of the expatriates' welfare ministry.
The families also get another Tk 3 lakh from the board, he added.
SILENCE ABOUT OTHER GULF COUNTRIES
According to various international media reports, 6,650 migrant workers from India, Pakistan, Sri Lanka, Nepal, and Bangladesh died in Qatar from 2011 to 2020 while engaged in the massive development work for the World Cup.
The number of Bangladeshi workers among them is 1,018.
The Bureau of Manpower, Employment, and Training (BMET) have been collecting data on Bangladeshi migrants in Qatar since 1976, the year when 1,121 migrants went to the country.
The number increased gradually but was limited to 10,000 to 12,000 per year until 2011. In 2015 and 2016, over 2.40 lakh migrants flew to Qatar as the Gulf country recruited workers for the construction of the World Cup stadiums and other development projects. The number was 11,158 last year.
SUICIDE BY WOMEN WORKERS ON THE RISE
Saudi Arabia started taking large numbers of women workers from Bangladesh in 2015.
A large number of them returned dead.
From 2016 to 2021, nearly 600 corpses of women arrived in Dhaka. Suicide has been a significant cause of death besides stroke, heart disease, and accidents.
Hajera Begum from Narsingdi went to Saudi Arabia and died by suicide just 14 days after reaching there.
Her sister Nadira said she could not believe that a strong woman like Hajera could die by suicide. She alleged that her sister was tortured to death.
Kamaluddin Ahmed Chowdhury, a professor of clinical psychology at Dhaka University, said, "What we see in Saudi Arabia is that most women are oppressed or they face such situations that force them to consider suicide as the only way out."
CR Abrar, the executive director of RMMRU, said, "We need to find out the reasons for so many migrants' death."
He believes that the number of deaths could be reduced if the causes were known.
Abrar said there should be more bilateral and multilateral discussions to improve the working conditions abroad. At the same time, the migrant-receiving countries will have to be more responsible, he added.