Explore 'Bengal Tiger' market!
Outgoing Dutch ambassador to tell companies at his home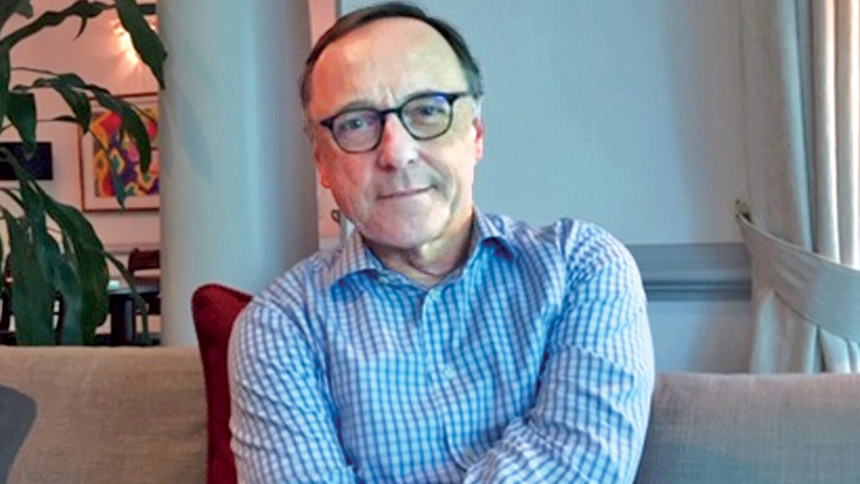 When Harry Verweij arrived as Dutch ambassador three years ago, he had little idea about Bangladesh's dynamism and thriving businesses. During his tenure, he discovered the immense potential the country holds. He shared thoughts on the future and challenges while talking to The Daily Star before he leaves Dhaka tomorrow.
DS: Tell us about the evolution of the relationship between the two countries.
Harry: We've stood shoulder-to-shoulder with Bangladesh since its independence; we share a 50-year long diplomatic relationship. Our development-oriented partnership is fast evolving into one based on mutual trade and investment. Bangladesh currently exports mostly RMG products to the Netherlands, which was worth $1.2 billion in 2020. Bangladesh imported a mere $200 million that same year. There is significant potential for growth and diversification, which demands upgrading and equalising our trade relationship. What helps is what I'd call the "straight-forwardness" and open exchange among friends.
DS: Which areas can help boosting our economic partnership?
Harry: Bangladesh's focus on RMG exports needs to be diversified, both within the sector and by looking at other trade opportunities. Take agriculture -- seventy percent of Bangladesh's economy is agriculture. In terms of upgrading value chains in agriculture, we're mapping certain Bangladeshi and Dutch companies and bringing them together so they can build strong partnerships. We focus on "niche" high-end quality in poultry, horticulture, dairy and food processing -- sectors where there is a lot of trade potential.
There's a lot to encourage in our bilateral relationship. Improving quality and food safety are essential for international trade. High potential sectors include pharmaceuticals, digital economy and ICT. We're keen on cooperating in "moving up the value chain", not only for your largest export market, the EU, but also for the rapidly expanding domestic market. The Netherlands seeks to advance in the maritime sector. Exporting high-end ships, dredgers, but also inland transport ships and assistance in port development are fields where we're able to offer innovative, quality solutions.
DS: What potential do you see in Bangladesh's maritime sector?
Bangladesh is in a highly relevant geo-strategic position. It could develop further as a regional transit hub by expanding the Chattogram, Payra and Matarbari ports. And don't forget inland waterways -- that's where I hope the Netherlands could expand its investments. Look at the Rotterdam port; it's Europe's most significant goods transit hub. Bangladesh can also transport goods to that scale. There is scope for that sort of development, including railways and inland waterways. Presently, almost all transport from Chattogram to Dhaka happens by road, which is costly and causes traffic congestion. This can be reversed by developing environmentally friendly, cheaper, more efficient transportation. Seaports and waterways can connect the whole region, including India, Nepal and Bhutan. It could change the face of the region.
Right now, Bangladesh's business climate doesn't yet attract large numbers of European and Dutch companies. The key for Dutch success in Bangladesh is having a fully trusted partner here for Dutch companies. If found, it will be a strong indicator for smooth operations and success. A number of joint ventures have already been operational here for a long time. We're trying to expand the maritime industry in Bangladesh and seeking similar joint ventures with Bangladeshi entities. Some of our companies are eyeing government contracts for dredging and ship-building.
DS: What challenges do you see from Dutch companies' perspectives?
Harry: Honestly, people don't know much about this country. My motto on our bilateral relationship was: expand, brand and stand! Branding Bangladesh in Europe was what I considered one of my major roles. Regretfully, Bangladesh is in the lower strata of the 190 countries in the World Bank's Ease of Doing Business Index, so low that you almost cannot believe it. If you come in as a foreign company, it takes, a long time to register your company. It can be difficult to repatriate profits. I don't have answers, but I do observe that the government is working hard to change these conditions. Institutions and agencies need to work faster and be more accommodating to foreign trade and investment. I'm happy that branding Bangladesh is being taken up more professionally. With swift reforms to the business climate, better branding will help improve Bangladesh's position in the indexes. I'd say look to other countries, like Vietnam and Turkey, as examples.
Education is important. Young professionals and academics will need to meet local and global demand in the labour market. Further skills development is called for. I've been privileged to meet a huge number of talented, entrepreneurial and energetic young Bangladeshis. They'll be inspirational figures to help improve the country's marketplace, image, and economy.
DS: What would you tell Dutch companies about Bangladesh at this stage?
Harry: Explore this growing "Bengal Tiger" market! Come to Bangladesh, find your place here, interact with its entrepreneurs, meet the youth and learn what's great about this country. Transition is taking place, as the middle class is rapidly expanding and the economy is growing. I'm positive about the economic opportunities Bangladesh offers. There is usually a good return on investment and a strong entrepreneurial spirit. That's what we, the Dutch, like. The time to move is now. Bangladesh will soon leave the LDC-group, so early movers will have an advantage. 
DS: The Netherlands helped formulate the Delta Plan for Bangladesh. Tell us about this.
Harry: The Bangladesh Delta Plan is key in our cooperation. We're working extensively with Bangladesh to advance implementation not only in concrete projects and investments but also in knowledge gaps and financing modalities. Bangladesh is on the verge of starting true implementation of a $40 billion investment plan that accompanies the Delta Plan. We are supporting a large Jamuna River engineering project where we'll be contributing $18 million.
Prime Minister Sheikh Hasina is a strong supporter of the plan. Collectively, the Netherlands thinks that its implementation is an important way forward to protect the country and its people, and will increase climate resilience and enhance livelihoods. It's not only about infrastructure, but complex management and integration -- a combination of agriculture, business, infrastructure and innovation.
We're organizing the first Delta Conference with the Bangladesh government this year.
DS: What can we expect from the Delta Conference?
Harry: Major stakeholders from Bangladeshi ministries, universities, and civil society groups will come together with development partners like the World Bank, ADB, IMF and JICA. Investment priorities will be discussed related to hot spots like rivers, coastal zones, and urban areas. Strategies will be set out to materialise priorities in the coming decade. Regarding financing infrastructure investments, it's important to involve the private sector since 20% of the Delta Plan investments is expected to come from there. The Delta Plan is holistic, focusing on agriculture, transport, livelihoods, water, and economics. Approaching these issues in an integrated way is a challenge we continue to discuss with the government.
DS: What memories do you carry home as you leave Bangladesh?
Harry: There are too many warm memories to mention but I'd like to underline Bangladesh's cultural aspects. It's an unexplored part of this wonderful society in Europe. I've seen examples like the Durjoy Bangladesh Foundation supporting an artist in residency at the Amsterdam Rijksakademie art school. That's great. People will learn more about Bangladesh culture. The festivals like kite flying, Dhaka Lit Fest, the Dhaka Art Summit are such engaging events that I've experienced. I've been to many art and music festivals. Private investments in the arts by Square Group, the Samdani Art Foundation, Edge Gallery and many others, have an important impact on expanding Bangladeshi culture abroad. Music, Tagore poetry, literature, visual arts, are so ingrained in Bangladesh's culture, which I found extremely appealing and has amazed us continuously. It's been a warm, welcoming and a cultural experience that my wife Akkie and I will carry.