Team from BRAC one step closer to winning Hult prize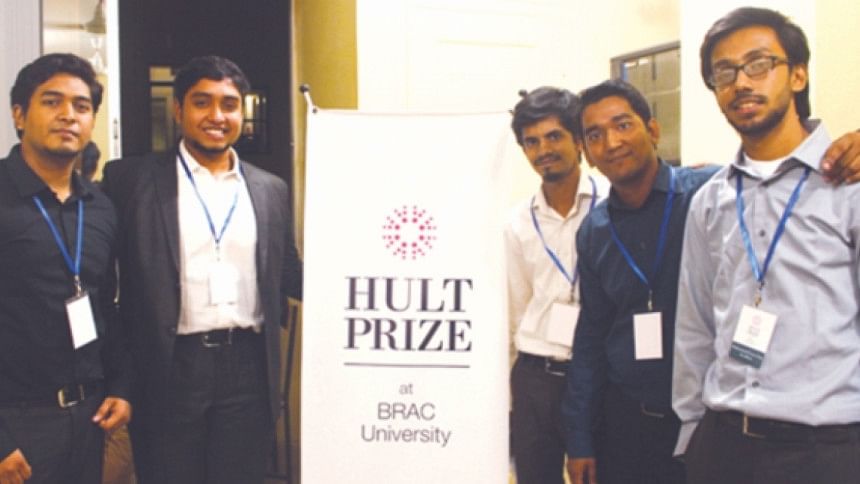 The annual Hult Prize challenge is the world's largest student competition and start-up platform for social good. In partnership with President Bill Clinton and the Clinton Global Initiative (CGI), the innovative crowd-sourcing platform identifies and launches disruptive and catalytic social ventures that aim to solve the planet's most pressing challenges. The 2015 Hult Prize will focus on building start-ups that provide sustainable, high quality early education solutions to ten million children under the age of six in urban slums and beyond by the year 2020.
Team Smallfoot from BRAC University has advanced to the regional finals of the sixth annual Hult Prize in Dubai. The team is comprised of Mohammad Mustahsin Islam, Mohammad Fayaz Zian, Isbat Ibn Hasnat, Gulshan Jubaed Prince and Zawad Hasan Adib.
Ahmad Ashkar, CEO and Founder of the Hult Prize Foundation, attributes the rapid growth of the socially responsible investing (SRI) sector to new demand being created by the international market place. "Servicing the world's poorest through profitable and sustainable enterprise is not just good for the world, its great business. Our pioneering platform builds ecosystems by leveraging crowd and we couldn't be happier that BRAC University will be joining our mission with their participation in the 6th annual Hult Prize."
Selected teams were chosen from over 20,000 applications received from over 500 colleges and universities in over 150 countries. The Hult Prize regional final competitions will take place on March 13 and 14, 2015 in Boston, San Francisco, London, Dubai and Shanghai.
Following the regional finals, one winning team from each host city will move into a summer business incubator, where participants will receive mentorship, advisory and strategic planning as they create prototypes and set-up to launch and scale their new ventures. A final round of competition will be hosted by President Bill Clinton and the CGI at its annual meeting in September 2015, where CGI delegates will select the winning team, which will receive USD 1 million in start-up funding to launch their sustainable social venture.
To sponsor team Smallfoot in the Hult Prize challenge, reach them at: [email protected].