Starting a web development startup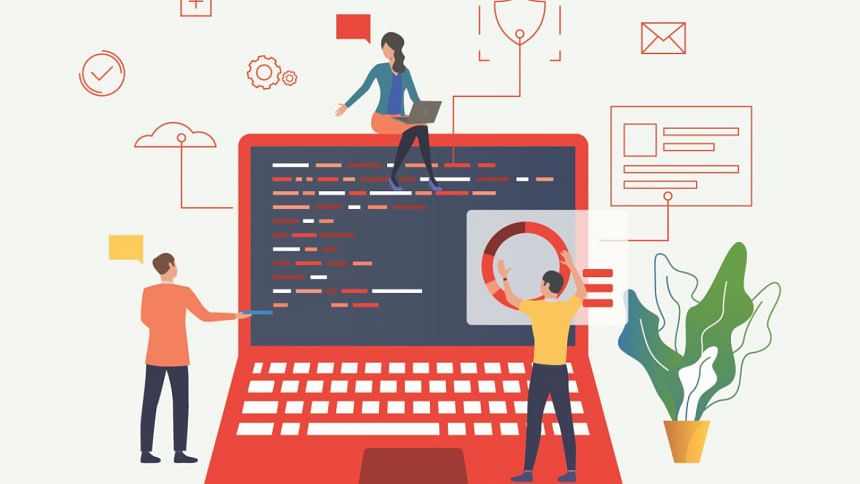 A well-developed website is a prerequisite for promoting different sorts of work that people do. Be it advertising and digital marketing agencies, artists, musicians, research organisations or corporations, everyone recognises the need for a well-developed website of their own to reach their respective target groups. If the marketing plan includes the prospect of a website in it, it becomes really important that the website precisely serves the purpose it is needed for. That is when professional help is needed. Web development is hence considered a good career option for many, owing to its diverse utility. While proficiency in code languages like Python, PHP, JavaScript, HTML, CSS and different web frameworks can get you started in the arena, having your own startup in web development is a different ball game.
No matter how fascinating the Silicon Valley startup culture seems, it is never an easy job to build an entire business from your garage. Fahim Murshed, currently a third-year student enrolled in the department of organisational strategy and leadership in the University of Dhaka , is the Chief Executive Director of Symbl, a web technology company that builds scalable digital products such as websites, phone apps, digital platforms, and application softwares. He said, "I, along with my partner Atif Ahmed Akkhor, thought about this idea back in 2012. It was quite different back then. We used to make websites and apps based on commissions. We used to study our own work. We often picked up arguments with each other in terms of usability of the things we used to make. And that's when we started investing more time in user experience engineering. We officially started Symbl in March 2017. We are almost into our second year of operations." 
Fahim Murshed is a huge admirer of the Silicon Valley startup culture, and says he would have started his business from a garage if he had one. They started in their partner's living room in Bailey road, and are currently located in Gulshan 2 with a 10-people team. "We are growing slowly and with patience", he says. They have so far worked with advertising & digital marketing agencies like Singularity, artists like Nazia Andaleeb Preema and Saria Saguaro, research organisations like BUET Nanotech Lab and organisations like Bangladesh Brand Forum (BBF).
Fahim Murshed says that prior experience in freelancing can help to an extent when you actually start your own business in this arena. It helps to develop the project management thinking within. A big difference between the two would be handling a project on your own and sharing the same experience with your team. The differences in the two experiences can mark your transition. He added, "Having a prior background in freelancing at least ensures that you are starting from 1, and not 0. You still have a long way to go, though."
Stepping into the world of entrepreneurship with web development comes with its own set of challenges, slightly different from the ones that come along the way of every new startup. There are some key points which you need to follow to deal with these hurdles efficiently.
Keeping yourself updated with the trend
According to Fahim Murshed, this particular industry moves very fast. "What's new today is pretty archaic tomorrow. And then all of a sudden, the old rises from the ashes and becomes a new trend", he says. That is why it is important to understand and keep yourself updated with the trends.
Focusing on the usability
If it takes a lot of hard work for someone to use the site that you designed, it loses its credibility. You can make it easily usable through research, prototyping and iterating. Fahim Murshed highly recommends exploring the concepts of design thinking.
Taking different approaches in dealing with different clients
Clients might have misconceptions regarding the purpose of a website. As Fahim Murshed says, it is not just a tool to validate their existence in the online space, rather a product that can create value for their business in unimaginable ways. Try to make them understand that excess investment will not help in this regard. Instead, depending on the clients and their specific needs, persuade them to try new ideas with different approaches.
Accepting the defeats and understanding your limitations
In the beginning, you cannot always afford to delegate all your tasks. Entrepreneurship is not a natural thing, rather a process. Always be ready to learn new things through your mistakes, even if sometimes the lessons are unwanted. Fahim Murshed says, "Regarding entrepreneurship, at first you have to understand and decide if you really want to do it. Be honest to yourself when you make this choice. And one final thing, think limitless but start small."
Nahaly Nafisa Khan is an Economics major currently studying in Dhaka University. She procrastinates a lot, yet is obsessed with meeting deadlines. You can reach her at