I've got an MBBS degree. Now what?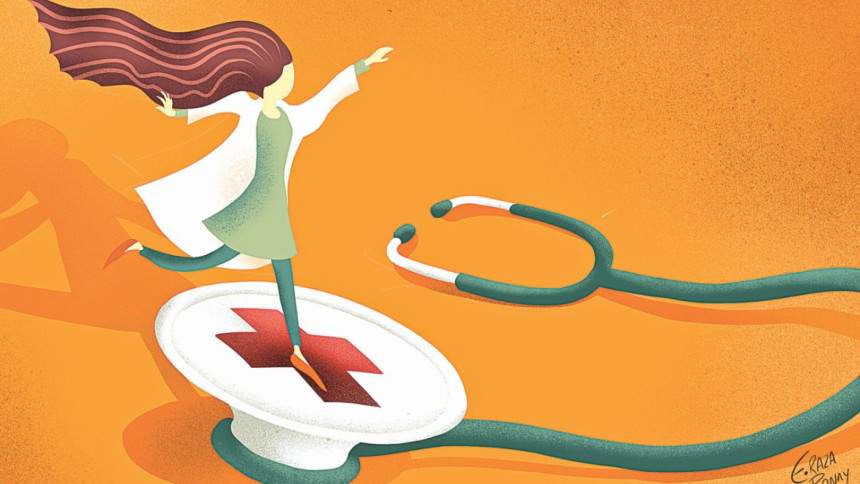 It is quite common for MBBS students to regret their decision to go into this field, so much so that many wonder after going halfway through whether it's possible to shift the entire field of study, or to look into career options bordering on the outskirts of this field. An MBBS degree is quite versatile, you can choose to become a practicing physician, or you can go into research, teaching, or even public health administration. 
However, it is very uncommon for MBBS degree holders to disregard their 5 to 7 years of medical education by jumping to a profession that's completely unrelated; such asstarting a business or restaurant of their own.
Similar viewpoint has been shared by Dr. Tandra Talukder, a practicing Cardiologist for 30 years at the Azimpur Maternity Hospital. Emphasising on the need for doctors to realise early-on in their careers whether or not they want to change their field of profession, she says, "It will be a severe waste of time to want to change your profession half-way through after having finished MBBS. If you want to go for an unrelated subject or career, do it as soon as possible." MBBS degrees take up more years than other bachelor's degrees, so the sooner you make up your mind, the more time you save. Dr Talukder adds "If you really want to leave the mainstream medical life, you can get an MPhil in a non-clinical subject such as microbiology, biotechnology, or others which will open many foreign doors for you. Although in this case, some foreign countries like Germany and USA do not accept Bangladesh equivalent of an MBBS degree. So any doctor from Bangladesh who wants to practice abroad has to attend a license examination for that specific country. An added hurdle here is, scholarship or grant opportunities for these doctors are next to none. But if they want to enrol as a postgraduate student in basic subjects like microbiology, genetics, biomedical sciences or public health, they will get some funding opportunities from both government and respective departments from countries like Australia, USA, and Canada."
Apart from moving abroad, there are many other fields of higher study open to someone after MBBS in Bangladesh. The conventional path to go down after graduation would be to opt for MS/MD in your area of specialisation. Although many do not go for it as it's quite a difficult exam to pass due to limited number of seats, it ensures many career options after MBBS.
If you have graduated with a decent grade, the scope of getting into the teaching profession is always open. Dr. Adit Chowdhury*, a faculty member at Anwar Khan Modern Medical College, says, "Non-practicing doctors can build their careers through teaching, an honourable and satisfying profession. Teachers of basic subjects of medical science like anatomy, physiology, biochemistry, pharmacology, community medicine etc. usually do not engage themselves in practice, though they have opportunities to practice in their private chambers anytime, as they are registered with Bangladesh Medical and Dental Council. For someone set on this path, M.Phil. in a core subject is the specialised degree for basic medical science teaching."
On a different note, he says, "Sometimes the area-based rural and smaller clinics are run by doctors themselves after they've gained 10-20 years of experience in the field. They're eventually led to running the clinics and appointing doctors rather than tending to patients themselves. In this way, they shift their focus to a managerial job, quite unlike the one they'd started with. So anyone wanting to shift to the field, while at the same time saving lives, may consider opening a clinic of one's own."
Besides this, Public Health is a career option after MBBS, which deals with communities, rather than treating individual patients. "I was interested in this field since the 3rd year of my MBBS. I have noticed since that time that fewer number of future doctors seem interested in serving the rural people and communities, and so misdistribution of doctors between urban and rural areas constitute a major problem. To some extent I wanted to see to that by working for the community at a broader level, rather than by treating to patients individually," says Dr. Sharraf Samin, presently employed by the BSSMU on a Public Health research project.
On asking if he would suggest young aspiring doctors to take up jobs in research fields, he says, "Although clinical research options for MBBS students is popular among students these days, success in the field depends entirely on your will to learn and invent, and on your passion for the subject. In developed countries like the USA, UK, Japan etc. academic curriculum of medical science is more research oriented. So the undergraduate students from those countries have a very good knowledge on research methodology and scientific studies, which isn't the case for the students from our country. Nowadays, more doctors are joining in the field of public health or research works but the number is not up to the mark. For this, I always encourage my juniors to come to this field as it gives us the opportunity to reveal the progress of our healthcare system to the world."
If you wish to continue in the medical profession, you have a wide range of options ranging from non clinical sciences to clinical practices. But what can be suggested to someone who's uncertain about shifting to something non-clinical? Zeeshan Mahmud*, a 3rd Year MBBS student at Dhaka Medical College says, "Should you want to shift from medicine, my only advice will be to choose work that makes you happy. I suggest choosing a field where the work dynamics resonate the most with you. For example, I'm decided that if ever I shift from medicine, I would most likely choose the public health sector as it has plenty opportunities for research. Also, since my work there will revolve around the health sector of the country, it will not be alien to my original field of focus. Nowadays, the demand for doctors with Masters in Health Administration (MHA), Masters in Medical Science and Technology (MMST), Hospital Management etc. degrees is increasing, with many private hospitals and pharmaceutical companies seeking employees from these disciplines. It's in my agenda to look into these fields too, and grab whichever clicks best."
*names have been changed to ensure discretion
Eshanee is a junior at IBA, DU. Send her some good vibes at eshanee333@gmail.com.