Software Engineer Michael Peres Helped Over 120,000 Aspiring MBAs Ace GMAT Exams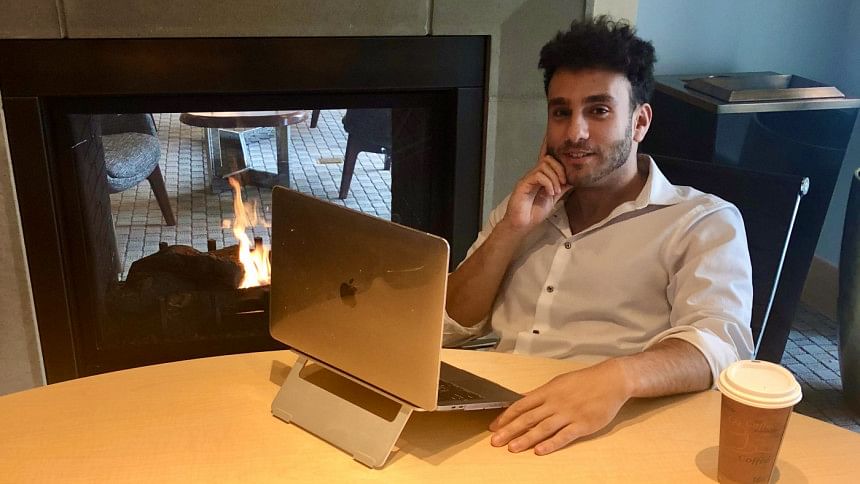 A software engineer who is vocal about his Attention Deficit Hyperactivity Disorder (ADHD) is helping thousands of aspiring MBAs succeed in their Graduate Management Admission Test (GMAT) through resource folders created in collaboration with venture capitalist Ariana Desiree Thacker.
Michael Peres, 29 years old and a native of Montreal Canada, is generous enough to provide free resource materials to business graduates as preparation for their GMAT and Masters in Business Administration studies.
Through his website and LinkedIn pages,  thousands of people are requesting to have access to the resource files daily, which he selflessly devote time sending everyday.
Dubbed as the  Mega-GMAT resources folder, it contains links to ebooks, free GMAT tutorials, and exams, application materials, as well as Thacker's Quick B-School Tips, to Save Time and Money.
These resources are regularly available via email. One only needs to ask through his LinkedIn account or on Peres' website, michaelperes.com

Peres, who also maintains a science, tech and business podcast site, bases his work philosophy on "give, give, give then ask", doing free work to establish trust with his clients believing it would benefit his company in the long run.
Peres operates two successful web hosting and web development companies – Hexa Tiger and Hecto Fox, which has already drawn over 400 clients in just a span of 3 years. 
Peres believes that when starting out, a company should focus on learning how to offer value, hone their skills rather than prioritizing the dollars. Peres does free consulting, mentoring for students in STEM-related fields and creating resource folders to benefit people in the same field of interests such as his.
Aside from the  GMAT resources folder, Peres also created resource files for MBA studies which he compiled with author Lucas Miller. 

Peres also teamed up with product manager and travel hacker Julien Bortz to create resource folders on the best credit cards to use when traveling. The credit card resources file has reached over 2,000 people at present.
Meanwhile, people whom Peres helped with his GMAT and MBA resource files are even more grateful for the little selfless acts they received.

From the emails returned to Peres, one follower Nicolas Gomez emphasized his admiration for Peres' devoting time to gather all the helpful resource materials and giving them away for free.
Another follower, Suraj B, was inspired by the resource materials that he was sure he will generate a high score on GMAT in one of his dream campuses.
Also, Shailendra Chaudhary said as an act of paying forward, she is obliged to share the resource materials to everyone as they are very helpful for MBA students like her.
Peres receives more than 1,000 email requests in just two days of posting the availability of his resource files.

Today, Peres' resource files on GMAT have reached over 120,000 individuals while his MBA Summaries are benefiting over 54,000 people on top of the 3,000 others asking for what credit cards are best and viable for traveling.
Peres, who has been diagnosed with ADHD at the age of 9, said he is continually in the pursuit of creating innovative ways to help him and other people gain control of their personal and professional lives based on their own terms.
Peres was also the author of the program Breaking 9 To 5, a 10-step program designed to help people with disabilities as well as aspiring entrepreneurs to set up and run their own businesses while traveling and enjoying the things they love doing.