Trump indicted over efforts to overturn 2020 election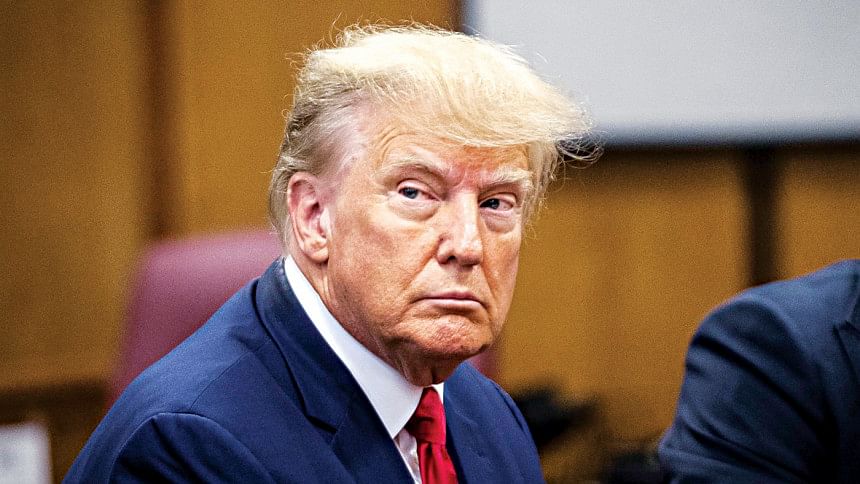 Donald Trump on Tuesday was hit with criminal charges for a third time in four months - this time arising from efforts to overturn his 2020 U.S. election defeat - as he campaigns to regain the presidency next year.
The four-count indictment alleges Trump conspired to defraud the U.S. by preventing Congress from certifying President Joe Biden's victory and to deprive voters of their right to a fair election.
Trump was ordered to make an initial appearance in federal court on Thursday.
The charges stem from Special Counsel Jack Smith's investigation into allegations Trump - the front-runner for the 2024 Republican presidential nomination - sought to reverse his loss to Biden, his Democratic rival.
The indictment alleges Trump conspired with six other unnamed individuals to overturn the results. Prosecutors wrote that Trump knew his claims that the election was fraudulent were false, but repeated them anyway to "create an intense national atmosphere of mistrust and anger and erode public faith in the administration of the election."
In a statement, the Trump campaign said he has always followed the law and characterized the indictment as a political "persecution" reminiscent of Nazi Germany.
Officials have testified that Trump pressured them based on false claims of widespread voting fraud. His supporters attacked the U.S. Capitol on Jan. 6, 2021, in a bid to stop Congress from certifying Biden's victory.
The indictment accused Trump and co-conspirators of organizing fraudulent slates of electors in seven states, all of which he lost, to submit their votes to be counted and certified as official by Congress on Jan. 6.
The co-conspirators were not named, but one of them appeared to describe former Justice Department official Jeffrey Clark, the former head of the civil division who tried to get himself installed as attorney general so he could launch voter fraud investigations in Georgia and other swing states. Clark did not immediately respond to a request for comment.
Another alleged co-conspirator appeared to describe attorney John Eastman, who erroneously suggested that Vice President Mike Pence could object to certifying the electoral results. Both Eastman and Clark had their phones seized and searched in the investigation last year.
Trump already had become the first former U.S. president to face criminal charges. He has sought to portray the prosecutions as part of a politically motivated witch hunt.
These represent a second round of federal charges by Smith, who was appointed a special counsel in November by U.S. Attorney General Merrick Garland.
Trump pleaded not guilty after a federal grand jury in Miami convened by the special counsel charged him in June in a 37-count indictment over his unlawfully retention of classified government documents after leaving office in 2021 and obstructing justice. Prosecutors accused him of risking some of the most sensitive U.S. national security secrets.
Last Thursday, prosecutors added three more criminal counts against Trump, bringing the total to 40, accusing him of ordering employees to delete security videos as he was under investigation for retaining the documents.
The first charges brought against Trump emerged in March when a grand jury convened by Manhattan's district attorney indicted him. Trump in April pleaded not guilty to 34 felony counts accusing him of falsifying business records concerning a payment to porn star Stormy Daniels to buy her silence before the 2016 election about a sexual encounter she said she had with him. Trump has denied the encounter.
Trump, 77, leads a crowded field of Republican presidential candidates as he seeks a rematch with Biden, 80, next year. Biden in April launched his re-election campaign.
Trump, who served as president from 2017 to 2021, has shown an ability to survive legal troubles, political controversies and personal behavior that might sink other politicians. Many Republicans - elected officials and voters - have rallied behind Trump, portraying the charges against him as selective prosecution and a Democratic plot to destroy him politically.
Strategists said that while the indictments could help Trump solidify support within his base and win the Republican nomination, his ability to capitalize on them may be more limited in next year's general election, when he will have to win over more skeptical moderate Republicans and independents.
Meanwhile, his legal woes are mounting. In addition to the three indictments, Trump faces a fourth criminal investigation by a county prosecutor in Georgia into accusations he sought to undo his 2020 election loss in that state.
DOCUMENTS CASE
In the documents case, prosecutors accused him of mishandling sensitive classified documents about everything from the U.S. nuclear program to potential domestic vulnerabilities in the event of an attack.
When the Justice Department tried to get Trump to return the documents, the indictment alleges, he asked his attorneys if they could lie to the government about the existence of the records. He was accused of conspiring with his aide Walt Nauta, who is also charged, to move boxes containing documents around inside his home at the Mar-a-Lago resort in Florida to prevent them from being found. Nauta also has pleaded not guilty.
A second employee, a maintenance worker at Mar-a-Lago, Carlos De Oliveira, was charged on Thursday with conspiracy to obstruct justice, accused of helping Trump to hide documents.
A jury in federal court in Manhattan decided in May in a civil lawsuit that Trump must pay $5 million in damages for sexually abusing former Elle magazine columnist E. Jean Carroll in the 1990s and then defaming her by branding her a liar.
His real estate company was convicted in 2022 in Manhattan of tax fraud charges, though he personally was not charged in that case.
Special counsels are sometimes appointed to investigate politically sensitive cases and they do their jobs with a degree of independence from the Justice Department leadership.
Before being appointed by Garland to take over the two Trump-related investigations, Smith had served as the chief prosecutor for the special court in The Hague, tasked with prosecuting war crimes in Kosovo, oversaw the Justice Department's public integrity section and worked as a federal and state prosecutor in New York.
CAPITOL ATTACK
In the Jan. 6, 2021, rampage at the Capitol, Trump's supporters used a variety of weapons including chemical sprays and riot shields to attack police and infiltrate the building, forcing lawmakers to flee for their lives. Five people died during and shortly after the chaos, while about 140 police officers were injured. Before the attack Trump told supporters in an incendiary speech near the White House to march to the Capitol and "fight like hell" to "stop the steal" of the election.
More than 1,000 people have been charged with crimes arising from the riot, including some who have been convicted of seditious conspiracy.
Trump and his allies lost a series of election-related lawsuits challenging the election results based on false claims of fraud. As his presidency wound down, Trump continued to push this false narrative, ignoring warnings from some of his White House advisers, former Attorney General William Barr and other officials that there was no evidence of widespread fraud.
A 2022 investigative report by a Democratic-led U.S. House of Representatives committee found that Trump "corruptly pressured" former Vice President Mike Pence to refuse to count the state-by-state electoral votes that determine an election's outcome during a joint session of Congress.
As part of that alleged scheme, the committee said Trump and several of his advisers oversaw a plot to have electors in pivotal states where Trump lost - such as Arizona, Georgia, Michigan, New Mexico and Pennsylvania - to submit fraudulent documentation to Congress and the U.S. National Archives and Records Administration that he had actually won those states.