Trump arrested in Georgia racketeering case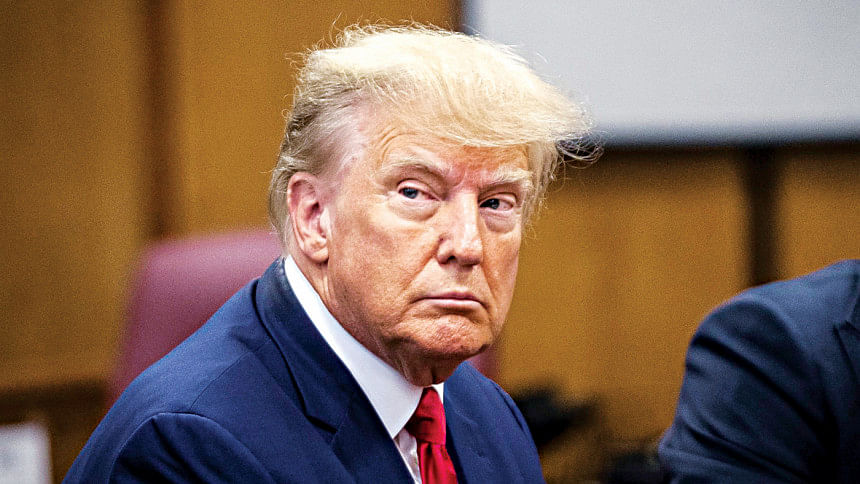 Former US president Donald Trump was arrested at a Georgia jail on Thursday on racketeering and conspiracy charges for trying to overturn the 2020 election results in the southern state.
During a brief session lasting less than 30 minutes, the 77-year-old Trump was booked on 13 charges at Atlanta's Fulton County Jail, according to records published by the sheriff's office.
Trump's height was listed by the jail as six foot three inches (1.9 meters), his weight as 215 pounds (97 kilograms) and his hair color as "Blond or Strawberry."
Other defendants in the racketeering case who have surrendered to the Georgia authorities in recent days have had a mugshot taken.
The billionaire has been criminally indicted four times since April, setting the stage for a year of unprecedented drama as he tries to juggle multiple court appearances and another White House campaign.
In posts on his Truth Social platform shortly before leaving his New Jersey golf club for the flight to Atlanta, Trump said he was being arrested for "having the audacity to challenge a RIGGED & STOLLEN (sic) ELECTION."
"This is yet another SAD DAY IN AMERICA!" he added.
Trump was able to dodge having a mugshot taken during his previous arrests this year: in New York on charges of paying hush money to a porn star, in Florida for mishandling top secret government documents, and in Washington on charges of conspiring to upend his 2020 election loss to Democrat Joe Biden.
But Fulton County Sheriff Pat Labat said standard procedure in Georgia is to take a defendant's photograph before they are released on bond -- set at $200,000 in Trump's case.
The arrest comes one day after Trump spurned a televised debate in Milwaukee, Wisconsin, featuring eight of his rivals for the 2024 Republican presidential nomination -- all of whom lag well behind him in the polls.
He still stole the spotlight, though, with all but two of the candidates saying they would support him as the party's nominee even if he were a convicted felon.
During a pre-recorded interview with former Fox News talk show host Tucker Carlson -- which aired on social media at the same time as the debate -- Trump dismissed the criminal cases filed against him as "nonsense."
Trump said the Justice Department had been "weaponized" under Biden to hamstring his White House bid.
Court dates in election race
A tight security perimeter was set up for Trump's booking at the Fulton County Jail, which is under investigation for a slew of inmate deaths and deplorable conditions.
Fani Willis, the Fulton County district attorney who filed the sweeping racketeering case, had set a deadline of noon (1600 GMT) on Friday for Trump and the other 18 defendants to surrender.
Trump and 11 others have turned themselves in so far.
Former White House chief of staff Mark Meadows surrendered on Thursday and was released on $100,000 bond.
Former New York mayor Rudy Giuliani, who served as Trump's personal lawyer when he was in the White House and vigorously pushed the false claims that Trump had won the 2020 election, was booked and released on Wednesday.
John Eastman, a conservative lawyer who is accused of drawing up a scheme to submit a false slate of Trump electors to Congress from Georgia instead of the legitimate Biden ones, has also been booked and released.
A few dozen supporters of the former Republican president gathered outside the jail, including Sharon Anderson who spent the night in her car.
"I think this is a political persecution and now that's turned into a political prosecution," Anderson told AFP.
Trump is the first US president in history to face criminal charges.
His various trials, if they take place next year, may coincide with the Republican presidential primary season, which begins in January, and the campaign for the November 2024 White House election.
Special counsel Jack Smith has proposed a January 2024 start date for Trump's trial on charges of conspiring to overturn the last election with a lie-fueled campaign that culminated in the January 6, 2021 attack on the US Capitol by his supporters.
Trump's attorneys have countered with a suggested start date well after the election -- April 2026.
Willis, the Georgia district attorney, initially proposed that the racketeering case begin in March next year, the same month Trump is scheduled to go on trial in New York on charges of paying hush money to porn star Stormy Daniels.
On Thursday, after one of the defendants asked for a speedy trial, she proposed that it begin for all 19 in October of this year, a move met with an immediate objection from Trump's lawyers.
The Florida case, in which Trump is accused of taking secret government documents as he left the White House and refusing to return them, is scheduled to begin in May.