Russia annexes four regions of Ukraine
Kyiv applies for Nato membership, rules out talks till Putin in power; West slams the move; US imposes more sanctions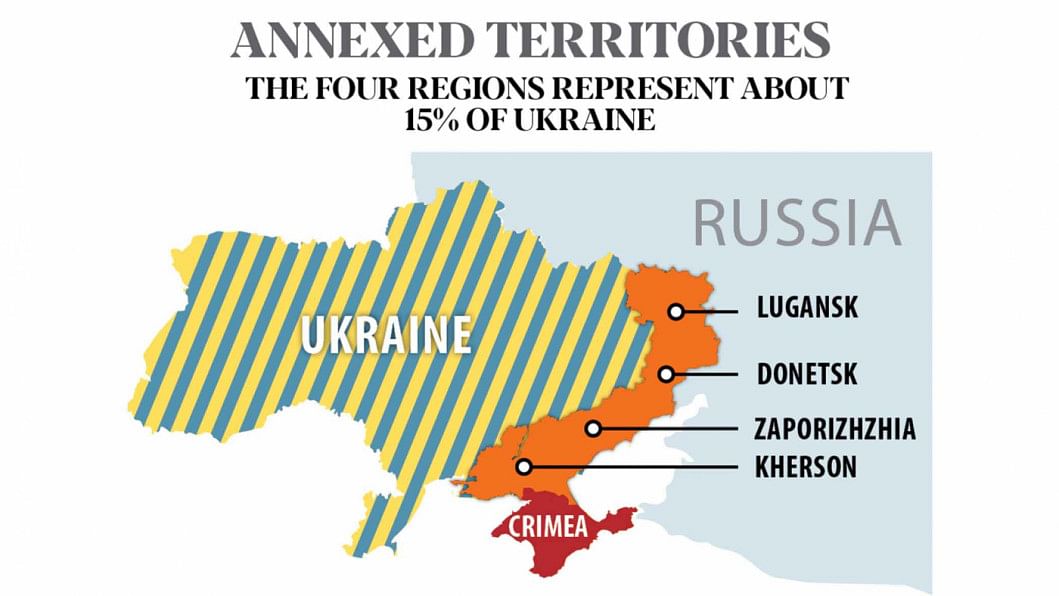 "People living in Luhansk, Donetsk, Kherson region and Zaporizhzhia region are becoming our compatriots forever. We will defend our land with all our strength and all our means."
A defiant Vladimir Putin proclaimed Russia's annexation of a swathe of Ukraine in a pomp-filled Kremlin ceremony yesterday, promising Moscow would triumph in its "special military operation" against Kyiv even as some of his troops faced potential defeat.
Putin's proclamation of Russian rule over about 15 percent of Ukraine -- the biggest annexation in Europe since the second world war -- has been firmly rejected by Western countries and even many of Russia's close allies.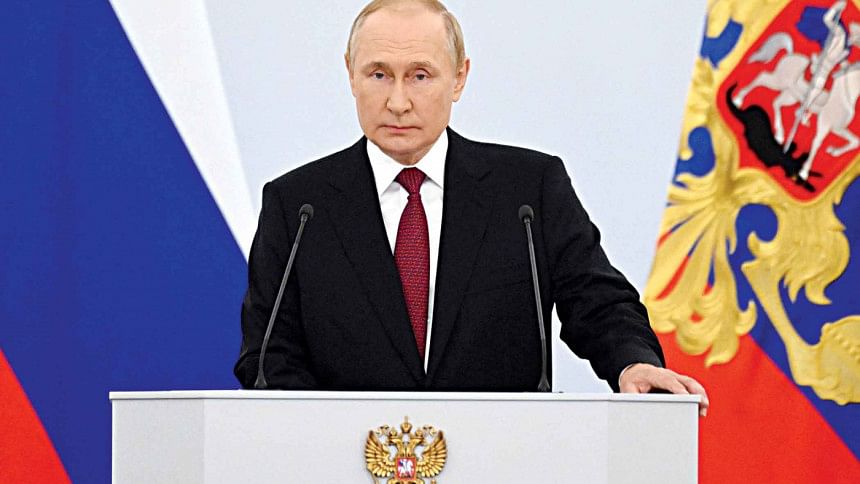 The declaration has been condemned by the West and prompted Ukrainian President Volodymyr Zelensky to request fast-track Nato membership.
In one of the toughest anti-American speeches the Russian president has delivered in more than two decades in power, he signalled he was ready to continue a battle for a "greater historical Russia" using whatever tools he had at his disposal and slammed the West as neo-colonial and Satanist.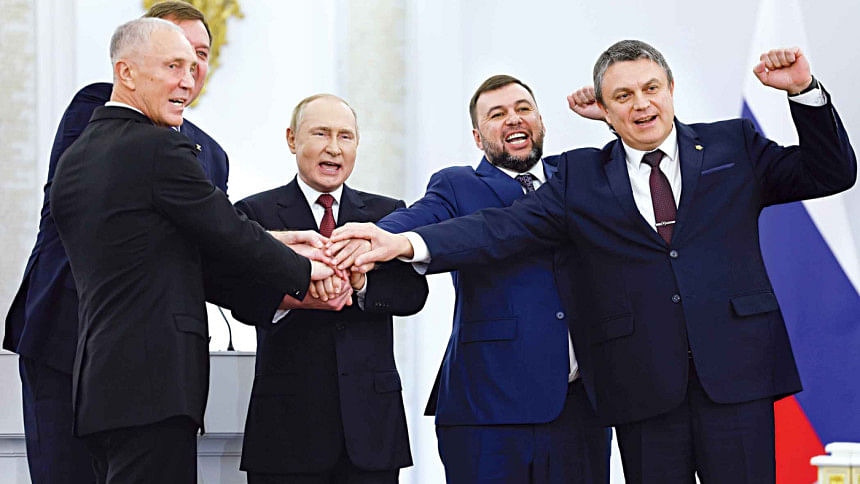 Putin said the US had set a precedent when it had dropped two atomic bombs on Japan in 1945, but stopped short of issuing new nuclear warnings against Ukraine himself, something he has done more than once in recent weeks.
US Secretary of State Antony Blinken said the US had not yet seen Russia take any action that suggested it is contemplating the use of nuclear weapons, despite what he called Putin's "loose talk."
"Truth is on our side. Russia is with us!" Putin told his country's political elite, who had gathered in one of the Kremlin's grandest halls to watch him sign documents annexing four Ukrainian regions.
The ceremony culminated in the 69-year-old leader chanting "Russia Russia!" as he clasped the hands of the four Russian-backed officials he wants to run the annexed regions, which Ukraine is fighting to win back.
"People living in Luhansk, Donetsk, Kherson region and Zaporizhzhia region are becoming our compatriots forever," said Putin, referring to the four Ukrainian regions which he said Russia was annexing.
"We will defend our land with all our strength and all our means," he said, calling on "the Kyiv regime to immediately cease hostilities and return to the negotiation table".
Zelensky, speaking in Kyiv, said he was ready for peace talks if and when Russia got a new president and announced that Ukraine was formally applying for fast-track membership of the Nato military alliance, something Moscow fiercely opposes.
Kyiv's move to join Nato was the pretext that Putin used for the offensive he launched on February 24.
"We have already proven our compatibility with (Nato) alliance standards," Zelensky said in a video posted by the Ukrainian presidency on social media.
"We are taking a decisive step by signing Ukraine's application for accelerated accession to Nato," he added.
Zelensky and the West have condemned referendums that Moscow held in the four Ukrainian regions as illegal shams, while several dozen Ukrainians interviewed by Reuters in the last week said that only people they described as "Russian collaborators" had voted, with most people boycotting them.
US President Joe Biden condemned Russia's "fraudulent" declaration, vowing to keep backing Kyiv army.
"We will continue to support Ukraine's efforts to regain control of its territory by strengthening its hand militarily and diplomatically," he said.
Washington yesterday announced new "severe" sanctions against Russian officials and the country's defence industry.
The latest sanctions come on top of sweeping measures already imposed by the US and allies this year that have already crippled Russia's international trading and local economy. But they stop short of Russia's energy industry, the country's largest source of hard currency.
Guidance from the US Treasury and Commerce departments warned that anyone outside Russia, including companies, that provide political, economic or material support to Moscow faced a heightened risk of sanctions.
The Treasury sanctions generally freeze any US assets of those designated and bar Americans from dealing with them.
Commerce added 57 entities in Russia and Crimea to bar exports.
Treasury said it imposed sanctions on 14 people in Russia's military-industrial complex, two leaders of the central bank, family members of top officials and 278 members of the legislature "for enabling Russia's sham referenda and attempt to annex sovereign Ukrainian territory."
Canada yesterday announced measures against dozens of oligarchs, financial elites and their family members, and 35 Russian-backed senior officials in the regions where the referendums took place.
Britain also put sanctions on the governor of the Russian central bank and imposed bans on new services and goods export.
Nato Secretary-General Jens Stoltenberg said recent actions by Russia constitute the most serious escalation of the conflict since Moscow invaded Ukraine in February.
"This land grab is illegal and illegitimate. Nato allies do not and will not recognize any of this territory as part of Russia," Stoltenberg said.
"Putin has mobilised hundreds of thousands of more troops, engaged in irresponsible nuclear sabre-rattling and now illegally annexed more Ukrainian territory. Together, this represents the most serious escalation since the start of the war," Stoltenberg told a news conference.
However, he said the decision on Ukraine's Nato membership requires "consensus" of allies.
G7 and EU also said they would "never recognise" Russia's annexation of four more regions in Ukraine and pledged further sanctions against Moscow.
Despite warnings from Putin prior to the annexation that he could use nuclear weapons to defend the captured territories, Ukraine's Foreign Minister Dmytro Kuleba said Kyiv would "continue liberating our land and our people".
In central Moscow, at least 10,000 people convened for state-organised annexation celebrations, with huge banners emblazoned: "Donetsk. Lugansk. Zaporizhzhia. Kherson. Russia!"
A concert in Red Square was replete with military and pomp and patriotic songs and throngs of Russians waving the national flag.
The four territories create a crucial land corridor between Russia and the Crimean peninsula, annexed by Moscow in 2014.
The Kremlin said it "needed to clarify" the exact borders of Kherson and Zaporizhzhia -- neither fully controlled by Moscow's forces -- that it intends to annex.
Together, all five regions including Crimea, make up around 20 percent of Ukraine, whose forces in recent weeks have been clawing back wins as part of a counter-offensive.
The UN Security Council was scheduled to vote later yesterday on a resolution condemning the referendums, according to France, the council's current president, but it has no chance of passing due to Moscow's veto power.