Kuwait store shut down after sticking googly eyes on fish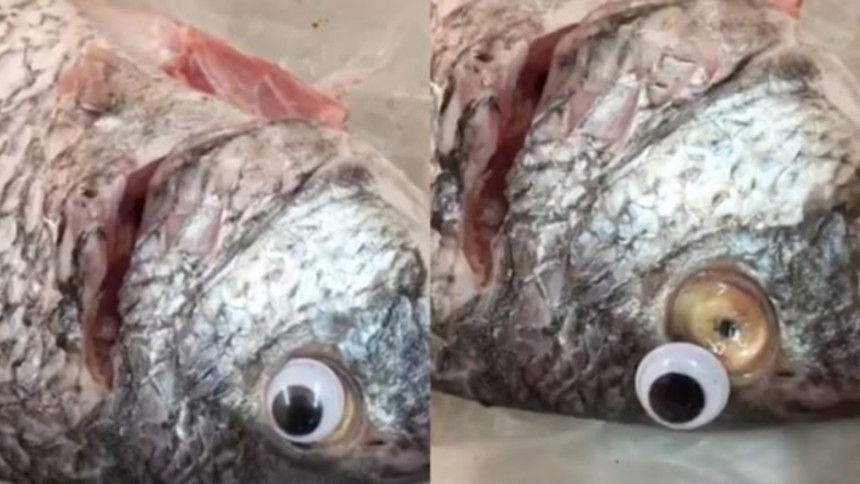 Buying fish 101 — ensure the freshness of the fish by means of checking its eyes. It must have clear, shiny and bulging orbs. One seafood shop in Kuwait, however, tried to trick buyers who apply the check-eyes-first technique, passing off the fish they sell as fresh by sticking googly eyes on them.
A video of a woman discovering the googly eye on the fish she bought from the store circulated in social media on Friday, Aug. 31. In the video, the hand of the woman wearing plastic gloves was inspecting the fish. Not long after, she can be seen removing the googly eye to reveal a sunken and cloudy eye — indicating that the fish was not as fresh as she first thought it was.
The store was shut down by the country's Ministry of Commerce and Industry not long after the video went viral, as reported by local newspaper Al Bayan last Saturday, September 1.
Unsurprisingly, netizens found the news humorous, inspiring numerous witty remarks. One Twitter user thinks that what the shop did was "a great idea," and something which can be applied on his/her future business.
Apparently a Kuwaiti fish market has been sticking googly eyes to make fish appear more fresh. Figured this would be a great idea for my future online fish market business. pic.twitter.com/ed3o0KNgVc

— Chicken Nugent (@Chicken_Nugent) September 2, 2018
Another netizen, Padraig Belton, appears to be looking up to the fish vendor, calling the vendor "my personal hero for today."
Of course, netizen reactions will not be complete without laugh-worthy fish-related puns.
"Well this certainly looks fishy. I hope they go to court and are found gill-ty," podcast comedian M'BlockU (@rodimusprime) said.
"Yeah this is a full-scale scam" another netizen, C.E. Little (@ItsMrLittle) replied.
Other Twitter user joined in on the fun, supplying their own fish puns.
Meanwhile, some were not amused by the fact that the woman was tricked into buying the supposedly fresh fish with googly eyes.
u cannot be telling me that a person who's smart enough to identify how fresh a fish is according to it's eyes can't seem to tell the difference between a real fish eye and googly eyes JFJFJFMMSKDJD https://t.co/7kWGg6K0pi

— αlуѕѕα (@alyssamartinus) September 2, 2018
One netizen, Matthew Dalby, relayed an "important lesson" for fish buyers.
"Never judge the freshness of fish by the googliness of their eyes." JB
Copyright: Inquirer/ Asia News network