Attack on Hindus
Temples in 2 dists attacked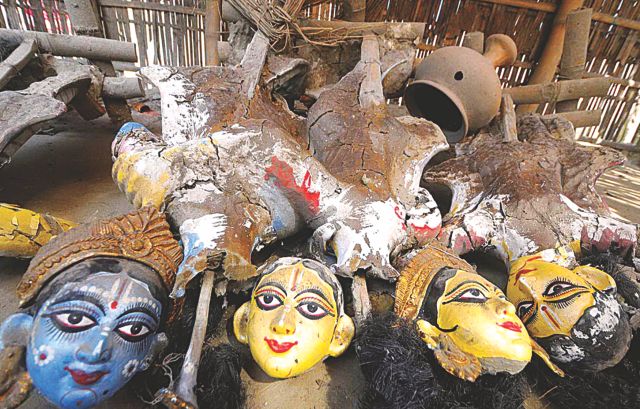 This Hindu temple at a village in Gabtoli upazila of Bogra district was vandalised in the early hours of yesterday. PHOTO: FOCUS BANGLA
Religious bigots vandalised five more Hindu temples and torched idols in Bogra and Bagerhat early yesterday.
In Bogra, they damaged at least eight idols in four temples at Sonaray and Rameshwarpur unions of Gabtoli upazila.
In the morning, locals found the idols in the temples vandalised.
Shishir Karmakar of Rameshwarpur said local Hindus were worried about the attacks.
The Hindus did not disclose the names of the attackers for lack of security, AH Azam Khan, president of Gabtoli upazila unit Awami League, told The Daily Star.
Bogra deputy commissioner, police super, local AL leaders and minority community leaders visited the affected temples.
Two cases were filed with Gabtoli Police Station in this connection.
Incensed at the attacks on temples, locals in Sonaray and Rameshwarpur unions brought out protest processions.
Contacted, Gabtoli Upazila Nirbahi Officer (UNO) Monira Sultana said financial support would be provided to the authorities of the affected temples to repair the damaged temples.
A correspondent from Bagerhat adds: Religious fanatics damaged and torched several idols of Dakkhin Para Sarbojonin Durga Mandir in Uttar Gopalpur village under Kachua upazila early yesterday.
Quoting witnesses, president of the temple committee Pulin Bihari Paik said a gang of fanatics entered the temple around 4:00am; damaged several idols and set the temple afire.
Seeing the flames at the temple, locals rushed to the scene and doused the fire.
Neither the temple committee nor police could identify the attackers.
Kachua UNO Md Ashraful Islam visited the temple in the morning.
Meanwhile, around 120 people were sued in Khulna city on Tuesday night on charges of vandalising and torching temples, shops and houses of Hindus in Banikpara Pabla area under Daulatpur Police Station, reports our Khulna correspondent.
Police also picked up five people in this connection from different parts of the city around midnight Tuesday.
The detainees are Shahidul, 23, Limon, 18, Halim, 22, Shahabuddin, 40, and Shamim, 25.
Tilok Goswami, general secretary of Banikpara Pabla Sarbojonin Kalibari Mandir committee, filed the case, said Daulatpur police.
Earlier, police had arrested Humayun Kabir, 26, and Arman, 28, in connection with the arson attacks. The two were sent to jail through a local court.
On Monday night, religious bigots ransacked and torched Banikpara Pabla Sarbojonin Kalibari Mandir, Gachtala Temple and over 50 houses and shops of Hindus in the city.
Over 31 temples, hundreds of houses and shops of Hindu minorities have been ransacked, torched and looted across the country since the International Crimes Tribunal-1 on February 28 sentenced Jamaat leader Delawar Hossain Sayedee to death for committing crimes against humanity during the Liberation War in 1971.