Professor Dr. Halima Khatun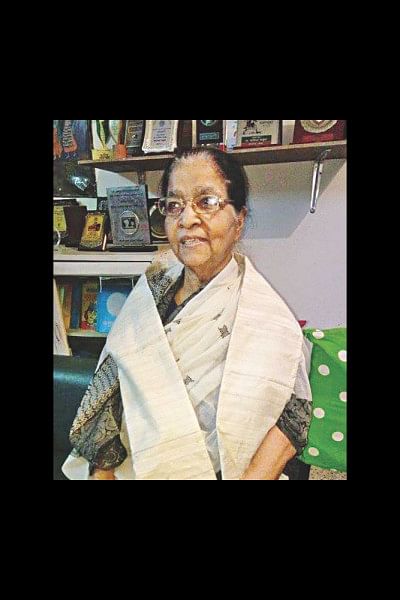 Third of July 2018 was a sad day in the lives of the Bangladeshis. It lost one of its national figures, Professor Dr. Halima Khatun, a language movement soldier. August 25 marks her birthday, she was born in the year 1933.
During the language movement of 1952, Halima Khatun was a student of Dhaka University (English). When the students planned to break the code 144 and agitate on the streets Dr. Halima Khatun was one of them along with a handful of other female students, Prof. Sufia Ahmed, Dr. Shafia Khatun, Rowshan Ara Bachu. After they came out in processions, they were hurt by the Pakistani police charging with stones and sticks and some were picked up in police vans and taken to the jungles near Savar, where they were let out from the police vans. Wilderness did not daunt Halima Khatun, she hailed from Khulna Bagerhat, the den of the Royal Bengal Tigers.
She quipped on a TV show, "My father decided that the tigers and bears were not good enough as my companions, he thus sent me to Dhaka University to have some meaningful companions and of course education". Halima Khatun was full of humour, she would make a nonchalant face and say (in one of the get-togethers of the Shamsunnahar Hall), "In our times we had restrictions on meeting the boys. We could not meet them within five miles radius of our University. We did so outside the five miles, lol."
She was a child litterateur and whenever my younger sister Naeela was cross, she would have an instant poem for her, "Bollo pakhir chha, kothay amar ma?" And Naeela would immediately fall for her and her book and say, "Eito amar Ma, Bollo pakhir chha." She translated some of the children's books from English to Bangla and she wrote some of her own, totaling one hundred! Noted amongst them are: Shona Putuler Biye, Horiner Choshma, Pakhir Chhana, Kathaal Khabo, Shobcheye Shundor, Roshokodombo.
I have known her as a very close friend of my mother Late Professor Husne Ara Kamal, the two were like two peas in a pod. My mother took us to visit Halima auntie and her daughter Progga Laboni. Halima auntie had a solo journey with her daughter. She left Laboni in Bangladesh and went to earn her PhD in Primary Education (in the early sixties) from University of Colorado and joined Dhaka University upon her return. There were very few lady faculties who lived alone. She lived in Fuller Road Quarters meant for the Dhaka University faculty. When we visited, she would lift her face from amidst the mountain of books, tuck her frontal sari anchal in her waist and find some wild olives from her garden slot downstairs to garnish her lentil. My sister and I enjoyed cooking with her, chatting with her, forever learning so much. Even till her last breath she only ate what my sister Nazeefa prepared with love. She was not only kind to us, from remote areas of her Bagherhat to her nearest relatives, she looked after all of them. Their education, lodging, food, health, job search were all centered around Halima Khatun.
She wrote in the middle of all this din. I am reminded of poet Kazi Nazrul Islam, who sat in the HMV studios and kept writing poems, songs, dramas; so did Halima Khatun. Perhaps she would give the same answer as Nazrul did, "If God can create in the middle of so much noise, why can't I?"
Halima auntie was exemplary to us, in her innumerous publications of books, journals, obtaining masters in three subjects English, Bangla and Education, the heights she reached as a UN Consultant in Education, taking positions in Nepal and other places, advising the Government, being a pioneer, while working for Dhaka University as the Head of the Institute of Education and Research (IER), what else could one be?
During her lifetime, the government of Bangladesh did not adorn her with the Ekushey Padak, after death it would be meaningless. Less deserving people flaunt their civilian awards, making them light in weight. Her name remains forever etched in gold, among those who care and those who dare such a journey.
Nashid Kamal is an academic, Nazrul exponent and translator.