Shipboard Life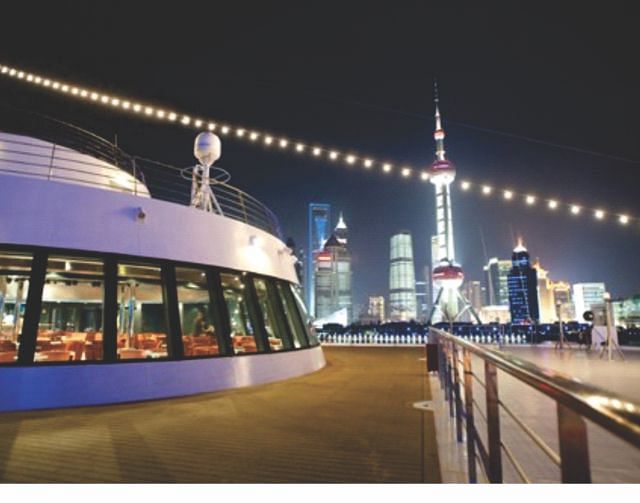 View from Deck 7, docked in Shanghai, China.
As we sail around the globe, I would like to share a little about the shipboard life. The ship that we are sailing on this semester is called the MV Explorer. The MV Explorer has been a part of Semester at Sea since 2004. I should also mention that this year is the 50th anniversary of Semester at Sea Program.
The MV Explorer is a fully equipped floating university. So, I would like to share some facts about the MV Explorer. There are 6 passenger decks. It is one of the fastest ships of its kind. There is a swimming pool on the 7th deck. There are 3 dining areas, 9 classrooms, a library, a computer lab, a faculty lounge, a gymnasium, and 418 passenger cabins.
Shipboard life is very eventful. It is rather difficult to follow the days of weeks in order to run classes. The shipboard has created a unique system for classes. We only have classes when we are at sea, and there are no classes while the ship is docked in one of the port of calls. We have A days and B days, rather than regular Monday to Friday classes. Each class accommodates from 15 to 35 students. Faculty members come from well reputed American institutions.
The shipboard community does not only consist of students and faculty members; but there are also families who are sailing with us, who have children from the age of 1 to 16. Also, there are a group of life-long learners. Life-long learners are the passengers, who are over the age of 40 and wish to cruise in a learning environment. And not to forget the amazing crew members. All of us put together, there are 942 people onboard as we sail around the world.
Each group of cabins is divided in different seas. I am part of the Baltic Sea. The seas are a smaller community, within the shipboard community. The seas compete against each other at quizzes, game nights and most importantly- at the Sea Olympics. There are four major events that take place during the entire voyage- the Sea Olympics, the Shipboard Auction (to raise fund), the Semester at Sea Talent show and the biggest event of the semester- the Alumni Ball. These events all take place on the ship.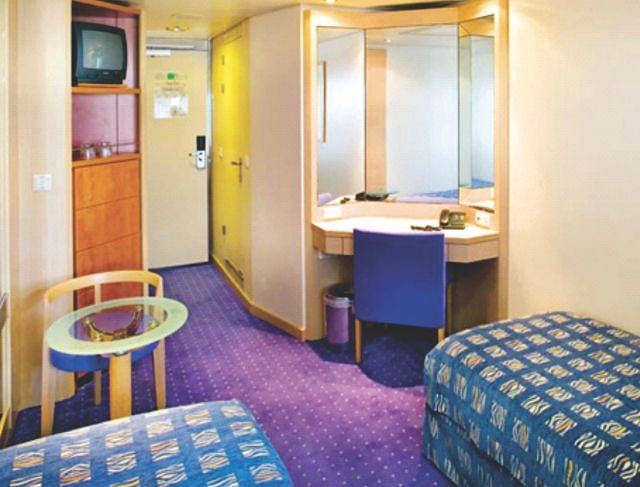 Shariqa's cabin on deck 3.
Every night on the ship, there are Explorer Seminars. In these seminars, the faculty members, students and special guest lecturers make presentations and hold talks. The topics are usually related to the countries we are visiting. Also, before we arrive at every port of call, there is a Pre-Port Orientation, where the entire community is provided with important information about the city and the country.
Meals are the most time-consuming activities on this ship. Breakfast, lunch, dinner and late night snacks are the meals we are served on this ship. Every meal is a buffet style meal and it is a time to socialize with the fellow students, professors and the families on board. There is also a snack bar and also a pool-side café on this ship, where we can purchase snacks and beverages. The meals can turn into a surprise at times. As Archbishop Desmond Tutu is sailing with us, at every meal, we are excited to see him and are seeking the chances to share a meal with him. I have been fortunate enough to sit at a lunch with him, while we were docked in Hong Kong. Unfortunately, I was not able to get off the ship in Hong Kong as I did not have a visa for Hong Kong. However, fortunately, Archbishop Tutu was also on the ship. We discussed what an amazing opportunity this is for all the students to learn about the world and learn something that we could possibly not have learned, sitting at our home campus. He stated how he loved spending time with young people, and how much we inspired him. It was an opportunity of a life-time, and now I think I have the perfect story to tell to my peers and to generations come.
(The writer is a Bangladeshi student, living in Madrid, Spain majoring in International Relations and Communications and is a Global Changemaker and anti-corruption activist.)