World leaders failed to act
Amnesty Int'l on crimes against humanity in Myanmar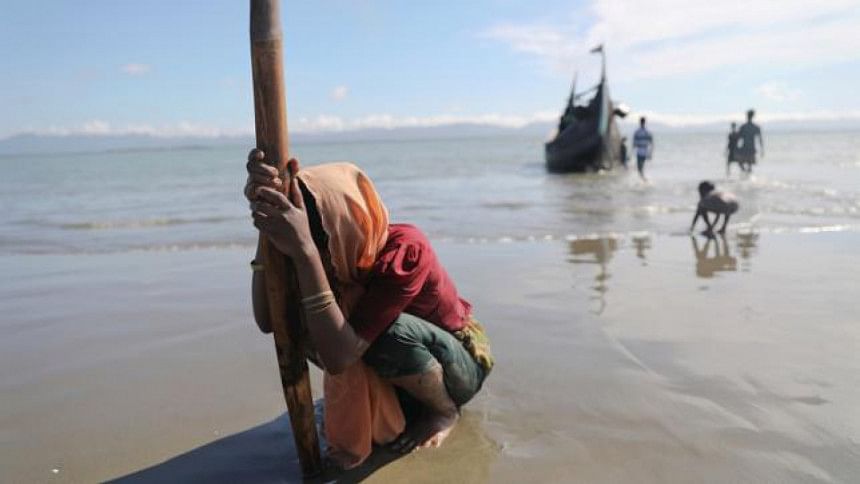 World leaders' failure to act has allowed the Myanmar security forces' perpetrators of crimes against humanity to remain at large for a year after their murderous campaign against the Rohingyas prompted an exodus of epic proportions, the Amnesty International said yesterday.
More than 700,000 Rohingya women, menand children fled from northern Rakhine State to neighbouring Bangladesh after August 25, 2017when the Myanmar security forces launched a widespread as well as systematic assault on hundreds of villages.
The Amnesty International has also called on the Australian government to cease its support and assistance to the Myanmar military, impose targeted sanctions on 13 military personnel implicated in the atrocities, and push for accountability and justice for their crimes against humanity committed to date.
"This anniversary marks a shameful milestone. The explosion of violence over the past year perpetrated by Myanmar's military in villages across northern Rakhine State was not the action of rogue soldiers or units. There is a mountain of evidence that the murder, rape, torture, burning and forced starvation was part of a highly orchestrated, systematic attack on the Rohingya population. That Australian taxpayers' money is going to support the perpetrators is unthinkable," said Diana Sayed, Amnesty International Australia's Crisis Campaigner.
"Cutting Australia's training support to the Myanmar military is the least the Australian government can do to stand up for the Rohingya people's rights.
"Next, the Australian government must impose sanctions on Myanmar's Commander-in-Chief, Senior General Min Aung Hlaing, and 12 other individuals implicated and named in Amnesty International's 27 June report 'We Will Destroy Everything: Military Responsibility for Crimes against Humanity in Rakhine State, Myanmar'."
According to a report of the CBC News of Canada yesterday with the headline 'Shameful milestone for Rohingya crisis as new worries surface about refugee children', homes were burned, women raped, and there were several large-scale massacres. By some estimates, more than 40,000 Rohingyas died in the violence. The UN's human rights chief called it a "textbook example of ethnic cleansing."
HRW
The New York-based Human Rights Watch on August 21 said international monitoring was vital in the repatriation of thousands of Rohingyas as the Myanmar authorities have tortured and imprisoned returnees from Bangladesh.
"The torture of Rohingya returnees puts the lie to Myanmar government promises that refugees who return will be safe and protected," said HRW's Deputy Asia Director Phil Robertson.
According to a report of the HRW, the Myanmar authorities have tortured and imprisoned Rohingya refugees who returned to Rakhine from Bangladesh. The mistreatment reinforces the need for international protection, including United Nations monitors on the ground, before Rohingyas will be able to return safely to Myanmar.
"Despite Myanmar's rhetoric guaranteeing a safe and dignified return, the reality is that Rohingyas who go back still face the persecution and abuses they were forced to flee," added Phil Robertson.
The HRW said six Rohingyas who fled to Bangladesh in 2017 to escape the Myanmar army's ethnic cleansing campaign told it that Border Guard Police (BGP) apprehended them at different times when they returned to Rakhine State to earn money before going back to Bangladesh. Security forces tortured them during pre-trial detention, they said. Each was summarily tried and sentenced to four years in prison, apparently for illegally crossing the border.
About a month later, the government pardoned them along with several dozens others. On June 1, 2018, the authorities presented them to visiting journalists in an attempt to show that they were treating the Rohingyas well and that it was safe to return. Following the visit, the six fled to Bangladesh.
"The treatment of these Rohingya refugees should be a warning sign to those who believe the Myanmar authorities are ready to ensure safe returns," Robertson said. "Myanmar has a long way to go before it can demonstrate it is serious about making the necessary reforms for voluntary, safe, and dignified returns."
'CALL FOR JUSTICE FOR ROHINGYA ATROCITIES'
More than 130 Southeast Asian parliamentarians yesterday expressed their grave concern over the ongoing impunity for perpetrators involved in the atrocities committed against hundreds of thousands of Rohingyas and called on the international community to take urgent measures to bring those responsible.
In a joint statement, 132 sitting MPs from five countries --Indonesia, Malaysia, the Philippines, Singapore, Timor-Leste -- including 22 members of ASEAN Parliamentarians for Human Rightsalso called on members of the UN Security Council (UNSC) to immediately refer the human rights situation in Myanmar to the International Criminal Court (ICC).
They said the Myanmar government has failed to investigate and prosecute those responsible for the atrocities in a credible and impartial manner and they continue to block almost all access to the affected areas in Rakhine for international human rights observers.
In fact, some of those who try to shed light on these human rights violations now face arbitrary criminal charges.
Recent reports also show that the Rohingya population that remains in Rakhine still face the risk of violence as well as widespread discrimination, which has resulted in appalling living conditions that are unsafe as well as a serious lack of access to basic services and livelihood opportunities. The dignified and voluntary repatriation of refugees from Bangladesh will not be possible as long as these conditions endure, the joint statement reads.
"We also support the call by United Nations Special Rapporteur on the situation of human rights in Myanmar, Yanghee Lee, to establish an international accountability mechanism thataims to impartially investigate and provide necessary assistance to future criminal proceedings that are in line with international standards," reads the statement available in aseanmp.org.
The Southeast Asian lawmakers also called on their own governments, fellow ASEAN member states with Myanmar, and ASEAN itself, to accelerate efforts and use its influence on Naypyidaw to press the government and military to end all forms of human rights violations against the Rohingyas.
"This must include abolishing all discriminatory policies and practices in order to address the root causes of the crisis. It is imperative that they also urge the Myanmar government to grant immediate and unconditional access into Rakhine State, particularly for humanitarian aid groups, independent observers, and local and international media."