There's good chance JS polls will be held Dec 27
Says Muhith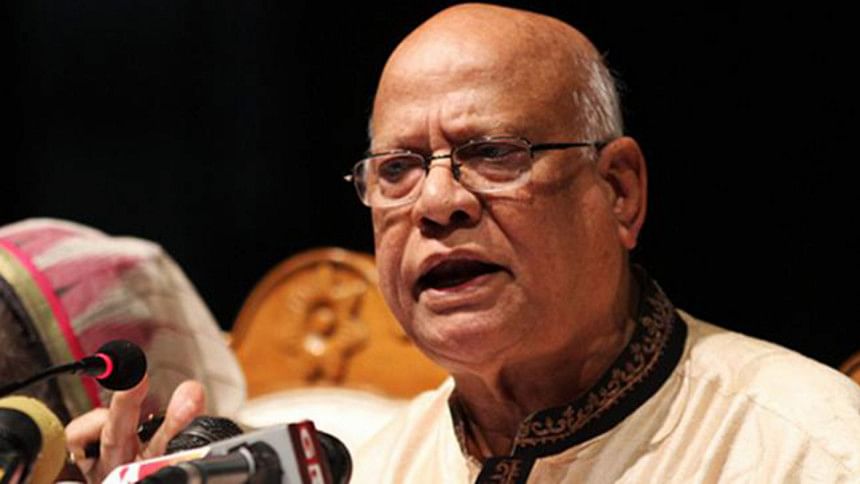 Finance Minister AMA Muhith yesterday said there was a good chance that the next parliamentary election would be held on December 27.
He also said the interim polls-time small cabinet was likely to be formed within the next 20 days with representatives from all parties currently in the parliament to oversee the next general election.
Muhith made the comments while talking to reporters during his meeting with the newly elected Sylhet City Corporation Mayor Ariful Haque Chowdhury at the Secretariat.
"There's a good chance of holding the upcoming national election on December 27…I've also discussed [the possible date] with the Election Commission and they've informed me that they're proposing a date like this," he said.
The minister further said that there were not many dates, except two or three, for holding the election due to various special days such as the Victory Day, Martyred Intellectuals' Day and Christmas.
He, however, said the date could be known once the Commission announced the election schedule.
Asked about the election-time government, he said it would be a small cabinet with some changes from the existing one, adding it would be formed according to the model suggested by Sheikh Hasina. 
Muhith, however, said chances of bringing a change to the cabinet was slim this time compared to the Sheikh Hasina-led interim government before the 2014 election.
"Practically there is no party in the present assembly [parliament] outside the government. Therefore, I think no new character [minister] will be included [in the polls-time cabinet]. Some [ministers] might be dropped," he said.  
Responding to another query on who will be members of the small cabinet, Muhith said no members of BNP or from the civil society would be in the cabinet.   
The name of the cabinet will be "Cabinet of Election-time Government" and its chief will be Sheikh Hasina, said the finance minister.
Asked whether the current parliament would be dissolved before the election, he replied in the negative.
About the election atmosphere, he said it would be free and fair as rigging the election would be very tough because the EC had been reformed a lot.
Muhith said he hoped the BNP would participate in the next election, adding, "Otherwise BNP will definitely disappear".
Last week, the EC Secretary Helaluddin Ahmed said the election could be held in the last week of December.