Not exactly Turkish delight!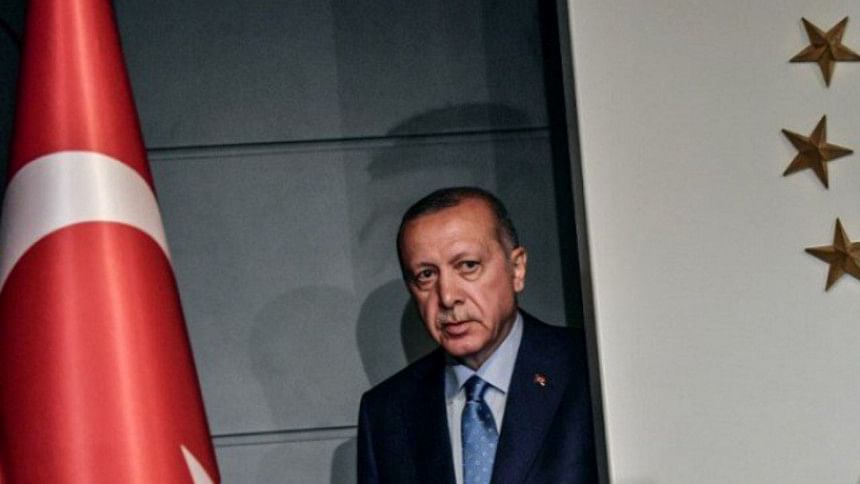 Tit-for-tat goes on between the US and Turkey with surprising frequency and fury. Ankara has declared a "boycott" of all electronic goods from the US. This is in retaliation—of a narrower calibration—to Washington having doubled tariffs on steel and aluminium imports from Turkey. The US sanctions followed the detention of American priest Andrew Brunson in Turkey on "trumped up" charges of terrorism.
Actually, the spat began since the failed coup against Erdogan two years back which he blamed on Fethullah Gulen. The Islamic cleric had been given asylum in the US since before the uprising. Erdogan claimed that Gulen was the mastermind behind the coup. When he sought Gulen's extradition it was promptly refused by the US government.
Immediately on the heels of Ankara's boycott of electronic imports from the US, Trump on Wednesday blocked the transfer of 100 F-35 Fighter Jets to Turkey, so set on the boil his temper was. Anyway, had it happened over the next three decades, the transfer would have made Turkey the third largest operator of F-35 Fighter Jets in the world.
The tariffs imposed on Turkish steel and aluminium have made Turkish exports totally uncompetitive in the US market—the value of Lira slumping by 40 percent to a dollar.
Some observers tend to maintain that Turkey's existing economic woes have been exacerbated by the row. But we wonder whether the impact of US sanctions is not being exaggerated at this stage, waltzing to the hilarious tune of Trump's persona! The "pre-existing woes", largely caused by debt entrapment, appear to be the greater culprit.
Just consider these statistics, and you will know what I mean: Turkish GDP is close to three quarters of a trillion dollar. And what is the overall size of export to the US market? Less than half a billion—USD 400-500 million worth. This is not a significant sum for Turkey as proportion of its GDP to lose sleep on! Yes, in principle though, we consider it morally unacceptable to continue with the sanctions to a point where they begin to hurt the common man.
The central concern here is about how a populist, democratic and legitimate government messes up the economy, borrows heavily, lets trade and payments deficits yawn and finds itself seeking IMF's bailout tranches. More to the point, why is Erdogan looking for external excuse for domestic failings? Here he smacks of Trump somewhat—blaming others with the difference that he wants to make America great again while Erdogan apparently doesn't have any illusion of grandeur.
The Turkish leader is rabble-rousing his people going to the extent of inciting them to occupy the Trump Tower in Istanbul. Trump after all has a Congress to restrain him from overstepping his remit, but Edorgan has no institutional leash to be wary of.
The Turkish president has lately quadrupled the number of his advisers, a large band of yes-men, inducted, or shall we say, indoctrinated, to do his bidding!
Remember, he had sacked several thousand teachers, civil servants, soldiers and other professionals, apart from making life difficult for many people during the 2016-17 uprising. On June 25, 2018, a news item stated that 3,000 Turkish diplomats claimed asylum in Germany since last year's uprising. If world leaders had warned Edrogan not to use the uprising—which cost the country so dear—as an excuse for a crackdown on dissenters, well-wishers of Turkey would only urge him not to sow the seeds of future unrest.
Free media which by definition is responsible can be a partner in progress; yet most of the free media is said to have been destroyed in Turkey. "He will be taking the nation backwards to self-destruction if Edrogan ignores good advice," screams the social media.
Erdogan has kowtowed to Putin on Syria; he may be ending up doing the same to Trump. But the only balancing factor there can well be Trump's realisation that harsher action on his part risks pushing Erdogan into the Russian orbit with a paraphernalia of NATO arsenal at that!
---
Shah Husain Imam is Adjunct Faculty at East West University, a commentator on current affairs and former Associate Editor, The Daily Star.
Email:[email protected]
---
Follow

The Daily Star Opinion

on Facebook for the latest opinions, commentaries and analyses by experts and professionals.
To contribute your article or letter to The Daily Star Opinion, see our

guidelines for submission

.
---