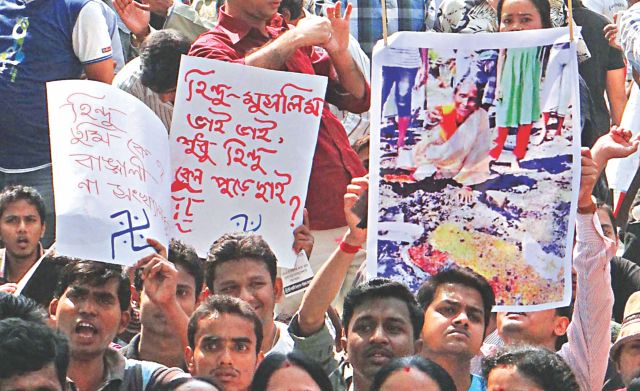 People of the Hindu community demonstrate in front of Chittagong Press Club yesterday against the recent vandalism and torching of Hindu homes and temples across the country. They vowed to resist such attacks in future. Photo: Star
Fanatics vandalised a temple at Munshiganj and set fire to another in Rangpur in the early hours yesterday, creating widespread panic among the local Hindu community.
In Munshiganj, miscreants vandalised five idols at a temple at Shashongaon village of Sirajdikhan upazila on Thursday night.
Locals found the idols, including that of the goddess Kali, totally destroyed when they went to the temple to worship yesterday morning, reports our Munshiganj correspondent.
Md Abul Kashem, upazila nirbahi officer, and Sheikh Mahbubur Rahman, officer-in-charge of Sirajdikhan Police Station, visited the spot.
OC Mahbubur alleged that a gang of miscreants was attacking the temples in the area to create panic among the Hindus.
He assured the local Hindus that the hunt was on to nab the fanatics.
In Rangpur, miscreants destroyed the idol of Sree Radha Govinda before setting the temple on fire at Amashu-Kukrul in Rangpur city in the early hours yesterday.
Goutam Roy, of the Burimata Temple Committee, said some fanatics set the tin-shed temple ablaze around 5:30am, leaving the idol and some holy books burnt.
Hearing the crackling of flames, people rushed to the temple and doused the fire, said Kartik Das, a religious leader of the local Hindus.
Abdur Razzak, superintendent of police of Rangpur, told The Daily Star, "We have sent a police team to the area and started an investigation to find out those responsible for the fire."
Haradhan Saha, a ward councillor, alleged that miscreants set fire to the temple to destroy communal harmony in the area.
Md Shahabuddin Khalifa, officer-in-charge of Rangpur Kotwali Police Station, said "Dhirendra Nath Roy, president of the temple committee, lodged a case against some unnamed miscreants in connection with the incident."
Incidents of vandalism and arson attacks on temples and houses of the Hindus have been rampant since February 28.
On that day, the International Crimes Tribunal-1 awarded death penalty to Jamaat leader Delawar Hossain Sayedee for his crimes against humanity during the country's Liberation War.
Since then, miscreants destroyed at least 24 temples, 122 houses and dozens of shops belonging to the Hindus across the country.
Meanwhile, Industries Minister Dilip Barua and Gowher Rizvi, international affairs adviser to the prime minister, visited the burnt-out houses and a temple of Hindus at Rajganj in Noakhali yesterday.
Miscreants set ablaze the temple and eight houses of the Hindu people in Rajganj on February 28.
Barua and Rizvi condemned the attacks on the Hindus and urged people of all religions to unitedly resist the miscreants from committing such mayhem.