Hindu temple torched after vandalism in Bagerhat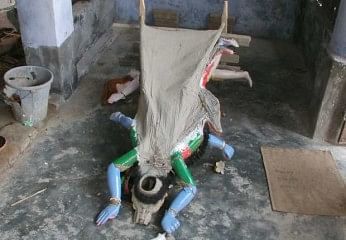 An idol lies flat on the ground after miscreants vandalise a Hindu temple in Morelganj upazila of Bagerhat early Wednesday. Photo: STAR
Miscreants torched a Hindu temple after vandalism of its three idols of god and goddess in Morelganj upazila of Bagerhat early Wednesday.
Unidentified criminals broke into the Sarbojanin Durga Temple at Herma Bazar of Teligati union in the upazila anytime after midnight and wrecked the idols of Hindu god "Ganesh" and, goddess "Lakshmi" and "Saraswati", said Khandakar Rafikul Islam, superintendent of police (SP) in Bagerhat.
Then the miscreants left the scene after setting fire at straws in the temple, the SP said adding police trying to arrest the culprits.
Gopal Gosh, president of Sarbojanin Durga Temple said he informed the law enforcers after a devotee saw the matter at the time of pray in the temple in the morning.
Local parliamentary member Dr Mozammel Hossain, SP Khandakar Rafikul Islam visited the spot, he said.
Miscreants also vandalised several idols of Gopalpur Sarbojanin Temple on February 28, Dumuria Sarbojanin temple on March 1 and North Gopalpur Temple on March 19 in the same upazila, reports our Bagerhat correspondent.