Govt given three weeks
Hefajat announces fresh programmes to realise 13 demands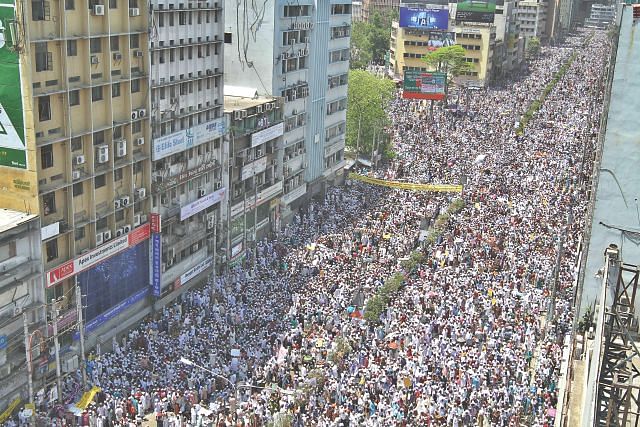 Chittagong-based Hefajat-e Islam holds a rally at Shapla Chattar in the capital yesterday demanding punishment of "atheist bloggers" of Shahbagh. Media reports suggest recent activities of the Islamist group are nothing but attempts to hamper the Shahbagh movement that started two months ago demanding maximum punishment of war criminals and a ban on Jamaat-e-Islam. Photo: Anisur Rahman
A few lakh Islamists gathered at Motijheel in the capital yesterday and gave the government three weeks' time to meet their demands, which include a law allowing for the death penalty for maligning Islam and stern punishment to those they call atheist bloggers.
Otherwise, they threatened, they would lay siege to the capital on May 5.
Assembled under the banner of Hefajat-e Islam, the Islamists also called a daylong hartal for tomorrow in protest at the "government efforts" to obstruct their long march.
Besides, they will hold rallies in Chittagong, Sylhet, Khulna, Barisal, Rajshahi, Mymensingh, Brahmanbaria, Faridpur and Bogra between April 11 and April 30.
"We will cut off Dhaka from the rest of the country on May 5 if our demands are not fulfilled," Junayed Babu Nagari, secretary general of the Hefajat, told the rally, one of the biggest in recent memory.
Ahmed Shah Shafi, chief of Hefajat, was present on the podium, but his statement was read out by his son.
He said, "If you want to go to or stay in power, you have to accept our demands. Otherwise, there will be dire consequences."
Shafi also observed, "This government is an enemy of Islam. This pro-atheist government has no right to stay in power even for a second. If it claims itself to be pro-Islam then it must delink itself from the bloggers."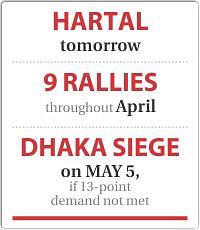 Through the rally, which stretched from High Court point to Shapla Chattar and from Tikatuli point to Fakirapool and to Bijoynagar, the Islamists staged a show of strength despite a hartal and blockade apparently called to prevent Hefajat men from entering the city from outside.
Since early morning, thousands of topi- and Punjabi-clad Hefajat supporters streamed into the city on foot, often making detours to duck obstruction.
No major incidents of violence occurred in the capital as many had feared.
Hefajat, a Chittagong-based Islamist group, has taken centre stage in recent days as an opposite force to Shahbagh Gonojagoron Mancha from where youths have been demanding the death penalty for war criminals.
It, however, was not on the scene when the Shahbagh movement started on February 5. Its presence was felt with the killing of a blogger, who was branded as an atheist. Yesterday's rally was the culmination of a propaganda orchestrated by the Jamaat-e-Islami that organisers of the Shahbagh movement were atheists. The alleged defamation of Islam was at the heart of the campaign.
The BNP and Jamaat have thrown their weight behind Hefajat, which also demands that the government declare the Ahmadiyyas non-Muslim, demolish all sculptures in the capital, ban free mingling of men and women, and scrap women policy and education policy.
A BNP team led by its standing committee member Khandaker Mosharraf Hossain joined the rally in a show of solidarity, and so did a delegation of the Jatiya Party, a component of the Awami League-led ruling grand alliance.

A number of Islamists carried Bangladesh flags to the rally, which they waved throughout the programme.
In their addresses, many Hefajat leaders came down hard on liberal thinking.
"Girls and boys are involved in adultery at Shahbagh," Abdul Quddus, a Hefajat leader, said. "It happens because of the current education policy that has to be scrapped. Islamic education system has to be introduced."
Another leader named Qutubuddin said, "Dhaka, the city of mosques, has been turned into a city of idols and atheists. This cannot be allowed."
Enamul Huq, a Hefajat leader, said: "The songs and dances shown on television are obscene. These must be stopped."
Hefajat Demands
1.   Reinstate the phrase "Absolute trust and faith in the Almighty Allah" in the constitution as one of the fundamental principles of state policy
2.   Enact a law providing for capital punishment for maligning Allah, Islam and Prophet Muhammad (pbuh) and smear campaigns against Muslims
3.   Stop all propaganda and "derogatory comments" about Prophet Muhammad (pbuh) by the "atheist leaders" of the Shahbagh movement, bloggers  and other anti-Islamists; arrest them and ensure stern punishment to them
4.   Stop  attacking, shooting, killing and persecuting the Prophet-loving Islamic scholars, madrasa students and people united by belief in Allah
5.   Release  all arrested Islamic scholars and madrasa students
6.   Lift restrictions on mosques and remove obstacles to the holding of religious programmes
7.   Declare "Qadianis"  non-Muslim and call a halt to their publicity and conspiracies
8.  Stop foreign cultural intrusions including free-mingling of men and women and candlelit vigils, and put an end to adultery, injustice, shamelessness, etc. in the name of freedom of expression and conscience
9.   Stop turning Dhaka, the city of mosques, into a city of  idols, and stop setting up sculptures at intersections, colleges and universities
10.   Scrap anti-Islam women policy and education policy and make Islamic education mandatory from primary to higher secondary levels
11.   Stop threatening and intimidating teachers and students of Qawmi madrasas, Islamic scholars, imams and khatibs
12.   Stop propagating hatred among the younger generation of  Muslims by misrepresentation of Islamic culture in the media
13.   Stop anti-Islam activities by NGOs, evil attempts by Qadianis and conversions by Christian missionaries in the Chittagong Hill Tracts and elsewhere in the country