Ghulam Azam verdict any day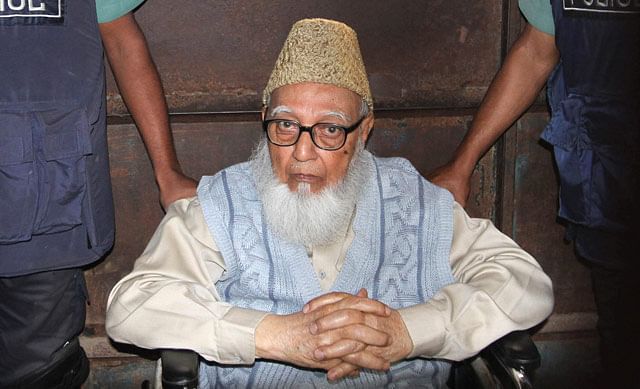 This January 11 photo shows law enforcers took Ghulam Azam inside a prison van in front of Dhaka Central Jail just before he was taken to BSMMU prison cell.
A Bangladesh tribunal which has been dealing with the war crimes charges levelled against former Jamaat-e-Islami chief Ghulam Azam may deliver its verdict any day as the trial proceedings concluded Wednesday.
Azam stands indicted on five charges, which include involvement in murder and torture of unarmed people, conspiracy, planning, incitement and complicity to commit genocide and crimes against humanity during the Liberation War in 1971.
Sixteen prosecution witnesses have testified during the trial.
Azam's son gave testimony as the lone defence witness.
During his arguments on April 15, chief defence counsel Abdur Razzaq said the investigation officer "had not probed properly" and the prosecution had also "failed" to connect Azam in the war crimes narrated in the charges.
Azam could not be convicted to the war crimes for the "faults" of investigation officer and the prosecutors, claimed Razzaq.