Deshikottom Dr. Sanjida Khatun's birthday celebrated at Chhayanaut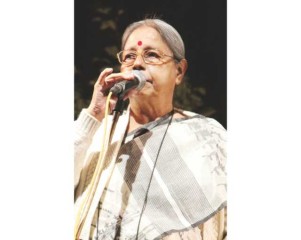 Sanjida Khatun speaks. Photo: ATL Aakash
To celebrate Dr. Sanjida Khatun's 80th birth anniversary, cultural organisation Chhayanaut hosted a celebration programme at Chhayanaut Shangskriti Bhaban in Dhaka on April 4. A cultural event followed.
The event began with the playing of a recitation originally recorded by late actor and elocutionist Golam Mustafa. A documentary featuring the illustrious life and creative works of Dr. Sanjida was screened at the programme. Cultural organisation Panthajan of Tripura, India, has made the documentary.
With the title "Sanjida Khatun: Taar Abhijatra", noted cultural personality Mafidul Haque elaborately discussed the life and works of Dr. Sanjida at the event. In his words, "To awaken the sense of humanity among the common masses through her enormous creative efforts and intellectual ability, Dr. Sanjida Khatun has played an unparalleled role. Sanjida Khatun excelled in higher research, literature, linguistics, music, poetry and culture. Emerging from her cocoon, she stood upright in the face of an adversarial outer world, immersed in deep creativity and shaped diverse forms of excellent work."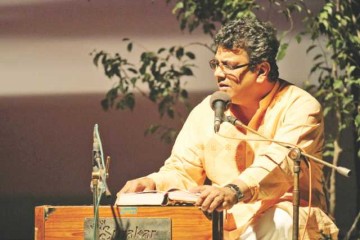 Khairul Anam Shakil sings at the programme. Photo: ATL Aakash
The performance of a choral song "Jhoro Jhoro Jhorey Rong-er Jhorna" by the artistes of Jatiyo Rabindra Sangeet Shammilan Parishad followed. The artistes also presented another choral song "Parbi Naki Jog Ditey" at the end of the cultural programme. Elocutionist Zahirul Haque Khan recited "Rabindranath-er Shesh Bashonto" at the event.
A number of noted singers performed solo songs in tribute to Dr. Sanjida Khatun. Among others Khairul Anam Shakil, Iffat Ara Dewan, Suman Chowdhury, Laisa Ahmed Lisa, Mohiuzzaman Chowdhury and Fahmida Khatun performed "Mago Chinmoyi Roop Dhorey", "Tomari Tulona Tumi Pran", "Jaha Kichhu Momo", "Tomaye Notun Korey Pabo Bole", "Ami Chanchal Hey" and "Peyechhi Chhuti" respectively at the programme.
Seated amidst her admirers, Dr. Sanjida also enjoyed listening to two of her favourite records of Tagore songs -- "E Porobash-e Robey Ke" and "Bajey Korun Sur-e" -- originally recorded by Malati Ghoshal and Kanika Bandyopadhyay respectively. The event was wrapped up with a choral rendition of the national anthem.
Widely known as a prominent Tagore exponent and researcher, Dr. Sanjida Khatun has made a long and arduous journey  from being one of the first women to speak at public meetings, to being under constant surveillance of the government of erstwhile East Pakistan and its cohorts; from the formation of Bangladesh Mukti Sangrami Sangstha during the Liberation War, to the foundation of Chhayanaut. Yet, at 80, Dr Sanjida Khatun still stands tall as she always has, and exudes confidence and a strong personality.