Turkey farms doing well in hills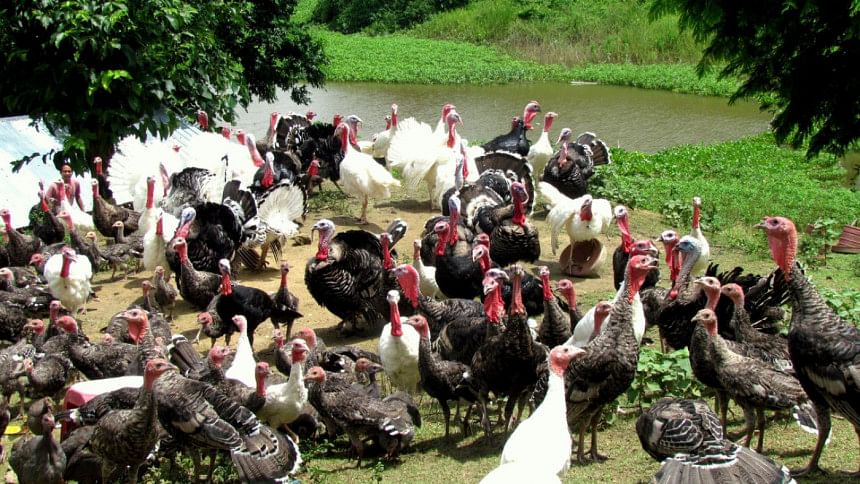 Like most graduates, when Rangamati resident Piyal Chakma finished his degree in textiles in 2011, he hoped for a good job. Unfortunately, the job search proved disappointing. Piyal's occasional contribution at a music studio in Dhaka was a far cry from the start of a prosperous career. Ultimately, it wasn't a job that painted his economic horizon. It was turkeys."I brought two female and three male turkey chicks to my home in 2015," Piyal recalls.
"I bought them from a friend from Gazipur, who was already raising the birds. It was the start of my farm."
Nowadays Piyal's farm in Naniachar upazila has around five hundred birds. He encourages other unemployed people in the hill tracts to get involved in the industry that has brought him success.
"The start-up investment was only Tk 3 lakhs," he says. "Now I have livestock and assets worth up to Tk 15 lakhs. A pair of one-month-old chicks sells for Tk 1,000. The meat sells for up to Tk 450 per kilogram. My monthly income is around Tk 30,000."
With an eye to creating opportunities for others, Piyal sells his chicks for minimal profit. "I want to encourage the turkey industry locally," he says. "Turkeys eat greens including spinach and hyacinth plants. I give them a little extra poultry feed, but they aren't expensive to look after. Anyone can do it."
Piyal's mother Dhanita Chakma, 45, is pleased with her son's efforts. "There's not a lot of hard work in farming turkeys," she says, "and my son's farm has made our family solvent. Piyal isn't looking for a job anymore. He will continue with his business."
Many people in Rangamati district are trying turkey meat for the first time, and enjoying the experience. "It's tastier than chicken and other birds," says Biro Chakma from the Rajbari area of Rangamati. "I've already become accustomed to eating turkey meat."
"Turkey meat is really nutritious," observes Mintu Chakma, from Rangapani village in the same district. "I researched it online. Since then, I often choose it."
"Turkey farming is an industry that's new to the region, but one that is growing in popularity every day," says the district's livestock officer, Manoranjan Dhar. "Turkeys are already being farmed in five Rangamati upazilas. Natural food supplies for turkeys are plentiful here."