Probe into report of torture on Shahidul Alam in custody: HRW
Human Rights Watch urges Bangladesh authorities to order an immediate investigation into reports that renowned photographer and activist, Shahidul Alam, was beaten while in custody.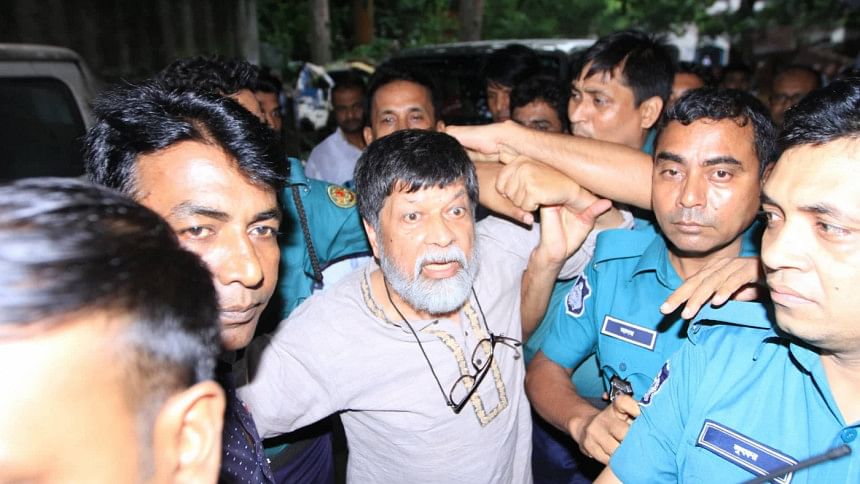 Human Rights Watch today urged Bangladesh authorities to order an immediate investigation into reports that renowned photographer and activist, Shahidul Alam, was beaten while in custody.
"Alam was detained on August 5 for criticising the government and its supporters for targeting students," said the international human rights watchdog.
In a report published in its website yesterday, HRW also said the Bangladesh authorities are "arresting students and targeting activists and journalists who are highlighting the abuses, instead of prosecuting those responsible for unlawfully attacking student protesters demanding road safety."
Thousands of students, including school children, have been blocking streets to protest the July 29 killings of two students by a speeding bus.
"Yet again, Bangladesh authorities seem determined to take abusive shortcuts to problems, and then denounce those who criticize," said Brad Adams, Asia director at Human Rights Watch.
"The authorities should immediately release anyone, including Shahidul Alam, they have locked up for peaceful criticism. Instead, authorities should prosecute those, including members of the ruling party's youth supporters, who are attacking children with sticks and machetes."
According to numerous witnesses, members of the ruling Awami League student and youth wings, the Bangladesh Chhatra League, and the Awami Jubo League, have attacked the protesters with machetes and sticks, HRW claimed.
"Eyewitnesses and journalists, including Shahidul Alam, also reported that in some areas police stood by while children were beaten up by Awami League supporters, some of whom wore helmets to hide their identity. Some perpetrators were identified when the attacks were caught on camera," the report said.
Following the protests, Bangladesh authorities have promised an end to reckless driving, to regulate traffic, and to enact a new Road Safety Act, it added.
Home Minister Asaduzzaman Khan Kamal, however, warned protesters to "not to cross the limit," or be prepared to face police action. Security forces used teargas, rubber bullets, and in some cases, live ammunition against protesters, according to the report.
"It would be shameful if the Sheikh Hasina government is deploying party hoodlums to target students for demanding safe roads," said Adams.
"Bangladeshi authorities must immediately halt the violence perpetrated by government supporters against protesters and journalists and respect the rights to freedom of expression and peaceful assembly."
SAHR condemns
South Asians for Human Rights (SAHR), a regional network of human rights defenders, have also condemned the detention and torture of Shahidul Alam.
In a statement released today, SAHR condemned the "flagrant violation of the human rights of media personnel and peaceful protesters by both state and non-state actors".
"We urge the Government of Bangladesh to cease arbitrary detention and torture, as well as attacks on peaceful protestors, or those expressing their opinions," it said.
"We demand that the Government of Bangladesh assure Alam's safety, allow a medical examination, and facilitate his quick release. We also demand a transparent and impartial inquiry into attacks on journalists and protestors and an investigation into the circumstances of Alam's detention and torture," it added.