School students try hand at farming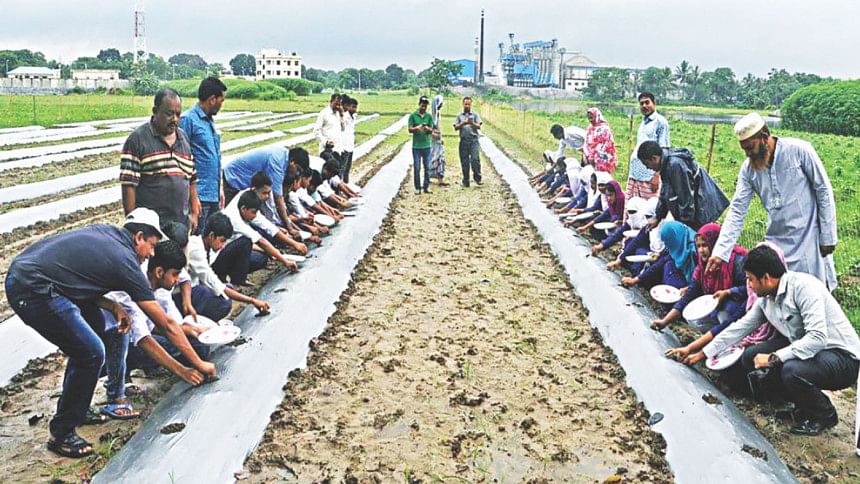 In Ishwardi upazila these days, the farm workers out in the field might look a little young. In a programme run with the cooperation of local farmers, 84 educational institutions are sending students into the sunshine, even at the weekend, to gain practical farming knowledge.
"It's a new experience," says Md Sariful Islam, a student of MA Gafur High School. "I'm helping to grow crops alongside regular farmers. I feel proud to be the son of a farmer!"
"Our students learn skills like how to prepare a field for planting and how to apply fertiliser," says his teacher Md Rejaul Karim. "They're being taught all the fundamentals of successful crop cultivation through hands-on participation."
"We hope that creating an interest in agriculture among students and offering them field-level experience will contribute to the country's development," says Md Abul Hashem, the agriculturalist from Aronkola village who is also the president of the Farmers' Development Society behind the programme. "Well-educated, skilled farmers are vital for the sector. Besides that, the students enjoy it."
It is hoped that the programme can be a part of a welcome transition underway in agriculture, where the use of scientific precision and the latest technology is replacing older traditions. While farming was once an area of economic activity that was largely overlooked by more educated people, speakers at the programme's launch said recently, now people with higher education are becoming increasingly involved.
At Hashem's farm on a Friday morning meanwhile, The Daily Star observed that the students from MA Gafur High School were far too occupied to be contemplating the future course of the country's agriculture sector. Alongside seasoned farmhands they were busy in the field, planting watermelon seedlings.
It is hoped that some experience of working at a farm will leave the school students encouraged and inspired.