'Bring helmeted attackers to book'
Journos demand justice, threaten to go on hunger strike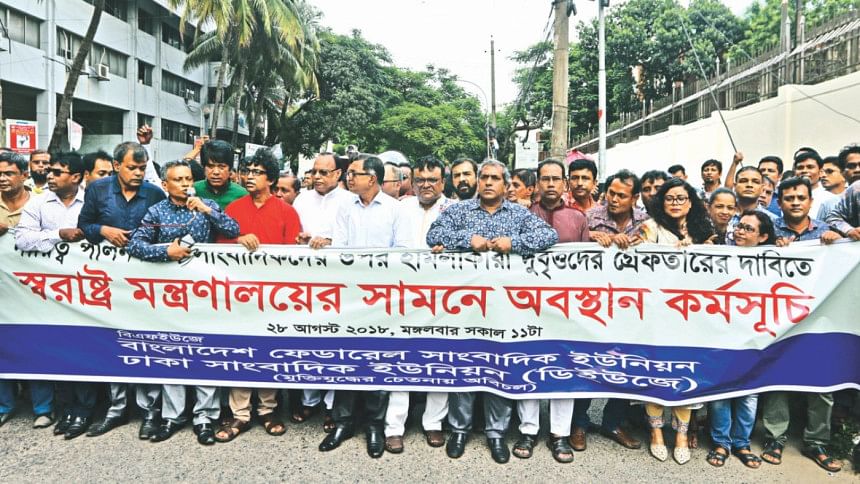 Giving a seven-day ultimatum to arrest miscreants who attacked their peers, journalists from print and electronic media yesterday threatened to go on hunger strike on September 5 to press home their demands.
Journalists will begin the hunger strike in front of Jatiya Press Club in Dhaka from 11:00am on that day, said Bangladesh Federal Union of Journalists (BFUJ) President Molla Jalal.
The announcement came when newspersons were protesting near the secretariat before handing over a memorandum to the home ministry, demanding punishment of the perpetrators who attacked journalists on August 4 and 5, while covering the student protest for safe roads.
Police have so far arrested over 100 people -- for spreading rumour, inciting violence and barring police from doing their duties -- centring the student movement.
But none of the helmeted youths, believed to be ruling party men carrying out brutal attacks on journalists, has been arrested yet.
"We will not hesitate to march towards the prime minister's office either, if no measures are taken," said Molla Jalal.
Around a hundred reporters, photographers, sub-editors, online journalists and freelancers joined the protest.
Addressing the journalists, BFUJ Secretary General Shaban Mahmud said, "Journalists are being attacked one after another but no one has been punished. Protests will be on across the country to ensure punishment of the attackers."
Since there has been no immediate action against the attackers, journalists are on the streets, Dhaka Union of Journalists General Secretary Sohel Haider Chowdhury said, adding, "The protest will go on."
The attackers must be punished, regardless of which political party they belong to, Sohel said.
Speaking at the programme, several journalists expressed their anger as the attackers were yet to be brought to book despite assurance from the home minister, information minister and top police officials.
They requested journalist leaders to go for a tougher movement to put pressure on the authorities concerned to take prompt actions in this regard. 
A representative team later submitted the memorandum to the home ministry.
At a protest earlier on August 7, journalists gave a 72-hour ultimatum to the government to arrest the attackers.
Information Minister Hasanul Haq Inu has written to Home Minister Asaduzzaman Khan Kamal to immediately bring the attackers under the purview of the law.