Shahidul Alam taken back to police custody
Hospital finds 'no major' health issues; condemnations pour in from home, abroad
Renowned photographer Shahidul Alam was taken back to the office of the Detective Branch of police yesterday after doctors at Bangabandhu Sheikh Mujib Medical University (BSMMU) said they found no health issues requiring his hospitalisation.
Earlier, police had taken him to the BSMMU around 9:00am following a High Court order. 
A four-member medical board headed by Prof ABM Abdullah, dean of medicine, found nothing mentionable, BSMMU Director Brig Gen Md Abdullah Al Harun told The Daily Star.
Read more: Govt challenges HC order on sending Shahidul to BSMMU
Shahidul was taken back to the DB office around 2:00pm.
A Dhaka court on Monday placed Shahidul on a seven-day remand in a case filed under section 57 of Information and Communications Technology Act on charges of spreading propaganda    and false information against the government.
During a hearing of the case, Shahidul told the court that he was tortured in custody, but police denied the allegation.
In response to a writ petition filed by his wife Rahnuma Ahmed on Tuesday, the High Court directed authorities concerned to immediately send him to the BSMMU.
It also ordered the BSMMU to examine Shahidul's physical condition and submit a report by 10:30am today. The court also fixed today for further hearing on the petition.
Meanwhile, the government yesterday filed a petition with the Supreme Court seeking stay on the High Court order that directed the authorities concerned to send Shahidul Alam to the BSMMU.
After a brief hearing, Chamber Judge of the Appellate Division of the SC Justice Hasan Foez Siddique sent the petition to the full bench of the apex court for the hearing today.
Attorney General Mahbubey Alam represented the government while Idrisur Rahman and Sara Hossain appeared for the writ petitioner.
Shahidul was picked up by plainclothes men on Sunday night and was placed on a seven-day remand by a Dhaka court the next day.
CONDEMNATIONS POUR IN
Over 500 academics, writers, artists, activists and journalists from around the world -- including Noam Chomsky, Pulitzer Prize-winning photojournalist Patrick Farrell and celebrated writer Bapsi Sidhwa -- condemned the detention and alleged torture of photojournalist Shahidul Alam, and demanded his immediate release. 
"Shahidul Alam's detention underlines the growing crackdown on dissenting voices in Bangladesh, in a pattern that is visible elsewhere too," said their statement published on the website of well-known Pakistani journalist and blogger Beena Sarwar.
The signatories demanded that the government drop all charges against Shahidul, ensure his medical treatment and that he be released immediately.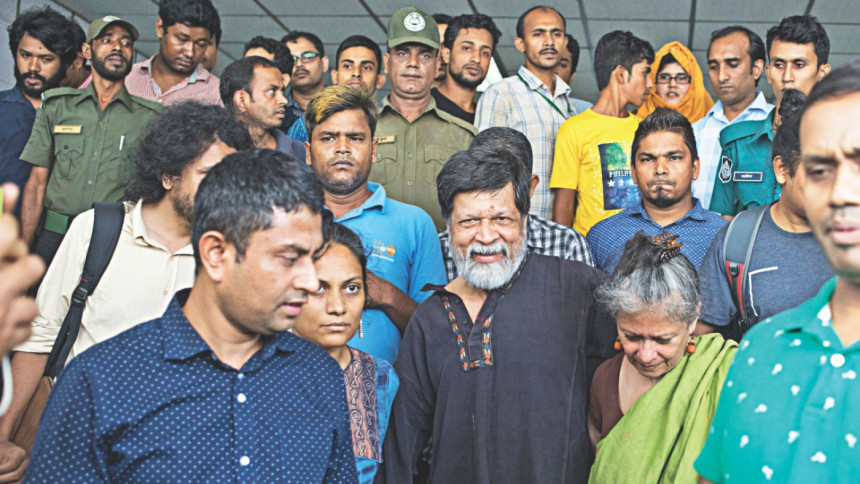 The statement said that laws like the ICT act which "make such whimsical attacks on freedom of expression" should be changed and demanded that the government use restraint in dealing with young protestors, many of whom are children, and ensure that police play their role responsibly.
Meanwhile, sixty-nine noted rights activists, academics and civil society members of Bangladesh also strongly condemned repression of students, journalists and especially of Shahidul by the government, including arbitrary police remand under the ICT Act. 
If anything he has done is considered against the law, charges could be brought in the due process, but nothing justifies unlawful abduction, arbitrary remand and unconstitutional torture in custody, said the statement. 
Signatories also demanded that the government stop suppressing students, academics, journalists and human rights activists immediately, release all who have been arbitrarily detained and take necessary steps to ensure road safety, freedom of speech, freedom of movement and freedom of association for all, without discrimination.
The signatories include Dr Hameeda Hossain, Dr Zafrullah Chowdhury, Shaheen Anam, Barrister Raja Devashish Roy, Dr Iftekhar Zaman, and Dr Badiul Alam Majumdar.
Elsewhere, four hundred and thirty-eight artists, photojournalists, filmmakers, writers and journalists from India also demanded "immediate, unconditional and honourable" release of Shahidul.
Furthermore, The Editors Guild of India, in a statement, said that it was "pained and agitated" to learn of the detention of Shahidul Alam in Dhaka under the provision of the ICT Act.