Rice bran oil: exports on the rise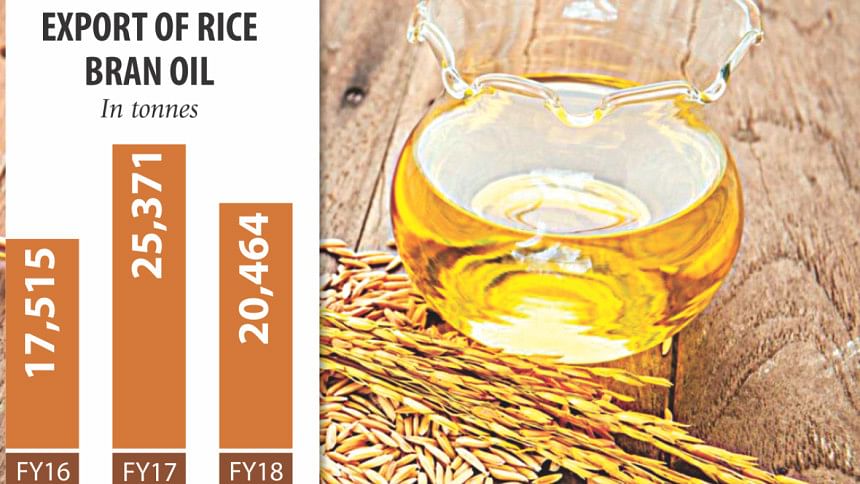 Bangladesh's rice bran oil is gradually making headway in the international market thanks to manufactures' efforts to sell the antioxidant-rich edible oil abroad.
The country shipped more than 20,000 tonnes of rice bran oil for the second consecutive fiscal year in 2017-18.
They exported the item to more than a dozen countries, including India, the US, the UK, Australia and Japan in 2017-18, fetching $21 million, according to the Export Promotion Bureau.
Some manufacturers said the prospect of edible oil exports is bright provided a smooth supply chain of rice bran is developed, and logistics, ports and other infrastructures are improved.
"We are mainly exporting to India as demand is higher there compared to our domestic market," said Chitta Majumder, managing director of Majumder Group of industries that runs two rice bran oil plants.
Majumder, one of the leading rice millers and importers, has been exporting rice bran oil in crude form since 2014.
Some other firms such as Agrotech International Ltd (AIL) and traders export the oil, which is popular in Asian countries such as Japan, India, Korea and China.
The export volume of rice bran oil was 17,515 tonnes in 2015-16, according to data from the plant quarantine wing under the Department of Agricultural Extension.
The export volume reached that level in less than a decade after some local rice millers joined the foray to extract oil from rice bran, banking on Bangladesh's strides in rice yield.
Today the sector, which began its journey in 2009, has 14 firms with an annual production capacity of more than 2.50 lakh tonnes of rice brain oil. Yet, the active mills cannot use the full capacity because of the dearth of supply of raw materials.
A study by the Bangladesh Tariff Commission (BTC) in 2015 found that the industry needs about 13 lakh tonnes of rice bran to make the most of the capacity.
But it does not get the required amount due to the export of rice bran or the demand of the feed industry.
The study said conversion of manual rice mills to auto- and semi-auto rice mills will increase the production of rice bran, meeting the requirement of extraction plants serving domestic and overseas markets.
If 100 percent of the paddy is processed by auto- and semi-auto rice mills, 7.16 lakh tonnes of refined rice bran oil might be obtained, according to a paper published in the Bangladesh Journal of Tariff and Trade by the BTC.
"Availability of rice bran is not an issue; the main problem is supply chain of rice bran is not well-established in our country," said Moinul Hasan, controller of finance of AIL, which has been exporting rice bran oil since 2015. It takes three to five days to load a truck with 15 tonnes of rice bran. Besides, not all rice bran is suitable for extracting oil, he said, adding that the production of milled rice and rice bran will increase through the modernisation of rice mills.
Hasan said the domestic demand for the edible oil is growing thanks to the expanding middle- and upper middle-income groups."Export potential is bright if we can ensure quality. But the main challenge is the country's image," he said.
"Building capacity to deliver the item in large quantities and improving the country's image are key to tapping the export market." 
Hasan said some buyers are doubtful about local millers' capacity to deliver a higher volume at a time.
"Our logistics and infrastructure is weak, which affects buyers' confidence," said Hasan, citing that the company could not send a consignment to South Korea on time last month because of the congestion at the Chittagong Port.
Osman Ali of Mim International said his firm exports both rice bran and crude rice bran oil through Benapole land port when it finds higer prices in India.
Refined rice bran oil faces higher tax in India compared to that of crude oil, added Ali. Mim International exported 500 tonnes of crude rice bran oil in 2017.
Majumder called for cash incentives to increase the export of rice bran oil.